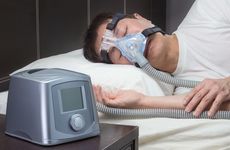 NEW YORK (360Dx) – A team led by researchers at Beckman Coulter has identified three blood-based protein markers that could help diagnose obstructive sleep apnea (OSA).
Detailed in a study published last week in Nature and Science of Sleep, the markers identified patients at risk of OSA with sensitivity of 81 percent and specificity of 60 percent, outperforming several existing clinical measures currently used for screening patients for the condition.
The markers, glycated hemoglobin (HbA1c), C-reactive protein (CRP), and erythropoietin (EPO) are of particular commercial interest for Beckman Coulter in that all three are currently available as US Food and Drug Administration-cleared assays run on the company's immunoassay platforms and EPO is only offered on Beckman Coulter platforms, said Mike Samoszuk, vice president and chief medical officer at the company and an author on the paper.
OSA is a condition in which the throat muscles relax during sleep, obstructing a person's airway and waking them up. It leads to poor sleep and is also associated with conditions like obesity, high cholesterol and glucose levels, and atrial fibrillation.
Samoszuk said the exact relationship between such conditions and OSA is unclear but noted that the "current thinking is that it's a vicious cycle."
"As you develop sleep apnea, you don't sleep well, and as you don't sleep well, your metabolism changes," he said. "As you develop these changes in your metabolism, you start getting fatter, and as you get fatter, you get more likely to have sleep apnea, because your neck gets bigger, and you have more obstruction to your airway."
There are a variety of treatment options for people with OSA, ranging from lifestyle changes like losing weight and avoiding certain sleeping positions to use of a continuous positive airway pressure (CPAP) mask or, in some cases, surgery. Diagnosing sleep apnea, however, is a challenge, as common symptoms like snoring and tiredness and risk factors like obesity are not particularly specific, and the procedures used to make a diagnosis are fairly involved.
The gold standard for diagnosing OSA is a polysomnography test, during which patients are monitored overnight with equipment tracking things such as breathing patterns, leg and arm movements, and blood oxygen levels. These tests are typically done in at a sleep clinic though they can sometimes be done in a patient's home.
The procedure "isn't very convenient for people," Samoszuk noted. "Most people don't want to spend a night away from home in a lab being observed as they sleep."
The tests are also relatively expensive, he added, typically running in the range of $1,200 to $2,000.
Samoszuk said that Beckman Coulter is not interested in supplanting sleep studies with its blood-based biomarker panel, but rather using it to better select patients likely to benefit from sleep studies.
"What we do think this test could do is provide that initial clue to screen out who needs to go for further evaluation and who probably does not," he said.
Currently, doctors use a combination of physical exams and questionnaires to determine whether a patient should be tested for OSA, but Samoszuk said these methods are not particularly effective.
"Body mass index, for instance, is a good initial clue to find out if you might have sleep apnea, but there are plenty of people who are not obese who have sleep apnea," he said.
Likewise, questionnaire-based tests like the Epworth Sleepiness Scale or STOP-Bang questionnaire suffer from subjectivity on both the part of the patient and the person grading their answers, he added.
To get at a more objective measure of OSA risk, Samoszuk and his colleagues looked at five protein markers — HbA1c, CRP, EPO, uric acid, and interleukin-6 — that are associated with processes like chronic inflammation, hypoxemia, sleep fragmentation, and stress, that previous studies have shown to be linked to OSA.
The study enrolled 264 adult male subjects with suspected OSA across six medical centers, testing them with the Epworth Sleepiness Scale, the STOP-Band questionnaire and measuring their BMIs and the levels of the five proteins markers in blood. All subjects also underwent overnight sleep studies to make a definitive diagnosis of OSA.
The researchers found that the three-marker panel of HbA1c, CRP, and EPO provided the best performance, identifying patients with OSA with a sensitivity of 81 percent and specificity of 60 percent. This compared to a sensitivity and specificity of 78 percent and 19 percent for the Epworth scale; 75 percent and 52 percent for the STOP-Bang questionnaire; 81 percent and 56 percent for BMI; and 81 percent and 38 percent for BMI in non-obese patients.
The findings indicate that "there is still room for improvement, but [the marker panel] is much better than what we have right now," Samoszuk said.
He said Beckman Coulter did not have any immediate commercialization plans for the markers but viewed the study as something of a "trial balloon to see if anybody is interested." He added that several companies in the sleep apnea space have expressed an interest in exploring the markers further.
"We've had some preliminary contact with large, unnamed, reference laboratories, who've expressed potential interest in partnering with us for further development, because reference labs might like to offer this as a service," he said. "We've also had some conversations with sleep centers that do testing for [firms like] FedEx and the military and transportation agencies to see if this might have some utility in identifying [at-risk] employees who are, say, operators of trains and things like that. And then we've also had some very preliminary conversations with companies that are involved with sleep apnea machines and other things."
As described in the Nature and Science of Sleep study, the protein panel does not involve the use of an algorithm to combine the marker scores into a diagnostic output. Rather, if a patient scores above the cut-off for all three of the markers, they are at high risk of OSA.
"Anybody could order a CRP, an HbA1c, and an EPO and look at the results and if they are all above the cut-offs we indicated in the paper, then you would probably think the patient has sleep apnea," Samoszuk said. He said that the company is exploring development of algorithms for integrating the marker scores.
He added that Beckman Coulter has also discussed with its Danaher stablemate, Sciex, the possibility of using mass spec-based proteomics to possibly identify broader protein panels for diagnosing OSA though he said that those discussions were still in the early stages.