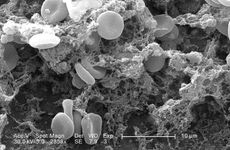 NEW YORK (360Dx) –In several peer-reviewed publications led by researchers at the University of Pennsylvania's Perleman School of Medicine, T2 Biosystems' magnetic resonance technology has shown the ability to offer new insights into hemostasis, the process by which the body stops bleeding.
"We've been selling the platform in the research use only market," T2 CSO Tom Lowery said in an interview. "But it could help with predictive testing." Not only can T2Plex deliver equivalents results faster than established technologies, "We're able to measure functions of the hemostasis system that had never been observed before," he said. "The value is in more clinically predictive results."
In 2014, researchers led by Doug Cines used T2 technology to discover that erythrocytes — which normally take a donut shape — formed a geometric shape when compressed in blood clots, detectable with a unique T2 MR signature for tight clotting. They published their results in Blood. 
And in December 2016, Cines-led researchers published a study showing the ability of T2 technology to match the current state of the art in platelet function testing, a technology called light transmission aggregometry (LTA), offering increased efficiency and sensitivity.
The studies are positive news for T2 as it takes steps to develop clinical products aside from its T2Dx platform and the T2Candida panel for fungal sepsis. Lowery stressed that the T2Plex instrument is only for research, but he doesn't see why it couldn't be brought to the clinic.
"It's like our infectious disease story," he said. "Physicians don't have all the information they need." Instead of the missing data being whether a patient has a fungal infection, and which species is responsible, the unknown here is whether a patient is in danger of either clotting when they're not supposed to, or bleeding out when there's supposed to be a clot.
The current gold standard for platelet function is LTA, a technique that measures how much light can pass through a plasma sample. Initially, the sample is mostly opaque, due to suspended platelets, but adding reagents causes the platelets to aggregate, making the plasma more transparent.
LTA is useful in several scenarios, from testing for inherited platelet function disorders, to testing for platelet activity prior to cardiac surgery. However, the technique is inefficient. It requires special handling from an expert lab tech. "It's finnicky," Lowery said. "If you don't handle it right [the platelets will] activate sooner than they should. The instrument and consumables aren't simple enough."
In addition to specialized equipment and staff, LTA requires up to 30 milliliters of blood and takes several hours, Cines said in a statement. "T2MR provides an opportunity to overcome these barriers to care using a more rapid and simple-to-use approach," he said. 
Moreover, LTA offers poor predictive value of whether a patient is likely to bleed or clot. For certain trauma patients, that could be the difference between life and death.
What's especially exciting about T2Plex, Lowery said, is that it can detect the geometric red blood cells, dubbed "polyhedrocytes," giving researchers the potential to use it as a biomarker for tight clots.
The presence or absence of the tight clot signal can be used in conjunction with the varying platelet activators to predict whether a patient will bleed out or not. Potent activators, which normally trigger formation of compressed polyhedrocytes, won't do so in some patients, suggesting they're likely to bleed. Using a weak activator flips the assay. "Most samples won't form a tight clot, but if they do, that means they form a really tight clot," he said.
In December, Cines and Lowery helped publish a paper in the American Journal for Clinical Pathology comparing a platelet function assay on the T2Plex with LTA. "What it shows is that it correlates perfectly with LTA on a set of samples, but also shows the method is more sensitive than LTA to low levels of platelet activity."
The study included comparison of performance of the two methods using four different platelet activators used in platelet function testing. One analysis was to try and detect platelet function after a dose of aspirin, which wipes out platelet activity. "T2MR showed partial recovery of platelet function at 29 hours after aspirin ingestion, whereas recovery with LTA was first evident at 78 hours," the authors wrote.
Platelet function is just one of several measures used in hemostasis analysis, and the four platelet activators are part of six reagents used in the T2HemoStat Panel currently under development.
Designed for use on the T2Plex instrument, the panel is at the center of several collaborations with pharmaceutical companies including Bayer. Lowery declined to disclose other partners.
There are several use cases for such a "tight clot" metric. Lowery said it's a good metric for whether a patient needs a blood transfusion after trauma since less clotting means more bleeding.
Aside from platelet function disorders, clotting is also an issue in chemotherapy, where chemotherapy-induced thrombosis is a life-threatening side effect.
"We certainly have the therapies in terms of transfusion or medication" to help patients at risk of too much clotting, or not enough, Lowery said.
Getting physicians a timely in vitro diagnostic to help determine how to intervene is what comes next.