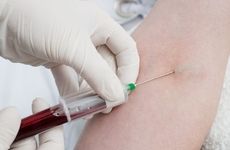 NEW YORK (360Dx) – Over the next year and a half, Bio-Rad Laboratories plans to add new solutions to bolster its burgeoning blood typing business. 
Over the past year and a half, Bio-Rad Laboratories has obtained US Food and Drug Administration clearance for new instruments targeting the US immunohematology blood typing market. During the next 18 months, the firm plans to round out its suite of with two additional instruments to meet different user needs, a company official said.
Bio-Rad's IH-1000 high-throughput instrument was cleared by the FDA in late 2016, while two instruments — the IH-Incubator L and IH-Centrifuge L — were approved earlier this year to be used with the entire range of Bio-Rad's IH-System Gel Reagents for manual blood typing. Together, they comprise a low-throughput solution.
Next in its sight are the launch of two middle-range throughput systems, the IH-Reader 24 and the IH-500, John Hertia, Bio-Rad's executive vice president and president of the firm's clinical diagnostics business, said in a recent interview.
Beyond the standard A, B, and O blood types, and Rh+ or Rh- status, thorough detection of the large number of antigens on donor red blood cells and antibodies in recipient blood can be especially important in some transfusion situations. Matching blood donor to recipient is typically performed in hospitals, with different testing environments also having different needs.
Bio-Rad's immunohematology technology uses a gel card-based test, with microtubes within a card containing a gel material and different reagents, such as antibodies to A or B antigen, for example. The presence of blood antibodies or antigens produces agglutination in the gel, which yields a band indicating a positive reaction.
Bio-Rad offers gel cards that can perform tests such as blood grouping, reverse grouping, phenotyping, cross-matching, or testing a mix of donor and recipient blood to look for incompatibility, and screening for many different antibodies. The company also markets microplate- and classic tube-based testing for blood typing.
In-depth testing needs vary by the type of patient and the cross match, and there isn't a routine testing algorithm, Hertia said, but all transfusion labs do blood grouping, antibody screening and identification, and compatibility testing.
The firm introduced the IH-1000 blood typing instrument in the US at the end of 2016, and recently received 510(k) clearance from the US Food and Drug Administration for its IH-Com results management software to provide more options to automate the release of test results to laboratory information systems.
The IH-1000 is fully-automated and is the firm's highest-throughput system, designed for use by large labs, Hertia said.
Earlier this year Bio-Rad debuted the low-volume, manual workstations that can be used by smaller labs or as a backup for the IH-1000. Specifically, it obtained 510(k) clearance for the IH-Incubator L and IH-Centrifuge L instruments for use with the full range of gel cards for manual blood typing.
The systems that Bio-Rad plans to introduce in the next year to 18 months include the lower-volume, semi-automated IH-Reader 24 system, a combination centrifuge and reader, which is already available outside of the US as a similar instrument. The firm is currently running US clinical trials and expects to submit results to the FDA later this year, according to Hertia.
The IH-500, meanwhile, was introduced ex-US in 2015 and the firm plans to start clinical trials in the US this year for approval in 2019. That system is automated, similar to the IH-1000, but for medium volumes of testing.
The Bio-Rad automated systems perform all the pipetting, reading, and reporting of results, while manual systems require the user to visually read the test. 
With the suite of four solutions, "We'll have essentially a system for every testing volume," Hertia said.
Blood typing is part of Bio-Rad's clinical diagnostics business, a division that generated $1.36 billion in revenues, or about two-thirds of the firm's $2.16 billion revenues, in 2017.  
In a recent conference call to discuss its earnings, the firm noted that blood typing was a contributor to the 2 percent currency-neutral, year-over-year growth in Bio-Rad's clinical diagnostics last year. Company officials added that it had exceeded its placement plan for its blood typing products in 2017.
Bio-Rad also added Laboratory Corporation of America as a large blood typing account.
LabCorp is "one of the largest laboratory chains in the world," Hertia said, and it signed a multiyear agreement with Bio-Rad after a thorough evaluation of its blood typing needs and options. The firms have not disclosed any financial terms of the deal.
Bio-Rad got into the blood typing business through three different acquisitions of European companies, Hertia said, but until recently the business has been primarily ex-US. "We're number two worldwide, but just beginning to enter the US market," Hertia said.
In 1999, the company added French firm Pasteur Sanofi Diagnostics to its clinical diagnostics business with the $210 million acquisition. That firm was largely in the infectious disease space, but also had a small blood typing business, Hertia said.
The next expansion of the business was in 2007 when it acquired a "very large player in the blood typing business," called Diamed, Hertia said. The Swiss maker of blood-typing reagents and screening tools was acquired by Bio-Rad for approximately $405.8 million.
These two acquisitions were "primarily European-based operations with European customers," Hertia said.
Then, in 2010 Bio-Rad acquired some of the diagnostics businesses, including a small blood typing business, from German firm Biotest for approximately $64.5 million. "Those three essentially got us into the blood typing market, and because of their geographical location, the majority of the business has been outside the US, and primarily in Europe" Hertia said.
Hertia, who has been with Bio-Rad for more than 35 years and was named head of clinical diagnostics in 2014, said that after the firm acquired Diamed it developed an intent to bring the blood typing products to the US market. Bio-Rad made some smaller products available in the US starting in 2011, but because of the time it took to run trials and get regulatory approval the first major systems weren't introduced until the beginning of 2017.
The firm estimates a $1.4 billion addressable market for blood typing, with a 3 percent annual growth rate. In terms of instruments, Bio-Rad claims more than 3,000 automated systems have been placed to date.
Competitors in the immunohematology market include Grifols, Immucore, and Ortho Clinical Diagnostics, Hertia said. 
The latter, for example, makes the Ortho Vison and Ortho Vision Max blood typing systems for mid- and mid- to high-volume labs, respectively. The systems have been commercially available in the US and Europe, and the company recently obtained approval for marketing in China. Grifols, meanwhile recently noted that its blood typing business is "a small but a fast-growing part of its portfolio."
Bio-Rad has certain advantages over the competition, depending on the type of customer, according to Hertia. "In general, we have a very broad range [of offerings] in terms of automation, and a very large test menu," he said. In the US particularly, this is important because companies tend to supply entire laboratory networks with different user needs under one umbrella.
Also, the Bio-Rad systems tend to have "a much friendlier interface," Hertia said, as well as a simpler workflow. Furthermore, the systems provide advanced informatics for managing patient information and remote servicing and approval using its IH-Com and IH-Web. "These are big differentiators; more laboratories are using informatics as a factor when choosing automated systems, including blood typing," Hertia said.
In addition to blood typing, the Clinical Diagnostics Group at Bio-Rad consists of diabetes diagnosis and management, autoimmune testing, and quality control, Hertia said. It also includes an infectious diseases business. Bio-Rad is the world leader in HIV confirmation testing, he added.
Although gaining overall in annual revenues, the infectious disease segment of the clinical diagnostics business unit reported a loss in 2017, particularly in North America. The firm's CFO Christine Tsingos said during Bio-Rad's Q4 2017 conference call that the losses in infectious diseases marked the "fourth or fifth year in a row that that business has declined," adding that for the full year the decline was around $15 million. 
This was attributed to a loss of a particularly large customer that the company did not identify. Hertia added that the losses can be somewhat attributed to an older technology that is declining in some markets, but that the firm has introduced new infectious diseases products, such as an HIV confirmation system called Geenius, as well as HIV testing on its BioPlex system, which is not part of its traditional infectious diseases business but is the first fifth generation HIV 1/2 antigen/antibody test.
Bio-Rad's growth strategy for the blood typing business now includes penetrating the US market, as well as China and emerging markets, and penetrating the mid-volume testing market, Hertia said.