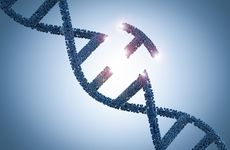 NEW YORK – Researchers led by the University of California, San Francisco's Charles Chiu and Mammoth Biosciences Chief Technology Officer Janice Chen have developed a molecular diagnostic assay for the SARS-CoV-2 virus that can be run in 30 to 45 minutes with the same sensitivity and specificity as qRT-PCR tests.
In a new study published Thursday in Nature Biotechnology, the researchers detailed their efforts to develop a rapid, easy-to-implement, and accurate CRISPR-Cas12-based lateral flow assay for the detection of SARS-CoV-2 from respiratory swab RNA extracts, demonstrating 95 percent positive predictive agreement and 100 percent negative predictive agreement. They validated their method using contrived reference samples and clinical samples from patients in the US, including 36 patients with COVID-19 infection and 42 patients with other viral respiratory infections.
The resulting test is a faster alternative to most PCR-based tests, which can take four to six hours to run — including the US Centers for Disease Control and Prevention SARS-CoV-2 real-time RT-PCR assay — and provides a visual readout, they noted. It's based on Mammoth's DETECTR disease detection platform, which the company has been developing since it came out of stealth mode in 2018, using Cas12 and Cas13 to look for DNA and RNA to detect various diseases. It delivers results on lateral flow strips, similar to at-home pregnancy tests. The SARS-CoV-2 DETECTR test can be performed with portable heat blocks, readily available reagents, and disposable lateral flow strips, the researchers added.
"The introduction and availability of CRISPR technology will accelerate deployment of the next generation of tests to diagnose COVID-19 infection," Chiu said in a statement. The test has yet to receive formal approval for clinical use from the US Food and Drug Administration, but UCSF researchers are clinically validating it in an effort to fast-track the approval process through Emergency Use Authorization.
In their study, the researchers noted that in addition to the time it takes to actually run PCR-based tests, the typical turnaround time for screening and diagnosing patients with suspected SARS-CoV-2 has been more than 24 hours, given the need to ship samples overnight to reference laboratories. And although serology tests are rapid and require minimal equipment, their utility may be limited for diagnosing an acute infection because it can take several days or weeks following symptom onset for a patient to mount a detectable antibody response.
To solve these issues, the team developed the SARS-CoV-2 DNA Endonuclease-Targeted CRISPR Trans Reporter (DETECTR) assay. The test performs simultaneous reverse transcription and isothermal amplification using loop-mediated amplification (RT-LAMP) on RNA extracted from nasopharyngeal or oropharyngeal swabs in universal transport medium, followed by Cas12 detection of predefined coronavirus sequences, after which cleavage of a reporter molecule confirms detection of the virus.
The researchers first designed primers targeting the virus' E and N genes and designed Cas12 guide RNAs to detect three SARS-like coronaviruses in the E gene and specifically detect only SARS-CoV-2 in the N gene. Using synthetic, in vitro-transcribed SARS-CoV-2 RNA gene targets in nuclease-free water, they demonstrated that CRISPR-Cas12-based detection can distinguish SARS-CoV-2 with no cross-reactivity for related coronavirus strains using the N gene gRNA and with expected cross-reactivity for the E gene gRNA. They then optimized conditions for the assay on the E gene, N gene, and human RNase P gene as a control.
"The SARS-CoV-2 DETECTR assay is considered positive if there is detection of both the E and N genes or presumptive positive if there is detection of either the E or N gene," the authors wrote. "This interpretation is consistent with that of current US FDA EUA guidance and recently approved point-of-care diagnostics under the EUA."
The researchers next used SARS-CoV-2 DETECTR to test RNA extracted from 11 respiratory swab samples collected from six PCR-positive COVID-19 patients and 12 nasopharyngeal swab samples from patients with influenza and common human seasonal coronavirus infections using SARS-CoV-2 DETECTR. The assay detected the virus in nine of the 11 patient swabs and did not cross-react with other respiratory viruses. The two negative swabs from COVID-19 patients were confirmed to be below the established limit of detection.
The investigators also used a fluorescence-based readout to blindly test an additional 60 nasopharyngeal swab samples from patients with acute respiratory infection for SARS-CoV-2. Of the 60 samples, 30 were positive for COVID-19 infection by qRT-PCR testing and 30 were negative for COVID-19 infection, but either positive for another viral respiratory infection by respiratory virus panel multiplex PCR testing or negative by all testing. The positive predictive agreement and negative predictive agreement of SARS-CoV-2 DETECTR relative to the CDC qRT-PCR assay were 95 percent and 100 percent, respectively, for detection of the coronavirus in 83 total respiratory swab samples.
"The use of existing qRT–PCR-based assays is hindered by the need for expensive laboratory instrumentation and availability is currently restricted to public health laboratories," the authors concluded. "The time taken to develop and validate this SARS-CoV-2 DETECTR assay (less than two weeks for SARS-CoV-2) shows that this technology can be quickly mobilized to diagnose infections from emerging zoonotic viruses."