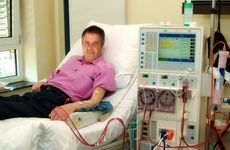 NEW YORK (360Dx) – Different names for the tests used to diagnose chronic kidney disease, and different units of measurement for reporting test results have led to confusion in test ordering and difficulty tracking disease data, according to the National Kidney Foundation.
The new Kidney Profile, announced by NKF last week in partnership with the American Society of Clinical Pathology and several leading laboratories, aims to eliminate that confusion and increase chronic kidney disease testing by providing physicians with clearer testing choices.
"What we are really doing is simplifying the kidney disease tests for use by primary care clinicians, and hopefully they would be implemented more in clinical practice," said Joseph Vassalotti, NKF chief medical officer.
The new Kidney Profile includes the estimated glomerular filtration rate, or eGFR, a blood test for assessing kidney function, and the urine albumin-creatinine ratio, which assesses kidney damage. The two tests were both recommended as clinical practice guidelines when the National Kidney Foundation-Kidney Disease Outcomes Quality Initiative, or NKF-KDOQI, was last updated in 2014.
The changes to the new profile's nomenclature mainly involve the urine albumin-creatinine ratio, which has often historically been referred to as micro-albumin, a term that can be misleading to clinicians, according to Vassalotti.
"Some may think micro-albumin means small albumin or that it refers to a range of the result of the test," he said.
In addition, labs have used varying methods for reporting results of urine albumin-creatinine ratio, including using different units of measurement, and in some cases reporting albumin alone as opposed to a ratio. The new profile standardizes urine albumin-creatinine ratio reporting to milligrams per gram, Vassalotti said.
The other test in the profile, the eGFR test, is widely used, but is often administered as part of other commonly ordered panels, making it difficult to assess whether eGFR was used to diagnose chronic kidney disease, according to Vassalotti.
"We have combined a blood and urine test all in one profile, so we will know that when doctors order the profile they will be screening for kidney disease," he said.
NKF sees the Kidney Profile as critical to addressing widescale under-diagnosis of chronic kidney disease, Vassalotti said. An estimated 30 million American adults are living with chronic kidney disease but only 3.6 million of them are aware that they have the condition, NKF said, citing data from the US Centers for Disease Control and Prevention.
The lab industry was identified as a critical partner in addressing the issue of under-diagnosis, because lab tests can often identify chronic kidney disease before symptoms appear, according to Vassalotti. "What is special about chronic kidney disease and kidney disease in general is that the diagnosis is pretty much based on the laboratory data, so it's really quantifiable and the lab plays a huge, important role," he said.
NKF's lab collaborators in developing the profile included ARUP Laboratories, BioReference Laboratories, Laboratory Corporation of America, Mayo Medical Laboratories, Memorial Sloan Kettering Cancer Center, Quest Diagnostics, and Sonic Healthcare USA, according to NKF.
Labs that participated in the profile project are also early adopters of the new kidney profile. The organization hopes to encourage more labs to use the profile through increasing awareness, according to Vassalotti.
Quest Diagnostics already offers the urine albumin-creatinine as a ratio-based test and is making minor adjustments to be able to offer the Kidney Profile in the format NKF has selected, according to Lee Hilborne, Quest senior medical director, medical affairs.
"We are just in the final stages of putting the profile together to make it available in as a national offering," Hilborne said.
The tests in the Kidney Profile are not expensive and are readily available, he noted. Issues that the lab company will have to address in implementing the Kidney Profile will include how to manage situations such as when someone provides a blood sample but is unable to provide a urine sample.
"In that case we have half an order. We have to decide how we are going to handle that, but we are happy to work through it and make it available," Hilborne said.
ARUP is at the beginning stages of making some IT adjustments to be able to offer the Kidney Profile, but will offer the profile widely once they are completed, according to Joely Straseski, medical director of endocrinology and medical director of automated core laboratory for ARUP.
"The different tests that are being used to diagnose kidney disease, they are called different things in different labs and there have been a lot of calls in this field to make it consistent. It just hasn't happened until now," she said.
Hilborne also represented ASCP, which developed much of the marketing and educational materials about the Kidney Profile for patients and physicians. ASCP also participated in an advisory committee on the profile development along with the lab representatives and representatives of the American Association of Bioanalysts, the American Association for Clinical Chemistry, the American Clinical Laboratory Association, the Clinical Laboratory Management Association, and the National Independent Laboratory Association.
The laboratory community provided critical input in designing the Kidney Profile, Vassalotti noted. In particular, the laboratory information systems that the different labs use have different character limits, so slightly different abbreviations for the urine albumin-creatinine ratio were developed to accommodate different LIS formats, he said.
In addition, because labs are already accustomed to offering the eGFR test as part of other panels, NKF is allowing the profile to be offered in combination with other frequently offered panels, according to Vassalotti. In addition to the standard Kidney Profile, labs can offer the Kidney Profile + BMP (basic metabolic panel); the Kidney Profile + CMP (comprehensive metabolic panel); and the Kidney Profile + RFP (renal function panel).
NKF considered also calling the profile chronic kidney disease profile, because it is intended for early intervention of kidney disease in an outpatient setting, but labs disagreed, according to Vassalotti.
"The labs thought that we should just call it Kidney Profile because we don't know if the patient has chronic or acute disease when they are being tested," he said.
The profile is recommended for patients who have risk conditions that could make them susceptible to chronic kidney disease, rather than as a mass screening for the general population, according to Vassalotti. Key risks include diabetes and hypertension, but other risks such as a family history of kidney disease are also factors, he said.
Only 6 percent of the patients with hypertension receive urine albumin-creatinine ratio testing and only 39 percent of patients with diabetes receive urine albumin-creatinine ration testing, according to 2016 data from the US Renal Data System provided by NKF.
The partnerships formed with the lab community will also help NKF collect and analyze Kidney Profile testing data. Hilborne noted that Quest has extensive data analysis capabilities that can be used to assess the impact of the new test.
"Quest Diagnostics has a phenomenal database of diagnostics testing, so we can look closely to see if in fact there are changes as a result of using the profile, and we are part of that process as well," Hilborne said.
In addition, Vassalotti noted that ASCP has a new National Pathology Quality Registry with extensive benchmarking and analytic capabilities, and NKF plans to leverage the registry's capabilities to evaluate the impact of the Kidney Profile. 
"The obvious things we will look for are uptake and utilization, then appropriate use in people with diabetes and people with hypertension," Vassalotti said. "We also want to see if there are changes in diagnosis based on the use of the kidney profile and the new way that the urine albumin-creatinine ratio is named and reported," he said.
The collaboration with the lab industry on the profile was so valuable that NKF will likely look to the labs for input more often, Vassalotti said.
"I think we have come to realize that in the future, the laboratory perspective is an important one for us to consider. For example, when we have a clinical practice guideline on kidney disease, we often have a nurse, a nephrologist and maybe a primary care physician, a dietician and a patient who is affected, but that laboratory perspective is important to include," he said.
While chronic kidney disease can't be cured, when identified early, progression can be slowed through lifestyle, diet and education changes, according to Vassalotti. He credits a chronic kidney disease summit, chaired by former US Surgeon General Regina Benjamin in October 2016, with helping to chart a path toward identifying and treating the disease that led to the development of the Kidney Profile.
"We came up with a road map to improve CKD and one of the elements was outreach to labs," he said. "What we came up with was that CKD has a marketing problem. It doesn't really have a public face the way a lot of other chronic conditions do. This is one of the elements of that plan, to create a public face and increase outreach in chronic kidney disease so people understand whether they are at risk and what they need to do."