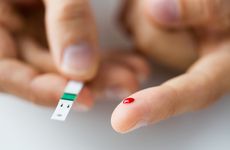 NEW YORK (360Dx) – Screening tests used to detect people with pre-diabetes have low diagnostic accuracy, according to a new meta-analysis. This suggests that efforts to screen and treat at-risk people might not work as hoped.
Such screen and treat approaches would only work, the University of Oxford's Trish Greenhalgh and her colleagues said, if there is both a sensitive and specific test to identify people likely to develop type 2 diabetes and an intervention to stave off disease. She and her colleagues analyzed the results of 49 studies that examined the diagnostic accuracy of two screening tests and 50 trials that investigated the efficacy of two different interventions.
As they reported in the BMJ yesterday, they found that fasting glucose testing is specific, but not sensitive, while HbA1c testing is neither specific nor sensitive. Lifestyle changes or metformin treatment could, to some extent, reduce diabetes risk, they found.
"These findings suggest that 'screen and treat' policies alone are unlikely to have substantial impact on the worsening epidemic of type 2 diabetes," Greenhalgh and her colleagues wrote in their paper. They added that folding in population-wide efforts could be helpful.
For their review and meta-analysis, the researchers collected nearly 4,000 published studies that they whittled down to a set of 49 papers that examined diabetes screening approaches and 50 that studied interventions to delay or prevent disease. One study was included in both sets.
Both fasting glucose and HbA1c — which measures glycated hemoglobin — tests are used to screen for people at high risk of developing diabetes. The reference standard two-hour glucose tolerance testing the researchers also relied on is not usually used as a screening test as it is time consuming, requires fasting, and involves consuming a sugary drink many people dislike, and it typically has to be done twice.
By assessing results from that set of 49 papers, the researchers calculated that fasting plasma glucose testing has a mean sensitivity of 0.25 and mean specificity of 0.94, suggesting that it would falsely tell a number of people they are not at risk of developing diabetes when they are.
Meanwhile, the researchers estimated that HbA1c testing has a mean sensitivity of 0.49 and a mean specificity of 0.79, indicating that it is neither sensitive nor specific.
Greenhalgh and her colleagues noted that the accuracy of these tests depends in part on the cut-off points at which someone is deemed pre-diabetic. In the five studies they examined that compared fasting glucose, HbA1c, and two-hour glucose tolerance testing, 27 percent of the people screened were considered pre-diabetic by one of the tests based on International Expert Committee and World Health Organization guidelines. But if the American Diabetes Association cut-offs were used, the portion considered pre-diabetic rose.
Further, the researchers noted that the three different tests didn't always agree on whether someone was pre-diabetic under IEC and WHO guidelines. There was greater agreement between the tests under the ADA guidelines, but that also doubled the estimated prevalence of pre-diabetes.
Still, the researchers reported that interventions to try to prevent diabetes could be effective. Based on their set of 50 trials, they estimated that lifestyle changes could reduce the relative risk of developing diabetes by 36 percent during the six-month to six-year period of the trials, though that fell to 20 percent over a longer term. Treatment with metformin, they calculated, could reduce relative risk of developing diabetes by 26 percent.
However, Greenhalgh and her colleagues judged many of the studies in their sample set to be of low quality and possibly influenced by selection and attrition bias.
Because these diabetes-screening tests have low accuracy and interventions have limited reach, she and her colleagues suggested that policymakers might want to consider augmenting screen and treat policies with population-level approaches such as improving walkability, regulating nutrition standards, and protecting green spaces.
But both screen and treat approaches and population-level approaches suffer from problems of adherence, added the University of Warwick's Norman Waugh in an accompanying editorial in the BMJ. "Preventing or delaying type 2 diabetes requires effective measures to motivate the general population to protect their own health," he wrote.