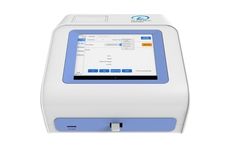 NEW YORK – For a company that didn't exist a year and a half ago, Reliable-LFC has made significant strides to get its rapid SARS-CoV-2 antigen test to market to help increase mass testing.
Entering the XPrize competition, which looked for fast, inexpensive tests to provide frequent screening for COVID-19, provided the company with the chance to garner attention and potentially earn part of the $6 million prize purse to help scale up its development. As one of the five winners of the competition, and the only one that won for an antigen test, as well as the recipient of a total of $1 million, Reliable-LFC is working to get its test ready for market, CEO Bill Pagels said. 
The V-Chek SARS-CoV-2 test is a lateral flow immunoassay targeting the nucleocapsid protein of the virus, like many other antigen tests available today, such as Quidel's Sofia 2 Antigen FIA and Abbott's BinaxNow COVID-19 Ag Card.  
One major difference, however, is that Reliable-LFC's test result isn't visually read, cutting down on the potential for variable interpretations of results. When read by the naked eye, different operators may determine different results for the same test depending on a variety of factors. But V-Chek uses fluorescent signals read by a portable analyzer to quantitatively read the test result, eliminating that variable. Fluorescence is also typically more sensitive than colorimetric tests, Pagel said.
The test uses a nasal swab, although Pagels said the company is working on validating it with saliva, with the swab placed into a buffer tube and a drop of the buffer added on the test cassette. The cassette is then placed into the instrument, which has a fluorescent detector that reads the signal and can return a result within one minute after inserting the cassette. The overall time to result is 10 to 12 minutes, due to the wait time for the reaction, Pagels said.
Each cassette has a barcode synced with the demographic info for a user for easier reporting and delivery of results, along with contact tracing, and every sample has its own control that will stop the test if something is wrong, Pagels added.
However, one potential limiting factor is the instrument needed to run the tests. The full-sized instrument, which can run thousands of tests one at a time, needs to be plugged into a power source and connected with a smart device via Bluetooth to provide the results virtually.
But Reliable-LFC is planning other options to work around the need for electricity, including developing two other kits that consumers can buy – one with an instrument and 50 cassettes, meant to be disposed of after all 50 are run, and a personal kit with one integrated instrument and cassette for use anywhere, including at home. The company hasn't made a decision about which version will be launched first, although Pagels said the data it currently has would support a submission for a point-of-care test in the short term. 
Reliable-LFC said it can get 15 million tests shipped within two to three weeks, eventually scaling to 20 to 30 million tests per month over time if the demand is there and the company receives more investments. Pagels said the test was co-developed with an undisclosed Chinese company, and Reliable-LFC has already been approached by manufacturers who have offered their services in helping provide the test and instrument. 
Another unnamed company that has approached Reliable-LFC has a contract from the US government to manufacture SARS-CoV-2 diagnostic tests, Pagels said. And though the biochemistry of the test, figuring out which antibodies to use and maximizing their affinity for prime sensitivity, is proprietary and can only be done at the firm's Carlsbad, California facility, Pagels added that there's no problem with multiple manufacturers producing the test, helping the company scale up even further. "The notion of being able to scale to meet demand is certainly within our capabilities, just depending on how many assembly instruments we have or have access to," he said. 
The money from the XPrize competition will also help with that scaling, he continued. As one of the Main Track winners, Reliable-LFC has received $500,000 to help accelerate manufacturing and development. To receive the other $500,000, the test must be deployed at a secondary site, running 500 tests per week for four weeks. 
Besides the XPrize winnings, Reliable-LFC has been entirely self-funded and remains a tiny company of four people. However, Pagels said the firm is actively looking for venture capitalists to invest and supplement the XPrize money, and it hopes to raise between $4 million and $6 million to fully implement the test and hire more people with international regulatory and clinical affairs experience.
Currently, the test is in clinical trials for its submission to the US Food and Drug Administration for Emergency Use Authorization, and the company is also planning to submit it for CE marking soon. Pagels said that because the FDA is emphasizing rapid antigen tests for widespread mass testing, Reliable-LFC expects its EUA submission to move through the red tape quickly. It plans to expand further, with from representatives from Singapore, Thailand, India, Malaysia, and Turkey expressing interest in the test. According to Pagels, 12 to 15 entities have contacted the company to partner with them, some to help globalize the test and usher it through regulatory processes in other countries.
Pagels is a strong believer in the importance of rapid, widespread antigen testing to get the pandemic under control and follows the guidance of Michael Mina, the associate medical director in clinical microbiology at Brigham and Women's Hospital, closely. Mina has been one of the most vocal proponents of the necessity of frequent, rapid antigen testing to curb the pandemic, saying that testing half of a community two or three times per week could lead to a drop in the reproductive rate of the virus. 
Mina also said at the 28th International Molecular Med Tri-Con Virtual Conference & Expo in February that most of the diagnostic testing that has occurred so far during the pandemic has done "almost nothing to curb the spread of the virus."
Pagels echoed Mina's comments, saying that the diagnostics industry has always looked up to PCR because it is more sensitive, but for this pandemic, frequency is the more important factor. Sensitivity is less important because testing people more often is still more likely to identify positives than an infrequent test, Pagels said. V-Chek's sensitivity in an independent study was 87 percent and specificity was 97 percent, he added.
"Changing the paradigm of the way people look at all diagnostic testing in this country and the world, that you know we need to be testing each other, we need to be tested ourselves frequently, not necessarily with the ultimate test in terms of analytical sensitivity," he said.
The pandemic and the emphasis on frequent screening is "changing the paradigm of the way people look at all diagnostic testing in this country and the world, that you know we need to be testing each other, we need to be tested ourselves frequently, not necessarily with the ultimate test in terms of analytical sensitivity," he said. A PCR test that takes multiple days to return results "doesn't do us any good in wrestling the pandemic to the ground and snuffing it out." 
Currently, the US is providing approximately 1.7 million SARS-CoV-2 tests a day, but many experts have estimated the US needs up to 35 million tests a day to get the pandemic fully under control, Pagels continued. "It's super important to have us tested more frequently," he said. "Vaccines are not going to do it alone. Vaccines are a solution, they're a very good solution, but they're not a solution unto themselves."
Pricing is crucial to frequent testing, and Pagels noted that Reliable-LFC's tests will be less than $20 per test. "The question is how much further down below $10 can we get and still keep our economic nose above the water," he said. For low-volume orders, the tests will be under $20, and for high-volume orders they will likely be less than $10 to start. The instrument is around $900, but Pagels said once orders pick up, the company is willing to "give the instrument away" for customers who will use it for mass screening.
There will be a minimum number of test orders required to give the instrument away, he said. "We're interested in getting the pandemic over with yesterday, thank you very much," Pagels said. "Eventually, we'll be giving [the instrument] away at our loss so people are engaged and entities are engaged in testing themselves and testing their staff and employees and so on frequently."
The way out of the pandemic has been complicated by the emergence of various SARS-CoV-2 variants. It is not known how well current vaccines work against variants such as the South Africa and UK variants, and they also have caused diagnostic developers to scramble to make sure their tests are effective against these variants.
Reliable-LFC hasn't fully verified its test against the variants, but Pagels said that because the test targets the "highly conserved" nucleocapsid protein of the virus instead of the more mutable spike protein, it can likely detect the variants. The company is planning to test its assay against the variants, Pagels said.
Once the pandemic is over, Pagels said the company will likely turn its intention to sexually transmitted infections, veterinary medicine, and possibly even blood-based infections.
But first, Reliable-LFC's goal is to contribute to ending the pandemic without having to rely on PCR, Pagels said. "I think that we're approaching a tipping point of the pandemic," he said. "We have a lot more tests coming on the market, we believe that we're going to be … one that's going to help curtail this pandemic."