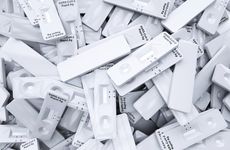 NEW YORK – Along with concerns around increased transmission and decreased vaccine efficacy, the potential emergence of the Omicron SARS-CoV-2 variant raises questions about how it might affect the performance of tests for the virus.
Based on the mutations present in the new variant, molecular tests are likely to be unaffected, but its impact on rapid antigen tests is less clear, said Daniel Bausch, senior director, emerging threats and global health security at Geneva-based diagnostics organization FIND.
Bruce Tromberg, leader of the National Institutes of Health Rapid Acceleration of Diagnostics Tech program, which evaluates the impact of SARS-CoV-2 variants on diagnostic tests through its RADx Variant Task Force, likewise said that thoroughly assessing the impact of Omicron on rapid antigen tests would require lab testing of variant samples against these tests.
However, he noted that of the four mutations in the Omicron variant's nucleocapsid, or N, protein (the target of most rapid antigen tests), three were also present in the Lambda variant of the virus. The fact that rapid antigen tests currently on the market performed well against the Lambda strain bodes well for their performance against Omicron, Tromberg suggested.
The question of the efficacy of rapid antigen tests to detect the SARS-CoV-2 virus containing the Omicron variant is an urgent one as such tests have moved to the forefront of efforts to tame the COVID-19 pandemic. The Biden administration, for example, has announced multiple rounds of investments to increase the capacity of rapid antigen tests.
In a statement provided to 360Dx, a spokesperson for test vendor Ellume said the company's COVID-19 Home Test detects a region of the N protein "that is unaffected by the mutations in the Omicron variant." The spokesperson added that Ellume was participating in the RADx Variant Task Force and that "formal testing against the Omicron variant is imminent and results will be released as soon as they are available."
Becton Dickinson, likewise, issued a statement Tuesday expressing confidence that its rapid antigen tests would detect the Omicron variant.
In the statement, Dave Hickey, president of life sciences for BD, said that the company conducted an analysis "using all available genomic sequences deposited in the GISAID EpiCoV database as of Nov. 29, 2021," and that based on that analysis the company is "confident that our rapid antigen and PCR tests for COVID-19 will detect the novel variant."
Hickey said that the company will do additional testing on live viral samples when such samples become available.
Quidel also put out a statement Tuesday in which CEO Douglas Bryant said its analysis of the GISAID database "shows a high likelihood that the Omicron variant is detectable by our immunoassays," and added that it is "following up these analyses by testing live samples."
Abbott issued a statement on Saturday addressing the question, and, like Ellume, BD, and Quidel, said that its genomic analysis of Omicron left it confident that its rapid antigen tests would detect the variant.
Tromberg said that it was reasonable for vendors to assert confidence in their tests based on the genomic data currently available, particularly for those vendors that know exactly what epitopes their antigen tests bind.
"Many [vendors] do know, but not all of them do," he said, adding that "part of the ongoing [RADx] effort is for us to work with manufacturers to actually characterize their antibodies so that we understand what their antigen binding sites are."
"We always want to get the actual lab work," he said, but noted that while it was possible that a mutation in a different protein could impact that availability of epitopes on the N protein for binding to the antibodies used in rapid antigen tests, "it seems, from our experience, unlikely."
Bausch said that while numerous vendors "have come out and said that they don't see a problem with continued detection [of Omicron] through their [rapid antigen tests], FIND is in the process of arranging prospective testing of these assays to assess their performance."
"Right now it is, I think, informed speculation, but we are in the process of generating data," he said.
Bausch said that FIND had various partners around the world that it collaborates with on clinical trials and test evaluation as well as biobanking partners in locations including South Africa where many of the Omicron cases identified thus far have been detected.
He said the organization hoped to have access to Omicron samples within the next several weeks that would allow it and its lab partners to do lab-based evaluations of rapid antigen and other SARS-CoV-2 tests. He noted that one of the challenges was collecting enough samples to properly assess test performance across a range of viral loads.
"If you just took a few samples and did it on a [rapid antigen test] and said, 'OK, it's positive' or 'it's negative,' that may be true, but it doesn't really give you any idea of the limits of detection," Bausch said. "Maybe the [test] worked on two samples, but maybe you're losing an order of magnitude that you didn't detect because those two samples happened to have very high viral loads. So, we really need to generate some sort of systematic approach to that, and that takes a bit more time."
Bausch noted that FIND similarly monitored SARS-CoV-2 test performance when the Delta variant emerged, "and we did not see a decrease in sensitivity or specificity that was specific to Delta."
Tromberg said RADx was also working to line up Omicron samples it could use to evaluate the various rapid antigen tests currently on the market and under development within the RADx system. In the meantime, the program plans to use synthetically produced versions of the Omicron variant proteins to assess rapid antigen test performance.
RADx will report the results of its testing back to the test vendors and the US Food and Drug Administration, Tromberg said. "It's really then the FDA's call as to whether the extent of the diminished performance is sufficient for them to say, 'OK, this is something that needs to be worked on or re-optimized by the manufacturer.'"