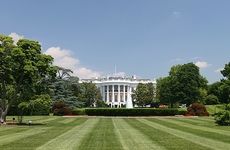 NEW YORK – The White House announced on Thursday that it is reopening another round of its free COVID-19 testing program as part of its COVID-19 Winter Preparedness Plan. 
Under the program, people in the US can order four free at-home COVID-19 antigen tests via COVIDTests.gov that will be mailed directly to them. The White House has "acted with its limited existing funding to add more at-home COVID-19 tests to the nation's stockpile" to support the new round of ordering, it said in a statement. 
Orders for the round will begin shipping next week, and tests will also be made available to people who are blind or have low vision. The program began in January during the spread of the Omicron variant but was halted in September because Congress had not provided additional funding to replenish the stockpile, the White House said at the time. The first two rounds of the program provided up to four tests per household, while a third round provided up to eight tests.
The administration also announced additional distribution programs for free at-home tests. The White House will distribute tests at rental housing properties for seniors assisted by the Department of Housing and Urban Development and will expand a program to distribute tests to up to 500 major food banks. 
In September, the administration announced the purchase of an additional 100 million at-home tests from domestic manufacturers to boost the Strategic National Stockpile.