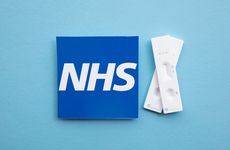 NEW YORK – The UK government this month began reducing access to free SARS-CoV-2 testing as part of a shift to a new strategy for managing the COVID-19 pandemic, called "Living with COVID."
As of April 1, free lateral flow tests were no longer available from the UK National Health Service to the general public in England in most circumstances. In Scotland and Northern Ireland, access to free lateral flow tests for most people will cease later this month, while Wales aims to stop offering free rapid tests by July.
The move to discontinue free testing has concerned some experts, who charge it is more of a political decision than a scientific one.
"It makes nonsense, if I can put it that way. It's crazy, and I don't see the basis for it," said Sanjeev Krishna, a professor of molecular parasitology and medicine at St. George's University of London (SGUL).
Krishna argued that the availability of free lateral flow tests allows more people to confirm a diagnosis if they suspect they have COVID-19, prompting them to seek advice and treatment, and to minimize risks to pass it on. He said the government's new approach is "not predicated on good methods, good science, or good practice," but rather "what the Conservative Party leaders believe at the moment is useful to their philosophy, I suspect."
The UK government published its new strategy on March 29. In the 63-page guidance, the government noted that the availability of vaccines and treatments for COVID-19 supported a transition to managing COVID-19 like other respiratory diseases. Those at risk of developing serious disease, as well as NHS and social care staff and others in high-risk settings, will still have access to free tests. Those who develop symptoms and confirm a positive diagnosis with a purchased lateral flow test should self-isolate for five days.
One reason for discontinuing free lateral flow tests in the UK is cost, according to the guidance. Starting in April 2021, the UK had made two lateral flow tests available to each resident per week. The government said that its testing, tracing, and isolation budget was more than £15.7 billion ($20.4 billion) in 2021-2022. Yet there were other factors that led the government to move to Living with COVID, such as concerns for mental health and well-being issues caused by pandemic lockdowns, as well as a slump in economic input.
Immunity gained through vaccination, recovery, as well as new antivirals, however, have reduced the pressure on the healthcare system, enabling the UK to take steps to lift restrictions, and scale back testing. Sajid Javid, secretary of state for health and social care, said in a statement that the government has also retained the ability to provide tests again, if needed, such as if a new variant of concern emerges. He said the country has a "stockpile of lateral flow tests" at its disposal, and the resources on hand to ramp up and deliver tests.
According to the guidance document, the UK has provided more than 2 billion lateral flow tests to the public since 2020 and "continues to have good stock levels and will manage these to provide flexibility in the future." It is also working to ensure that people have access to affordable tests. To meet the demand for retail SARS-CoV-2 lateral flow tests, a variety of pharmacies are selling kits in the UK, such as Tesco, Lloyd's Pharmacy, Boots, and Morrisons, typically at around £2 per test. Tesco is offering Cheshire-based Everything Genetics' test at 1,400 of its retail stores, for example, while Boots has been selling San Diego-based Acon Labs' Flowflex COVID-19 Antigen Home Test.
UK manufacturers will continue to serve demand for retail tests, though some question the government's decision to stop offering free lateral flow tests at this moment in time.
"There are still a number of use cases where testing will continue to be very important going forward," noted David Campbell, business manager at SureScreen Diagnostics, a firm based in Derby that sells the COVID-19 Antigen Rapid Test Cassette. Campbell noted that healthcare providers and people in nursing homes, called care homes in the UK, will continue to have access to free testing.
"We are working closely with hospitals, [general practitioners], and care homes to support these areas accordingly," said Campbell. Campbell added that SureScreen continues to monitor new variants of concern and will improve its tests if necessary.
Joe Fitchett, senior adviser at the Institut Pasteur de Dakar in Senegal and a former medical director of Mologic, manufacturer of the COVID-19 Rapid Antigen Test, noted that the adoption of lateral flow tests during the pandemic had reduced their costs, improved their performance, and made them accessible to almost everyone. He characterized this as "ideal" for public health interventions and added that early detection is "essential" to halt contagious individuals from spreading the disease to others.
"Vaccines alone cannot end the pandemic, even if the situation has improved since 2020," said Fitchett.
As such, he expressed concern about the government's decision to stop offering free lateral flow tests, saying it would force more individuals to turn to centralized health services, which are already strained. He also pointed to the caseload in the UK as worrying. For the week ended April 4, there were 1,449 deaths in the UK from COVID-19, according to the World Health Organization, and roughly 300,000 new cases.
"Rapid tests confer an individual and a public benefit," Fitchett said. "I am not in favor of ending their availability while cases remain so high." He added that ideally, such tests should be free at the point of need, or in a worse case scenario, at a nominal fee of £1 per test. "Scrapping availability is not maximizing their utility to prevent spread to others at a time we are seeing 300 plus deaths a day in the UK, despite excellent immunization coverage," he said.
The eyes and ears of an epidemic
SGUL's Krishna is also alarmed by current numbers of new cases, hospitalizations, and deaths, and said that these challenge the logic behind the government's decision to stop offering free lateral flow tests, which ostensibly is not only to reduce cost burden on the state but also part of a larger strategy of normalizing living with COVID-19 — to allow people to attend social events and return to work. For Krishna, the idea of reducing access to testing, while opening up society to ease a burden on the workforce, doesn't make sense.
"If you have so many people off [from work], off from school, off from the NHS, how does that help the economy?" said Krishna. "There isn't a dichotomy here."
Moreover, he said that diagnostics, along with new treatments, are the "twin weaponry" available for managing the pandemic. "The eyes and ears of an epidemic are the diagnostics," said Krishna. "They tell us what is happening," he said. "To be able to supply and offer tests easily and freely is a huge weapon, it is a huge contribution."
Not everyone agrees, though. Angela Raffle, a senior lecturer in social and community medicine at University of Bristol Medical School, noted that it was always in the government's plan to move to paid testing, going back to its "moonshot plan" for mass testing, announced in 2020. Raffle said that the government's use of mass lateral flow tests actually ran counter to the way British medicine had operated prior to the pandemic, when testing was employed cautiously, and people who suspected they were infected would have to obtain access to testing via a healthcare provider.
"The idea of allowing totally random self-testing was completely against British culture in terms of how we run publicly funded healthcare systems," said Raffle, "with no safeguard to see if they were used by people who really needed testing."
As such, Raffle agrees with the government's decision to scale back free lateral flow testing for the general public in the UK, stating that its mass testing program had resulted in a "complete Wild West" situation, where testing was done randomly, often with subpar tests. "Emergency licensing had to be sought, so that tests that had only been evaluated on 300 people for validation, could be used as self-tests in people without symptoms," she said. "Quality assurance during this pandemic has been appalling."
Raffle said the routine testing of children, in particular, who have been treated as drivers of infection, has been "basically abusive" and noted that psychologists have seen a spike in mental health disorders in children, a point that the government's guidance also referenced.
In Raffle's words, the government has "squandered billions of pounds on un-quality-assured haphazard wasteful testing in people who didn't really need it." At the same time, she said that the recent decision under Living with COVID to stop offering free testing even to symptomatic individuals was "not usual for British healthcare." In her opinion, the British government "has suddenly thrown all notion of a system out the window," and the move to mass testing during the pandemic could be a means of moving the British public to an American setup, where people can access any test desired, as long as they pay for it.
"If one was very skeptical, you might think, is this just a big ploy to get us to American-style testing," said Raffle. "There is big money to be made from lateral flow tests and genomic tests," she said. "But it is not how we have done our screening programs in the UK to date."
The UK Department of Health and Social Care did not answer queries seeking comment.
Tough decisions
Like SGUL's Krishna, Iain Buchan, chair in public health at the University of Liverpool, characterized the government's new Living with COVID strategy as a "political decision," driven less by science and instead by other factors, such as a narrow view of costs. He noted the wider economics of mental health and social wellbeing where Liverpool benefited from the early introduction of mass testing. "Half the families in Liverpool rely on visitors, events, and hospitality to make a living, so when Liverpool was locked down, that became a huge public health problem," he said.
Buchan acknowledged that British policy makers have to weigh the costs of continuing measures, versus other pressures such as crises in European security, energy, and climate. "These are tough decisions," he said. "I do not envy the policy makers."
Still, he said that the availability of free lateral flow tests was an important component of the pandemic response, noting according to internal data, the initial push on mass testing nearly halved hospitalization rates in the Liverpool area, though he pointed out that understanding the effectiveness of COVID-19 measures "is a fuzzy, moving target" as pandemics are fluid events. He said though that hospitalizations are rising and staff absences among healthcare workers are rising, reason enough not to transition to treating COVID-19 as a common cold. "There is a lot more to learn," said Buchan. "I think we should keep vigilant for a few months longer."
As per the government's guidance, the NHS will continue to deliver and support vaccines to the public, support patients with long COVID, currently via a £100 million plan for 2021-2022, as well as to invest in research, with £50 million set aside to support studies. The government has also pledged to continue to provide access to free personal protective equipment, such as masks until March 2023. There is, of course, the question as to how long the current paradigm might last, should infections and hospitalizations spike again.
For SGUL's Krishna, the question now is what might be the threshold for the government to alter its Living with COVID strategy, especially the availability of free lateral flow test kits.
"What level will trigger the release of these tests?" said Krishna. "There is a cost in morbidity and mortality is unfolding before our eyes," he said. "When does it become something to act upon?"