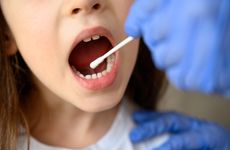 NEW YORK — With the school year either having started or nearing its start in much of the country, a number of states have put in place COVID-19 testing programs for their K-12 schools.
The extent to which individual schools and school districts will participate in those programs remains an open question, however.
"We're having a lot of discussions about back to school," Adam Schechter, chairman and CEO of Laboratory Corporation of America, said during the company's Q2 2021 earnings call at the end of July. "But to be honest, they've really been discussions. We haven't seen a lot of schools willing to pull the trigger and say, we're going to put in a significant back-to-school testing program."
At the beginning of July, Alexandria, Virginia-based Affinity Empowering, which is offering testing to K-8 schools and other congregate settings through the US Department of Health and Human Services and the US Department of Defense's Operation Expanded Testing program, projected it would be running between 1.5 million and 2 million SARS-CoV-2 tests per week in schools once the school year starts in September.
Speaking to 360Dx this week, Michael Tkach, the company's chief operating officer, declined to provide a firm projection of the test volumes it anticipated at the start of the school year but said that it would probably be "a little bit on the lower end" of the mid-summer projection.
He said he found this surprising, particularly given the rise of the Delta variant of the virus in recent months.
"You would expect [given the Delta variant] that if we had been talking about 1 to 2 million [tests per week], now we would be talking about 4 to 6 million," he said. "But it hasn't really panned out that way."
When the American Rescue Plan Act passed in March 2021, it provided $10 billion in funding for K-12 COVID-19 screening. Those funds were distributed through the US Centers for Disease Control and Prevention to state departments of health, which received the money in early April.
Following ARPA's passage, a number of companies announced either a rollout or a ramp-up of school testing efforts. Opentrons Labworks, for instance, announced that it was launching labs in New York City, Washington, D.C., Los Angeles, and Seattle focused on K-12 testing through its SARS-CoV-2 testing business, Pandemic Response Lab. Thermo Fisher Scientific and Color Health announced that they were partnering to launch a school SARS-CoV-2 testing program. Gingko Bioworks announced agreements with Dascena Labs, Olive Labs and CQuentia to provide testing to K-12 schools. Opko Health subsidiary BioReference Laboratories, which had been providing testing for New York City schools since October, announced that it was expanding its SARS-CoV-2 testing program to reach schools across the country.
When 360Dx contacted state health departments in May about how they planned to use the ARPA funds, however, none of the 16 states that responded had begun broadly distributing them to individual schools or school districts. Most of the responding states said they were still in the process of identifying vendors and/or piloting programs that they planned to expand throughout the summer and fall.
In the middle of August, 360Dx followed up with the 50 state departments of health to determine where they were in terms of putting together K-12 testing plans and making funds available to individual districts and schools. Of the 18 states that replied, 13 had put in place K-12 testing programs using the ARPA funds and the other five were in the process of finalizing the selection of vendors for K-12 testing.
But while states appear to have made significant headway in setting up COVID-19 testing programs, there are indications that interest among schools remains anemic.
Georgia, for instance, has contracted with two vendors to provide turnkey testing for its K-12 schools. However, according to a spokesperson with the state's department of health, as of Aug. 12 — when many of the state's districts had started the school year — just 73 of its more than 2,200 schools had signed up to access this testing. Since the start of the year, more than a dozen of the state's school districts have either closed, gone virtual, or moved to hybrid learning due to COVID-19 outbreaks.
South Carolina is offering pooled molecular testing through Affinity Empowering and providing monthly reimbursement of expenses to schools interested in using other vendors for testing. The state surveyed its districts and individual schools to determine interest levels in testing. Of the districts and schools that replied, 30 indicated they wanted to provide some form of COVID-19 testing during the school year, 29 were undecided, and 44 said they did not wish to offer COVID-19 testing.
West Virginia is using in-state lab vendors to provide turnkey testing programs to interested schools. As of Aug. 12, 10 of the state's 55 counties had contacted one of these vendors to set up a school testing program.
In May, Ohio evaluated in a small number of schools a COVID-19 screening pilot called ReadyCheckGo run by Thermo Fisher Scientific and Color Health. Contacted in August, Ohio Department of Health spokesperson Megan Smith said that the state had decided not to use the CDC funds to establish a statewide asymptomatic screening program for the state's K-12 schools but that it would focus on providing on-demand testing for schools.
In Utah, Tom Hudachko, a spokesperson for the state's department of health, said that "school districts have reported significant 'testing fatigue.'" Utah requires individual K-12 schools to test all of their students with either rapid antigen or molecular tests when school positivity rates hit certain thresholds. The state is using the CDC funds to support this testing.
Some states have bucked this broader trend, demonstrating relatively strong interest from schools. Delaware, for instance, is using the CDC funds to contract with Quidel to provide weekly antigen testing within schools. As of Aug. 11, 180 of the state's roughly 220 schools had signed on to the program.
Massachusetts, which has been a leader in K-12 COVID-19 testing, has also seen substantial uptake, said David Berlin, head of launch of COVID-19 testing for Cambridge, Massachusetts-based CIC Health, which has been running one of the state's largest school testing programs. He said this week that CIC was working with 1,850 of the roughly 2,600 public and private K-12 schools in the state.
That represents a significant uptick from the end of the last school year when CIC was working with around 850 to 900 schools, Berlin said.
Stacia Rivello, senior director of marketing at Quest Diagnostics and lead for its school-aged testing programs, said that despite the apparently weak demand for testing from many districts, the company has seen a steady increase in school testing requests as the school year starts or draws closer for many states.
"The number of school districts that are opting in and the number of schools within the districts that have been opting into the program has been increasing every week," she said, adding that school testing demand had surpassed what Quest saw in the spring due mainly to the rise of the Delta variant and the widespread move to in-person schooling.
Whether K-12 testing will prove a meaningful revenue driver for large national labs like Quest remains to be seen, however.
As Quest CFO Mark Guinan noted during the company's Q2 2021 earnings call, K-12 testing relies heavily on pooled testing, which means the company gets paid essentially the same price for a pool of samples as it would for one sample in a traditional individual testing model.
"There are absolutely some [school testing] contracts that we won, we've gotten some of that volume, but to really move the needle, [school testing] has to be really broadly endorsed and embraced," he said. "We've seen some momentum, but not enough to be significant at this point and really move the needle to offset the decline in the clinical testing we've seen over the last several months."
One factor that could drive an increase in school COVID-19 testing, and COVID-19 testing in general, is the arrival of flu season, which could increase the number of symptomatic people needing testing to distinguish between COVID-19 and other respiratory viruses.
"We're preparing for that to happen, but it remains to be seen," Rivello said. "It probably depends on the other preventative measures that the schools choose to take and the levels of openness of the communities and how much interaction is taking place outside of the classroom. It's hard to predict."
Berlin said that CIC was also in conversations with a number of schools and districts that did not have immediate plans to put a testing program into place but that would consider it if infection rates rose. He suggested that the work states have put into establishing their programs could prove handy in such cases.
"Maybe people don't want to start until October, but at least you have this insurance policy of some sort of COVID testing plan," he said. "As long as you have the contacts, as long as you have a program set up, as long as you have gone through the contractual paperwork, then you are in a good place where you can turn on testing as a reactive measure."