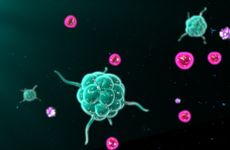 Note: This story has been updated to reflect that the test has now received CE marking.
NEW YORK – In a move to further build out its COVID-19 testing portfolio, Roche is launching a T-cell test that can be used to determine a patient's immune response to SARS-CoV-2.
The firm announced on Monday that its Elecsys IGRA SARS-CoV-2 test has received CE marking and is launching in countries accepting the designation.
The assay is intended to "address some of the still open questions around cellular immunity" related to SARS-CoV-2, said Sven Miller, Roche's life cycle leader for infectious diseases, blood screening, and oncology. While antibody testing has been a major focus for people looking to determining a patient's immune response, T-cell tests can provide additional information regarding someone's level of protection or the chance of developing severe disease, he said. 
There is "more and more evidence" that most antibody tests "alone will not be able to answer that question," he added, and a combination of antibody and T-cell tests would give "a much better idea on how the immune system reacts to the infection" and "may be needed to find answers to these questions." 
The two-step test relies on stimulating a whole-blood sample with nearly 200 peptides and incubating the solution for 16 to 24 hours, Miller said. After the incubation, the blood is run through an immunoassay to measure the secretion of interferon-gamma, a cytokine produced by T cells that indicates an immune response. The immunoassay itself takes about 18 minutes and runs on Roche's Cobas E analyzers, he said. Interferon-gamma has been used as a marker for T cells in a variety of COVID-19 immune response tests, including those from Eurofins Viracor and Oxford Immunotec.
When developing the test, Roche focused on two important factors, Tilman Rüsike, Roche's international business leader for infectious diseases and blood screening, said. One was finding peptides that would cover different parts of the SARS-CoV-2 genome to ensure the test would work with any variant. It chose epitopes that were related to stable regions of the genome and would be less impacted by any mutations, he said. 
The company worked with an undisclosed external partner to determine the role played by different epitopes via theoretical analysis of available scientific information and followed up by conducting evaluation studies to confirm the epitopes worked with a variety of samples, Miller added. Scientific literature has shown what regions of the virus "mutate quite fast," such as the spike protein, and the epitopes included in the test encompass a variety of different viral proteins, many of which have a lower mutation rate, he said. 
"The combination of all these different epitopes from all the different proteins reduces the risk that a new mutant will not be detected," Miller said. "We all don't know in the future what kind of mutants that we will be facing," but Roche will monitor the mutations that arise to make sure the test can be used for any new variants that appear, he added. 
The other key component Roche emphasized when developing the test was the need to optimize the assay's workflow within a lab by automating everything after the incubation step, including the results readout, Rüsike said. 
Roche's test is intended to help shed some light on the immune response to SARS-CoV-2, something that is still clouded in uncertainty. One key question is how immune response indicators, such as T-cell levels, correlate to protection from severe disease, Miller said. The test isn't meant to replace antibody tests — Roche currently offers multiple such tests — but could be used in combination with a T-cell test to provide a clearer picture of protection.
"There is currently no clarity on if an antibody or T-cell test or both in combination" can be used "to make a statement on protection or severity," he said. But in the future, the company hopes the T-cell test could be used to both determine whether someone who has been vaccinated is protected from the disease and predict whether someone who is infected will experience severe disease. 
After launching the test in countries accepting the CE mark, the company plans to move it to the US and other markets depending on timing, Rüsike said. A global launch depends on discussions with local authorities in different countries — "not each and every country is interested" in this kind of test, Miller added. 
The firm sees this T-cell test being beneficial in hospital laboratories or other places where it's "important to understand the role of immunity in SARS-CoV-2," Rüsike said, adding there is interest from "research-oriented routine labs," such as those found in large university hospitals, who want to use the assay to improve patient management.
Both Miller and Rüsike emphasized that the assay will play a role in further evidence generation about SARS-CoV-2 immunity as researchers continue to collect data about how immune response correlates to protection and disease severity. 
Although the demand for COVID-19 testing has fluctuated and may be waning as the pandemic turns endemic, Miller said that as more data becomes available about the role of immune response in determining protection and disease severity, the demand for antibody and T-cell tests will be higher. "It is very important to sell this test, to provide this tool to the experts, and to give them the opportunity to generate the evidence that needs to be generated," he said.