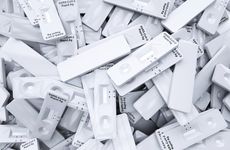 NEW YORK – A month after President Joe Biden's unveiling of his COVID-19 Action Plan, which includes a promise to order 280 million rapid and at-home SARS-CoV-2 tests, laboratory stakeholders have questions — specifically, can test developers actually deliver.
The plan, which was announced in early September, includes the invocation of the Defense Production Act, or DPA, to accelerate production of rapid point-of-care and at-home tests. In it, the federal government also pledged to procure 280 million tests from multiple manufacturers.
Weeks later, the White House COVID-19 Response Team said the administration would invest an additional $1 billion to purchase 180 million rapid tests in the next year.
The move has been accompanied by other investments from the federal government, including the National Institutes of Health's Rapid Acceleration of Diagnostics initiative's $77.7 million funding of contracts to develop and manufacture 12 new rapid diagnostic tests for the virus, announced earlier this week.
The US Department of Defense has also announced multiple contracts from major rapid test manufacturers, including a total of $647 million awarded to OraSure Technologies, Quidel, Abbott, and Intrivo Holdings in September to provide a combined 60 million rapid tests. OraSure received an additional $109 million from the agency in October to support manufacturing scale-up for the firm's InteliSwab rapid SARS-CoV-2 antigen tests.
The investments have been lauded as crucial steps to expand testing capacity, but some in the diagnostics industry question whether test manufacturers can meet the demand for tests as stipulated by the terms of their federal contracts and awards.
While spokespeople from many diagnostic companies said they were confident in the ability to meet demand, analysts and laboratorians weren't convinced.
Brian Weinstein, an analyst at investment bank William Blair, said in an interview that currently there would be "no way right now" for manufacturers to fulfill the number of tests requested if the federal government asked for them all at once, considering the additional demands of school and retail testing.
The key question at play, Weinstein said, is how quickly the government will want the tests it has procured.
A spokesperson from Abbott, provider of the rapid BinaxNow SARS-CoV-2 antigen test, said the firm is "quickly working to scale back up our manufacturing of BinaxNow test kits — including hiring additional employees and turning on parts of our self-established manufacturing network."
She added that "this surge in testing capacity means tens of millions more tests will be available in the coming weeks and months where they're needed most to help stop the spread of this virus."
Weinstein noted that Abbott said it is ramping to 50 million tests per month, although many diagnostic companies are facing labor shortages for their manufacturing facilities that could impact the ability to scale up.
Meantime, Thomas Theuringer, the senior director of public relations and digital communications at Qiagen, said the company has so far spent $130 million to ramp up its capacity, including implementing new facilities and new production lines for its tests, as well as further automating its workflows.
Other major players in the rapid SARS-CoV-2 test game, including Becton Dickinson, Quidel, and OraSure did not respond to requests for comment on deadline.
However, Weinstein did provide some expected capacity numbers for each company: Becton Dickinson's current capacity is 12 million tests per month, while OraSure has said it can provide between 4 million and 6 million tests per month, with goals to ramp to 120 million per year in the first half of 2022. Quidel's current capacity is around 15 million per month, Weinstein said.
In an analyst note, Craig-Hallum's Alex Nowak said Biden's plan "bodes well" for Quidel. He noted that "a shift towards point-of-care testing feeds directly into [Quidel's] strengths" and that the firm "should be in a good position to match [demand] with supply."
"Throughout the spring lull [Quidel] kept its manufacturing capacity online, continued to add capacity, and increased its presence in retail outlets," Nowak wrote.
The firm said in its preliminary Q3 revenue announcement last week that it is on track to meet its target capacity of 70 million rapid antigen tests per month by the end of 2021, consisting of 20 million Sofia tests and 50 million QuickVue tests.
Acon Laboratories, whose at-home antigen test received Emergency Use Authorization from the US Food and Drug Administration earlier this month, has said that it plans to produce more than 100 million tests per month, increasing to 200 million per month by February.
All of these promised increases are significant, and most were underway before the Biden action plan was rolled out, which Weinstein said is a good sign, since manufacturing facilities can take a long time to scale up.
"You can't just flip a switch and bring manufacturing" lines to the table, he said.
Companies will also need to be prepared for supply chain issues that "will pop up," Weinstein said. He hasn't heard of any new supply chain issues in the diagnostics market but said that it's a "constant battle" to ensure there are enough supplies. "Global supply chains are stretched in every industry," he added. "It's hard to get a steady stream of supplies."
Diagnostic firms may need to build up a safety supply to make sure they have enough to meet demand, but for some companies, the biggest bottleneck to expanding capacity is supply, he said.
Another concern for diagnostic companies is the additional demand for tests from retailers. Beyond the more than 460 million tests the federal government has procured, "What is the demand on the retail side?" Weinstein asked.
The Biden action plan requires major retailers, including Walmart, Amazon, and Kroger, to sell rapid tests at cost for the next three month, and while Weinstein noted that demand has been "pulling back" on the retail side slightly, it might be "hard to meet the full demand this winter" as the influenza season ratchets up.
Retail demand does depend "on case counts," he added, and as cases and hospitalizations have trended downward in the US recently, that could alleviate some of the burden on manufacturers.
Allocation of these tests is also up in the air right now, with Weinstein saying the allocation decisions of each company aren't public, so there's no way to know where they plan to send their tests. He added that he hopes the federal government is thinking through allocation processes and coming to the table with a "balanced approach."
"Companies are confident and have contingencies in place," he said. "They're producing everything they can and allocating as best they can."
As for the approach to rapid testing, it's important for the public to realize that testing "has to continue beyond the acute phase," said Mara Aspinall, the managing director and cofounder of life sciences investment firm BlueStone Ventures and former CEO of Roche Tissue Diagnostics. Aspinall is also on the board of directors for OraSure. 
She added that testing demand will go up as vaccine mandates are put in place, which will add more pressure on capacity expectations.
While she emphasized the importance of supply chains, Aspinall said that's less of a concern now as the situation has improved since the start of the pandemic. And use of the DPA in Biden's plan is a good move, since it may be needed to "ensure the stability and availability of the supply chain," she added.
Her main concern centers on manufacturing, including ensuring companies are manufacturing to the appropriate standards. Making sure antigens are applied correctly to tests is a key component of manufacturing, and focusing more on speed than accuracy is a recipe for disaster.
"It's important we have reliable tests," she said.
While many companies are submitting new tests utilizing innovative technologies to the FDA — Aspinall said the agency is getting EUA requests for 100 tests per month — in the short term, the US needs "large-scale manufacturers" to provide the tests to meet demand.
Companies that she has her eye on in the future who could bring rapid antigen tests to market in the US and help increase demand are Roche, Siemens Healthineers, and LumiraDx.
Roche has a CE-marked rapid antigen self-test that has been available in Europe since June, but there's no word on when the company will launch the test in the US. Siemens received CE marking for its rapid antigen self-test in May, and LumiraDx received a grant from RADx to develop a rapid point-of-care antigen and influenza A/B test earlier this week.
Aspinall praised the federal government's procurement contracts, saying they "give assurance that what [manufacturers] build will sell" and are "laying out a case for the importance of testing."
Although the focus of the federal government's testing initiatives has turned to rapid antigen tests, Aspinall warned that it needs a "both not either" approach, including PCR in the conversation as well. The country must "use all testing capabilities" depending on what's available, whether that's PCR or antigen testing, she said.
"We need to use all avenues," Aspinall said. "We can't get overly dependent on one type of test."