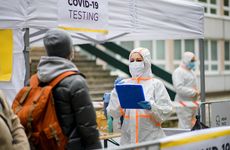 The story has been updated to include comments from Jeff Shuren, director of the FDA's Center for Devices and Radiological Health.
NEW YORK – Companies that once rode high on the COVID-19 pandemic may now have to face the possibility of extinction in the coming years.
Late last month, Lucira Health filed for Chapter 11 bankruptcy protection two years after its debut on the Nasdaq and less than a year after it posted its first quarterly profit, becoming the latest example of a diagnostic company that skyrocketed during the pandemic but is now fighting to keep its doors open amid a sharp decline in COVID-19 testing.
Lucira was just one of several companies that existed on the margins of the diagnostics space before anyone ever heard of SARS-CoV-2, the virus that causes COVID-19. Once the pandemic hit, the world shut down, and while governments and society scrambled to develop tests to diagnose the disease, Lucira and others suddenly became prominent players overnight.
But as the pandemic enters into its fourth year, many of these companies are struggling mightily, a result of what Oded Ben-Joseph, managing director of Outcome Capital, called the "irrational exuberance" of the early days of the pandemic. What we're seeing now, he said, is a correction in the diagnostic market in which "the one-trick pony COVID-19 companies are going to be purged from the market. Most of them are going to either go under or are going to be acquired at sort of low premiums or no premium."
Throughout the industry, COVID-19-related revenues have pulled back, in some cases drastically, since the start of the pandemic in early 2020, and into 2021, when variants and sub-variants of the virus led to waves of new infections. Testing was a regular part of everyday life with people getting a swab stuck up their noses to get their results before family get-togethers, large gatherings, and travel on planes. Portable testing sites were set up in communities with long lines of people waiting to get tested. Meanwhile, companies set up testing protocols for employees working in offices, as did schools and universities for students.
Every cough, drippy nose, or sore throat inevitably led to a COVID test, whether molecular or antigen-based.
Diagnostic companies rushed to develop COVID-19 tests to help meet the explosive demand amid a global health emergency not seen in a century.
While companies won't characterize the pandemic, which has resulted in almost 7 million deaths and counting, as being good for business, the truth is that they reaped a bonanza in both public funds to develop COVID-19 tests and the revenues that such tests pulled in if the firms got the proper regulatory authorizations to market them.
Along with long-established firms with decades or more of experience in diagnostic testing, companies few had heard of suddenly materialized to develop their own tests. The risk for many of them was that if they relied too much on COVID-19 and didn't bolster their test menu for when the pandemic subsided, they would cease to exist.
Lucira and other similar firms were born out of necessity in pursuit of COVID-19 testing and they are now being punished in the marketplace in comparison with the firms that have made more progress expanding their testing menus and controlling their product prices, said Craig Steger, a director at Outcome Capital.
Along with Lucira, whose officials declined to comment, other firms born out of COVID-19 that have recently struggled with soft revenues and share prices are Cue Health, Chembio, and Talis Biomedical. One Australian firm that raked in a sizeable contract with the US government for its COVID-19 tests at one point, Ellume, declared bankruptcy and then was acquired last year.
Even the more established firms that had robust non-COVID-19-related businesses are now reckoning with their own desiccated COVID-19-related revenue pipelines.
But as a firm that banked on its COVID-19 testing business when it went public and is now facing an uncertain future, its story could be the preface to other similar narratives to come.
Early success
Formerly called Diassess, Lucira was founded in 2012, supported early on by a $148,000 grant from the National Institutes of Health to demonstrate the utility of a cartridge-based point-of-care device for detecting protein and nucleic acid biomarkers. In 2018 and 2019, the firm inked contracts worth up to $33.4 million with the US Department of Health and Human Services' Biomedical Advanced Research and Development Authority to develop point-of-care and at-home influenza diagnostic tests. The firm also said in 2018 that it was developing DNA-based diagnostics for sexually transmitted infections, dengue, Zika, and non-influenza respiratory ailments.
It became an early success story emerging from the pandemic when in November 2020, it received the first Emergency Use Authorization from the US Food and Drug Administration for an at-home COVID-19 test.
Shortly afterward, the Emeryville, California-based company went public in February 2021 in a $153 million initial public offering. Its shares initially traded at $17 per share on the Nasdaq and skyrocketed to $37 a week and a half later. Today, its stock trades at less than $1 per share and was doing so even before it announced its Chapter 11 plans.
According to Mara Aspinall, professor of practice at the Arizona State University College of Health Solutions and adviser to the Rockefeller Foundation on COVID-19, Lucira has been a leader in COVID-19 testing. She noted its first-mover status for nabbing the 2020 EUA for its Lucira COVID-19 All-in-One Test Kit, which uses loop-mediated isothermal amplification to detect viral RNA.
In a bittersweet, ironic turn, the company also received the first EUA for an over-the-counter test for COVID-19 and influenza A and B just two days after announcing it was filing for Chapter 11.
Company officials initially laid out a bold vision that its single-use test platform could replace central laboratory testing for infectious diseases. In the firm's earnings report for the third quarter of 2022 — the most recent results available — company officials said Lucira's PCR-quality products could deliver results to homes and point-of-care settings more quickly and at lower cost while maintaining lab-level accuracy, which it said is "designed to be diagnostically definitive" in contrast with the potential false negatives of rapid antigen tests during early stages of infection.
In early 2022, the firm expanded its focus beyond its COVID-19 test to the development and commercialization of the COVID-19/influenza combination test. It applied for EUA for the combination test and began manufacturing kits ahead of an anticipated August 2022 clearance.
From November 2020 through September 2022, Lucira generated more than $244 million in revenues from its at-home and point-of-care molecular tests, reaching a peak during the first quarter of 2022 with $90.5 million in revenues and a profit of $13.1 million, the first time it posted a profit as a publicly traded company.
But as the regulatory review for its combination COVID-19/flu test dragged on, the firm's expenses accumulated, and in October, Lucira's board of directors approved cost-reduction plans, layoffs, adjustments to its vendor agreements, and contracted with accounting and consulting firm Armanino to review strategic options, including a possible sale of the company.
In announcing the EUA for the combo test, Lucira President and CEO Erik Engelson cited "what became a protracted authorization cycle time" and lack of clarity when authorization would come "despite working closely with FDA."
The company's announcement of its Chapter 11 plans also took note of the protracted EUA process, which Lucira said resulted in "high expenditures without new revenue from the combined test kit during the 2022-2023 flu season. As such, the company's operations were significantly impacted, leading to the Chapter 11 filing and sale process."
Lucira's Q3 2022 SEC filing further clarifies that the delays in the EUA sprung, at least in part, from a lack of clinical data, and the firm had to amend its application to limit its combination test to point-of-care use until it could obtain more prospective clinical data.
An FDA official said the agency could not comment on individual EUA applications but noted that many test developers have struggled to find adequate flu B samples for testing in support of their flu B testing claims. The agency, he said, has been flexible in working with those test developers and allowed the use of contrived samples in support of authorization.
Responding to Lucira's comments regarding the perceived lengthy EUA process, the FDA issued a statement on Tuesday in which Jeff Shuren, director of the agency's Center for Devices and Radiological Health, provided clarity around the timeline of Lucira's COVID/flu test authorization and rebutting any suggestion that the agency was the reason for a delay in the EUA. 
He said that in evaluating Lucira's COVID-19 & Flu Test, the agency determined the test contained a toxic substance in one of the test components, making it "unsuitable" for home use, and causing a delay in the EUA process. Lucira redesigned the test to address the problem, but, Shuren noted, the EUA request included only nine positive influenza A clinical samples, which he said was not enough for FDA to assess the test's performance. 
At the end of 2022, the company submitted a new EUA request that included 35 positive influenza A samples and the SARS-CoV-2 data from their earlier COVID-19-only test that had received EUA. The number of positive influenza A samples that were provided was less than the 50 that FDA typically requests for a COVID-19 test EUA submission, but "in lieu of collecting additional samples, the FDA worked with our partners at the National Institutes of Health Independent Test Assessment Program to evaluate the company's ability to manufacture tests of known quality," Shuren said.
"This data supported authorization even with the lower than requested number of positive influenza A samples that were provided," he added. 
When an EUA application is mostly complete, the agency can deliver authorization in one to two months, the FDA official told 360Dx.
Lucira said in its statement announcing the most recent EUA that it believes the combo test will have a role in future flu seasons, and the firm is looking for a strategic or financial partner to resume the manufacture and development of additional diagnostic products. However, the future of the company and its products are unclear. In her newsletter covering the diagnostic testing landscape, Aspinall said that "given that product launch typically takes at least three weeks, it is hard to imagine that the test will be widely available in the US for this flu season." 
The cost of the test is also unknown, though she pointed out that in Canada, where regulators authorized the test for marketing in August, it sells for C$70 (US$51).
Just the beginning?
While Lucira's bankruptcy may be the most pointed indication of the struggles now confronting COVID-19-focused companies, many experts said other similar firms face their own troubles. For example, Cue Health developed a molecular test for COVID-19 and raised $200 million in its IPO in September 2021. It also reported gigantic revenue gains early on, much of it from deliveries to the US Department of Defense and HHS.
Since its IPO, though, its share price has shriveled about tenfold to about $2.00. Last June, it laid off 170 people, and in an SEC document filed this past January it disclosed it was laying off another 388 in a cost-reduction plan.
Steger of Outcome Capital said that while Cue has a diverse menu, he expects the company will continue having difficulty penetrating the home testing market because its price per test is far higher than the prices of rapid antigen tests. Cue's over-the-counter molecular test sells for $65, while its testing instruments cost $200. Those who opt for a $20 per month membership with virtual health and prescription services get those tests for $52 each and a reader for $160.
To succeed in the space, diagnostic companies need to manage and control three things: their turnaround time, cost of goods sold, and menu, Steger said.
"You have to build to a strategy that the market is going to accept whether it's commercial traction, whether it's eventually an M&A, whether it's additional funding," he said.
Cue officials declined an interview but provided information indicating the firm has delivered more than 10 million COVID-19 tests and established an installed base of more than 250,000 Cue Readers that can be used for future tests including respiratory and sexual health tests, which are in clinical studies. The firm's COVID-19 test remains its sole application on its reader, although it has said it is seeking EUA for its Flu + COVID-19 Molecular Test. 
The San Diego-based firm received an EUA for its point-of-care and laboratory-based molecular SARS-CoV-2 test in June 2020, and in October 2020, the DoD awarded it $481 million to expand its COVID-19 test production capacity. In March 2021, it secured the first EUA for a nonprescription at-home molecular COVID-19 test.
The firm's other products are sample collection kits for CLIA lab-based tests for food sensitivity, chlamydia and gonorrhea, cardiovascular health, cardiovascular disease risk, colon cancer screening, vitamin D levels, liver health, and kidney health.
Outcome Capital's Ben-Joseph praised Cue for its efforts to diversify beyond COVID-19, but the question remains how receptive the market will be for, as an example, its at-home colon cancer screening test. Larger firms tend to be better able to deal with that kind of market uncertainty, he said.
He also noted another recent bankruptcy by Ellume, which had become a large-scale manufacturer of COVID-19 tests before it went under in the fall of 2022.
In December 2020, Australia-based Ellume received the first EUA for an over-the-counter at-home rapid antigen test for SARS-CoV-2 infection, accomplished with $30 million in support from the US National Institutes of Health's Rapid Acceleration of Diagnostics (RADx) initiative. In February 2021, Ellume USA secured another $231.8 million from HHS and DoD for production of the Ellume COVID-19 Home Test. The DoD said at the time the US would procure 8.5 million of Ellume's tests for distribution in the country.
And in October 2021, RADx officials listed Ellume among the companies receiving grants to develop and manufacture new rapid diagnostic tests for SARS-CoV-2. But the company ran into trouble a month later when it had to recall 2.2 million of its COVID-19 Home Tests due to reports of false-positive results. It entered voluntary administration in 2022, a process in Australia similar to Chapter 11 bankruptcy in the US, before it was bought by another Australian company, Hough Pharma, late last year.
According to Steger, Hough Pharma scooped up Ellume "for pennies on the dollar." He also noted Biosynex's $17.2 million acquisition of Chembio Diagnostics, which he said invested heavily in COVID-19 testing and saw its value plummet.
"They put all their eggs in the COVID basket, and when that went away, they just crumbled," he said.
Similarly, Redwood City, California-based Talis Biomedical has struggled in recent months, reporting in August it was laying off 35 percent of its workforce and implementing other cost-cutting measures meant to sustain the firm further into 2025.
A Talis spokesperson said the firm had stopped investing into commercialization of its COVID-19 assay to return to its original focus on women's health and sexual health tests, "where there remains a large unmet need for infectious disease testing at the point of care."
"To address these significant opportunities, we have redirected our efforts toward the pursuit of 510(k) clearances for the Talis One platform and development of multiple assay panels," the statement said.
The company received EUA from the FDA in late 2021 for a COVID-19 point-of-care test but never launched it because of manufacturing issues and invalid rates of greater than 10 percent. Last August, Talis said it would no longer invest in commercializing the test due to "evolving market dynamics with COVID testing and the current financial environment."
The firm raised $254 million in its February 2021 IPO. It had previously nabbed $25 million from the NIH to develop the Talis One COVID-19 point-of-care test.
On the first day as a public company, Talis saw its shares close at $27.80 on the Nasdaq, but as of March 4, 2023, its shares had plummeted to $.57.
Talis has been developing its SlipChip digital microfluidic instrument for infectious disease and antibiotic susceptibility testing since before the pandemic with $10 million in support from the NIH and the nonprofit Combating Antibiotic Resistant Bacteria Biopharmaceutical Accelerator, or CARB-X.
Talis said in its provided statement that the company has demonstrated manufacturing capabilities that support development and commercialization of the Talis One instrument, plans to expand its test menu, and has a strong cash position and confidence it can deliver value growth.
Into the endemic era
That COVID-19 revenues are declining and have been for several quarters now surprises no one. Even as companies were reporting record revenues during the earlier phases of the pandemic, they said COVID-19-related sales would drop off eventually. In particular, laboratory-based testing, which uses molecular technologies, such as PCR, have fallen sharply.
People increasingly are relying on home-based, antigen tests instead, but even in this space, said Steger, "in order to compete in the at-home market, you're going to have to be one of the big boys."
But even the big boys are not immune to the flow and ebbs of the market. Abbott and QuidelOrtho are two of the largest COVID-19 antigen testing firms, if not the two largest, and they, too, have seen drastic falloffs in their testing revenues.
Abbott, which has delivered about 3 billion COVID-19 tests, saw its Q4 2022 revenues fall 26 percent year over year on declining COVID-19 testing demand even as it reported $1.03 billion in net earnings for the quarter.
Abbott officials said in a conference call that the firm is emerging from the pandemic with an expanded installed base of instruments, new testing channels such as physicians' offices and at-home testing, increased investments into research and development, and stronger overall financial health. COVID-19 testing will remain part of Abbott's respiratory testing portfolio.
Meanwhile, QuidelOrtho, the product of Quidel's $6 billion acquisition of Ortho Clinical Diagnostics in May 2022, did not break out its COVID-19 revenues for Q4 announced last month but said that its point-of-care testing revenues, comprised largely of its COVID-19 tests, were down 35 percent year over year.
QuidelOrtho President and CEO Douglas Bryant said on the company's conference call that it has more than 100 active R&D and clinical and regulatory projects and the firm plans to focus on growing its immunoassay, multiplex molecular, and Vitros businesses this year. The firm reported its revenues in the quarter ended Dec. 31 were up 36 percent year over year, and, when COVID-19 revenues were excluded, its total supplemental base business revenues were up 42 percent year over year.
The point for both Abbott and QuidelOrtho: While they diverted much of their resources to COVID-19 testing in the first year or so of the pandemic and it remains an important part of their businesses, they have moved beyond it because they have to and because they have the resources and installed base that enables them to do so.
Surviving the post-pandemic testing landscape
Caroline Popper, cofounder and president of healthcare and life sciences consulting firm Popper and Company, said the massive pandemic-driven boom in diagnostic innovation, supported in part by government funding, echoed through laboratory-based, point-of-care, and at-home testing. In pursuing COVID-19 testing, some firms may have overlooked the meticulous testing menu planning they would have performed pre-pandemic, ignoring how hard it is to survive as a one-hit wonder in the diagnostics industry.
"Those companies that either had a strong base before, or that pivoted to COVID plus other respiratory testing, or to other testing sooner will be the survivors, and those that were slower or had a cost structure that would only be viable in the pandemic will be the casualties — almost independent of the absolute head-to-head quality of the technology," she said.
As society continues to learn to live with COVID-19, and with effective vaccines and treatments now available, Aspinall said testing will continue at lower volumes. There will be demand for lab-based tests as well as point-of-care tests.
"While there may be fewer companies supplying tests in the future than exist today, COVID is here to stay and COVID testing has not gone away," she said. She noted, however, that competition among COVID-19 testing firms will be rugged. The market for antigen tests alone has an unprecedented number of companies selling "an essentially equivalent product," and there will be even fewer firms selling COVID-19 tests in a year. The smaller firms that focused solely on COVID-19 will struggle the most now that COVID-19 testing is at a fraction of its peak, she said.
Popper, too, expects the market for COVID-19 testing will dramatically shrink, with some of the technologies developed during the pandemic surviving through mergers and acquisitions. Who wins or loses will be defined by testing menus, particularly for nonseasonal conditions, as well as consumer decisions on the trade-offs among analytical performance, price, and ease of use.
"How certain do you want to be today that you have COVID, flu, or RSV? Or do you want to wait a day and see how it evolves and test again?" she said. "I think consumers will make that choice."