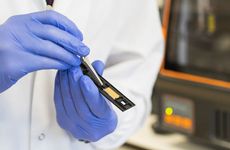 NEW YORK – University of Leicester spinout MIP Diagnostics has already honed its molecular imprinted polymer (MIP) technology for COVID-19 tests and is now moving to expand to other diseases and biomarkers. 
The company, based in Bedford, UK, produces synthetic antibodies that can be used either as off-the-shelf products, a la standard antibodies, or customized based on a user's needs and the specific test they are developing, Marketing Manager Keli Stockbridge said. 
MIPs technology began in academia and was previously seen as something limited to the academic arena, Stockbridge said. When MIP Diagnostics decided to bring that technology to the commercial side, it was met with some skepticism. However, there has been an increase in interest and more confidence in the market, allowing the firm to grow its portfolio and business, she said. The key products in that portfolio right now are its COVID-19 nanoMIPs, which were developed in about eight weeks and are intended for use in in vitro diagnostic tests. The COVID-19 nanoMIPs were the first of the firm's products to go through what Stockbridge called the "full commercialization process" as an off-the-shelf product, although the company previously went through similar development processes with customers using their custom products. 
To create its nanoMIPs, the firm first uses pharmaceutical-grade molecular modeling software to determine which monomers will interact best with each other and the target they're looking to use — in the case of COVID-19, that target was a portion of the SARS-CoV-2 spike protein, MIP Diagnostics' Head of Chemistry Francesco Canfarotta said. As a benefit, the development process only requires a small piece of the molecule but produces the same or higher binding affinity as a regular antibody, which allows for cost savings. 
That modeling software screens the monomers and narrows down which ones are most likely to succeed as binding agents, and the top picks are acquired or created by MIP Diagnostics in the lab and validated. Most of the monomers used by the company are off the shelf, although some are made in house, Canfarotta said.
The monomers are then taken to the lab, where they polymerize around the target that acts as a mold, and that polymer is used in the customer's diagnostic test. The nanoMIPs are internally validated first in batches to show their effectiveness, and then offered to users who can validate them with their own tests. 
The company is currently in the final phase of patenting the specific composition of matter in its COVID-19 nanoMIPs, he said.
Rather than developing its own tests relying on MIPs and nanoMIPs, the firm's focus is on delivering its MIPs and nanoMIPs to end users who can apply the technology to their tests, whether those tests are for IVDs, food safety tests, or environmental monitoring. The degree to which MIP Diagnostics is involved in that application depends on the customer, and the regulatory approval and commercialization of each test is up to the user as well, Stockbridge said. 
The firm has been able to scale up its manufacturing capacity thanks to a recent £2.2 million ($2.7 million) oversubscribed second tranche of financing. Stockbridge noted that the company is using about 30 percent of its manufacturing capacity right now, with room to increase further if necessary. It is currently manufacturing MIPs for other companies and large diagnostics manufacturers because those are the areas it feels it can produce the most impact, she noted. The company has worked with Australian medical device company Soterius on its COVID-19 biosensor and with bioimaging firm Stream Bio on its COVID-19 test. 
An example of one application of the COVID-19 nanoMIPs came in a study published last month in ACS Sensors that saw MIP Diagnostics help with the development and validation of a rapid SARS-CoV-2 test from Newcastle University. The thermal test from the university uses COVID-19 nanoMIPs grafted onto screen-printed electrodes to detect the virus present in a nasal swab sample. It relies on heat transfer to detect the virus molecules, measuring the temperature difference when the sample is applied to a thermal device, said Jake McClements, an author of the paper and research associate in the school of engineering at Newcastle. 
The sensor has a heat block with a layer of nanoMIPs on top and a reagent solution injected above it. Two thermometers measure the temperature of the heat block and solution, and as more spike protein binds to the nanoMIPs from the solution, the temperature difference between the two thermometers grows and is recorded, indicating increased thermal resistance at the nanoMIP layer. The level of thermal resistance can be equated to a viral concentration that correlates to a positive or negative result, McClements said.
The research team is in the process of determining the exact threshold values that determine positive or negative results but needs to test more clinical samples to refine it further before it will be ready for commercial use, he added. The team is currently pursuing funding to purchase more samples and build out its validation plans.
A key issue with regular antibodies, McClements noted, is that they are not particularly versatile — they are limited to certain temperature ranges and environments. Because MIPs are made of inert pieces of polymers, those limitations don't apply, allowing them to be used at higher temperatures, such as in equatorial countries, or in extremely acidic or basic environments, like in different kinds of foods. They also have a much longer shelf life, unlike natural antibodies, and can be stored in less-than-optimal conditions. "You can treat them badly, keep them at really different conditions, keep them for a really long time and, in theory, they should really work exactly the same."
In addition, once they're optimized for the target molecule they're seeking, they can be made cheaply in batches from materials that are easy to access, he said. This versatility means MIPs and nanoMIPs can be used for a variety of different diseases, such as foodborne viruses — McClements' next area of research — or antimicrobial resistance, as well as cancer diagnostics. 
The ACS Sensors study also measured the performance of the test with standard antibodies and found that the responses were comparable to the nanoMIPs.
However, McClements said that although antibodies have their limitations and drawbacks, their utility is backed up firmly by scientific evidence. In contrast, MIPs technology is still relatively new and evolving quickly, which could limit its commercial viability as more changes occur.
The company has plans to produce MIPs for other applications, with an emphasis on respiratory diseases, food safety, and drugs of abuse, along with cell and gene therapy, Stockbridge said. Drugs of abuse and respiratory disease testing are of particular interest because some drugs are particularly challenging to detect with antibodies and MIPs could potentially be more effective. And as COVID-19 testing demand continues to decline, the opportunity to use MIPs for less invasive multiplex respiratory disease assays is growing, she said. 
The firm's technology has also been used for troponin and other cardiovascular biomarkers that can be used for early detection of heart attacks. 
It's not difficult for the company to adapt its technology to other target molecules or diseases, Canfarotta noted. The underlying process doesn't change, but other steps could differ based on the application, which may need a different size of nanoparticles or a different binding density. The need to identify suitable monomers is constant, however, because that's the key to achieving a good binder. "If you didn't get the right monomers, you would never get a polymer with the right affinity and selectivity," he said.
The COVID-19 nanoMIPs are an essential component of the firm's business right now, CSO Alan Thomson said, but they're as much of a "showcase" of what MIP Diagnostics and its technology can do as they are a product. While there previously was a lot of skepticism about the effectiveness of MIPs compared to antibodies, validation data — such as the data in the ACS Sensors paper — has shown that their performance is at least equivalent to traditional antibodies. 
"We know full well that market conditions will change, and that COVID-19 will wane in terms of demand somewhat, but … for the next COVID-19 … we can then position ourselves and our technology as a key enabler of diagnostics in those circumstances," he said.