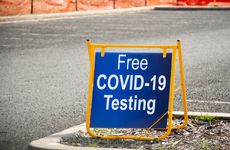 NEW YORK – Laboratory groups and other healthcare providers are warning that the end of federal funding covering COVID-19 testing and other care for the uninsured could impact both these individuals and public health efforts to combat the virus more broadly.
In a recent letter, more than 60 healthcare organizations including the American Clinical Laboratory Association and the National Independent Laboratory Association petitioned Congress to replenish funding for the Health Resources and Services Administration (HRSA) COVID-19 Uninsured Relief Fund, which stopped reimbursing providers for COVID-19 testing on March 22 after running out of money.
The HRSA fund was established in March 2020 with the passage of the Families First Coronavirus Response Act and was set up to cover COVID-19 testing, treatment, and vaccination of uninsured individuals. According to the US Department of Health and Human Services, in its first year the program issued a little less than $4 billion to testing providers, and in May 2021 HHS announced that it was putting an additional $4.8 billion from the American Rescue Plan toward the program.
Those funds ran out at the end of March, however, and Congress has yet to replenish them. Funding for the program had been included in a $1.5 trillion spending bill that passed at the beginning of March, but Congress removed $15 billion in COVID-19 emergency funds from the bill before its passage.
This leaves a potentially sizeable gap in the nation's COVID-19 testing coverage. According to ACLA, the organization's member labs performed more than 8 million COVID-19 tests for uninsured individuals in 2021. During Quest Diagnostics' recent Q1 2022 earnings call, Mark Guinan, executive VP and CFO at the company, said that prior to the depletion of the HRSA fund, uninsured individuals had made up roughly 14 percent of the company's COVID-19 testing volume. He noted that in the company's base testing business, uninsured individuals typically account for only 1 percent to 2 percent of test volume.
Guinan added that the HRSA's move to stop accepting claims for COVID-19 testing as of March 22 had left Quest with more than $20 million in COVID-19 testing work that it was unable to bill. He said the company was now billing uninsured individuals upfront and directly for COVID-19 testing, which, he noted, had led to a drop-off in volumes among this group of customers.
The end of HRSA funding "is not insignificant," he said.
Laboratory Corporation of America and BioReference Laboratories, which, with Quest, are among the lab firms doing the largest volumes of COVID-19 testing, declined to say what percentage of their COVID-19 volumes had come from uninsured individuals or what impact the end of the HRSA funds had on these volumes. Both are represented by ACLA, which, along with the other signatories, highlighted in its letter to Congress the challenges raised by the end of the HRSA funding.
Without funding, the letter noted, "many of our nation's most vulnerable communities may lose access to testing, treatments and vaccinations, placing themselves and others at risk of infection."
It added that "without assurances to replenish funding, providers across the country are left without recourse to handle the influx of demand from uninsured Americans, forcing them to make decisions about the long-term sustainability of providing COVID-19 tests and services."
Tom Inglesby, director of the Johns Hopkins Center for Health Security at the Bloomberg School of Public Health, said that the loss of the HRSA funding will create hardships for the already vulnerable during the pandemic.
"There are many people in this country who don't have insurance and don't have the ability to pay potentially expensive medical bills, and so when the funding mechanism for that goes away, what that means is that there will be far fewer choices for people to get treatment and testing," he said. Inglesby was until recently senior adviser for testing on the White House's COVID-19 Response Team. He has since returned to Johns Hopkins full-time though he continues to advise the White House COVID-19 team.
According to estimates from the US Centers for Disease Control and Prevention, in 2021, roughly 10 percent of the US population, around 31 million people, did not have health insurance.
Other organizations provide free COVID-19 testing that uninsured individuals can access. The CDC's Increasing Community Access to Testing (ICATT) program partners with pharmacies to provide free tests. According to the agency, more than 10,000 pharmacy locations around the country are participating in the program. Since April 2021, more than 36 million COVID-19 tests have been provided through the program.
Many state governments also offer free COVID-19 testing, though Inglesby noted that the availability of testing varies from state to state.
The increased availability of home rapid tests also provides uninsured individuals with an option that was previously less accessible. At around $10 per test, these tests are considerably less expensive than lab-based molecular tests, which typically cost around $100. However, they are less sensitive than molecular tests, particularly early in the course of an infection and when used at a single time point, as opposed to serially.
Additionally, these tests "are still out-of-pocket for people," Inglesby said. "And for some people that is still a lot of money for them."
"I think overall what we should be seeking is the availability of testing for free in as many modalities as possible so that people can get tested where it is easiest for them and in the way that they want to get tested," he said. "Because it is in all of our interests for people to get tested early and isolate as necessary, so we can stop the chain of transmission."