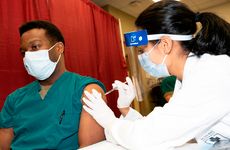 NEW YORK – Clinical labs and test vendors are anticipating increased demand for SARS-CoV-2 serology testing as vaccine rollouts continue.
Among the uses they cite for serology tests are for determining whether individuals have previously been infected and can, in certain cases, be deprioritized for vaccination and assessing whether vaccines have generated a sufficient immune response to protect against the virus, particularly in immunocompromised populations.
Longer term, some have suggested there could be an ongoing role for serology testing in determining when booster shots are needed.
In the early days of the COVID-19 pandemic, many predicted a significant role for serology testing in managing the virus but concerns about test performance and the lack of a clear role in clinical decision-making have meant they have been little used. 
Now though, many are predicting a boost in demand for serology testing to optimize vaccine usage, with some industry players saying they have already begun to see an uptick in orders.
During a recent audio conference with UBS analysts, Lale White, chairman and CEO of diagnostic services and revenue cycle management and lab informatics firm Xifin, said that while the company had not seen a jump in serology volumes yet, it expected to see one as vaccines were rolled out.
On their recent Q4 2021 earnings calls, both Quest Diagnostics and Laboratory Corporation of America discussed serology testing's potential.
Labcorp Chairman and CEO Adam Schecter said that while it was too early to know exactly what role serology might play in managing the virus going forward, the company was prepared to significantly scale its serology testing to meet future demand.
A key question, he said, was whether COVID-19 vaccination would follow a flu model, in which people are vaccinated every year or whether people would need new vaccines on a less regular schedule. In the former case, he said, "serology might not be that important," but in the latter case he said he believed "serology will be very important."
On Quest's call, Chairman, President, and CEO Steve Rusckowski said that the company was seeing "some early indications that there is interest in understanding whether you have the antibodies or not, which might inform patients and physicians around their urgency of getting vaccinated."
He added that Quest expected "some increased demands for serology" and that the company believed "there's an opportunity in front of us in 2021 in that regard."
Quest said this week that it has begun offering a semi-quantitative SARS-CoV-2 antibody test. Speaking to 360Dx, Jay Wohlgemuth, senior vide president and chief medical officer at Quest, said that the new offering was the Siemens Healthineers semi-quantitative serology test.
He said that Quest began offering the test, in part, in response to increased demand from customers in recent months.
"Particularly as the vaccine has begun to roll out, we have gotten employees that we serve through employers, consumers through Questdirect, and doctors asking about which serology test to use in the pre-vaccination space to determine prior infection and in the post-vaccination space to determine a response," he said. "We are hearing it loud and clear from doctors and consumers and our other enterprise customers that it is something that is on everyone's mind."
Wohlgemuth said that in terms of clinical decision-making, as opposed to research or public health purposes, Quest was seeing demand for serology testing from immunocompromised patients in particular as they and their doctors want to determine whether a vaccine has successfully generated an immune response.
"One of the only ways to do that right now is by looking at a semi-quantitative serology after the vaccine to see if there is evidence of the immune response," he said, though he noted that the relationship between antibody levels and immunity to the virus are still being investigated.
Wohlgemuth said Quest was also seeing demand among patients who are hesitant to get the vaccine to see if they have been infected previously.
He said that COVID-19 vaccines are indicated for all people, whether they have been infected before or not but noted that "if you look at what is actually going on out there, you have lots of people who either have a specific concern or risk around getting vaccinated or don't want to be vaccinated in the near term, for better or worse."
He cited pregnant women as one group of patients that may wish to postpone vaccination and could feel safer doing so if serology testing showed evidence of a previous infection. There is currently no data indicating that COVID-19 vaccination could be harmful to pregnant women or fetuses, but the US Centers for Disease Control and Prevention notes that "only limited data are available on the safety of COVID-19 vaccines" in this population.
Another group of patients might be those who have exhibited severe allergic reactions to vaccines in the past.
"If that person is evaluating their risk and benefit of being vaccinated, then knowing whether they have been previously infected or not could really change the whole risk-benefit calculus," Wohlgemuth said.
Current CDC guidelines hold that "previous SARS-CoV-2 infection, whether symptomatic or asymptomatic, is not considered a contraindication to vaccination and serologic testing for SARS-CoV-2 antibodies is not recommended prior to vaccination."
The use of serology tests to diagnose individuals as having been infected with SARS-CoV-2 has proved problematic in the past. Antibody testing is most commonly used for looking at infections from a public health perspective, measuring, for instance, the prevalence of infection in a population. Early in the pandemic, efforts to use serology to test for infections at the level of individuals ran into issues of poor test quality and a high rate of false positives due to relatively low infection rates.
Wohlgemuth acknowledged these challenges, but said that several factors made serology testing more effective than it had been earlier in the pandemic.
He said that Quest has done a lot of work to confirm the specificity of the antibody assays it offers.
"We are very, very careful about that," he said. "We don't just take the manufacturers data. We also do our own specificity studies to confirm."
The Siemens assay has a reported specificity of 99.9 percent.
Additionally, the virus has spread considerably since the start of the pandemic, "and in most of the areas where we are offering serology, unfortunately, the rates of previous infection are much higher than they were several months ago in the spring when we rolled out serology," Wohlgemuth said.
Deepak Nath, president, laboratory diagnostics at Siemens Healthineers, agreed with Labcorp's Schecter that if the COVID-19 vaccine followed a flu model there would likely be a limited long-term role for serology testing in aiding vaccinations, but that it could carve out a larger role if vaccinations were needed less regularly.
Nath said that in the short term he believed there would be a substantial role for serology, and particularly semi-quantitative assays like the Siemens test, for helping clinicians better understand the effectiveness of vaccines and the duration of the protection they provide.
He noted that there appears to be both antibody-based and T-cell-mediated immunity to the virus and that individuals who have recovered from infections appear to retain some level of immunity even as their antibody levels wane.
"This all points to the fact that COVID-19 is complicated and multiple tools are going to be needed to get a true picture of immunity and the duration of immunity," he said, adding that he believed there will be a role for semi-quantitative serology testing over the next year to help better determine what levels of antibodies indicate immunity to the virus.
Nath said Siemens was starting to see more discussion of serology and a bit of an uptick in demand for serology testing, though he said it wasn't "a huge trend-breaker."
"I would say we are not yet at a point where this has turned into a groundswell of utilization," he said.
Michael Iskra, executive vice president of commercial excellence and strategy for Ortho Clinical Diagnostics, said that his company has seen increased usage of its serology tests from researchers studying antibody development in individuals post-vaccination and doctors looking for evidence that the vaccines have generated an immune response in their patients.
Unlike Nath and Schecter, Iskra said he envisioned a role for serology testing in the event that COVID-19 vaccination follows an annual schedule.
"Determining the strength and duration of antibodies can help researchers evaluate vaccine efficacy," he said, noting that if researchers were able to use serology to test for antibody levels as correlates of protection, it could reduce the clinical trial work involved in updating the vaccine each year.
Alan Wu,  professor of laboratory medicine at the University of California, San Francisco, and clinical chemistry laboratory chief at Zuckerberg San Francisco General Hospital, noted that while serology is not typically used to measure flu vaccine efficacy, at this point public awareness of and interest in COVID-19 greatly exceeds that for flu, which could drive demand for serology testing.
"It really depends on where the public is," he said. "Is COVID-19 going to be a back burner kind of story where we think we are immune [due to vaccination] and therefore we're going to move forward? Or are we going to be able to show that individuals who have waning antibodies are being reinfected? So far, we haven't seen a lot of reinfections of natural infections."
"There is an interest, I think, at least right now, for determining if somebody has developed antibodies to the vaccine and how long those antibodies last," Wu said. "These are questions that can't be answered yet, because our experience has only been a couple of months, so it's a bit of a wait and see."
He said that at UCSF he and his colleagues are using serology to test the institution's healthcare workers following vaccination. Anecdotally, demand for serology is strong within this cohort, he said.
"When I tell them that we are interested in getting people to sign up [for serology testing], we have no shortage of people who want to know what their antibody levels are," Wu said. Whether that level of interest will persist six months from now "is anybody's guess," he said.