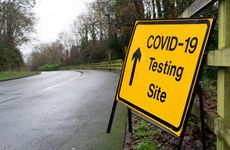 NEW YORK – The likely evolution of COVID-19 from a pandemic situation to something more closely resembling an endemic disease raises potential challenges for clinical labs and test developers as they aim to maintain the ability to ramp capacity as needed but without an overcommitment of resources.
As they have throughout the pandemic, issues like staffing shortages and supply chain gaps combined with fluctuating demand could make it difficult for labs and vendors to calibrate their approaches to testing.
This difficulty could be compounded by a drop-off in support from the federal government. Over the last year, the Biden administration has provided billions of dollars in funding to support the development and production of COVID-19 tests. A few weeks ago, however, Congress removed $15 billion in COVID-19 emergency funds from a $1.5 trillion spending bill, a move the White House said could impact the nation's testing capacity.
"The money that has been appropriated for testing up until now has been almost entirely spent on testing and getting us through the three different [COVID-19] peaks we have suffered this year," said Tom Inglesby, senior adviser on the White House's COVID-19 Response Team, following Congress' decision to remove the COVID-19 funding. "But we've been pretty clear that that is just the beginning of what will be needed for testing and for other priorities in the administration."
"We have heard from congressional leaders over time consistently that no one wants to go back to the kind of constraints we saw in December and January where people were waiting in lines in some places [for molecular testing], and we didn't have the rapid tests we needed," Inglesby added. "We know we have had lots of support, but we also know that to do this kind of work it is going to require public-private partnerships, government supporting industry, and building the systems we need for the long run."
Testing is at the center of a key program in the COVID-19 preparedness plan the White House released this month — the Test to Treat Initiative, which aims to put testing capacity in pharmacies and other locations where patients can get tested for COVID-19 and fill a prescription for antiviral drugs like Pfizer's Paxlovid. The expectation is that by making tests and treatments available at the same time, individuals will be able to start antiviral medication early in the course of the infection when it is most effective.
Speaking in mid-March, Inglesby said that on the first day of registration, more than 1,000 pharmacy-based clinics signed up to participate in the program. He said the administration was aiming to ultimately have thousands of participating sites around the country.
Test to Treat will rely primarily on rapid antigen tests, which provide results in a matter of minutes, allowing individuals to fill an antiviral prescription during the same visit if necessary. Access to COVID-19 rapid antigen tests has been an issue in the US, though the federal government has taken steps in recent months to address this situation, awarding large procurement contracts to test vendors, investing $1 billion to expand access to rapid testing, and establishing a test assessment program to support the US Food and Drug Administration's authorization process.
According to estimates from Health Catalysts Group and COVID-19 Response Advisors, which have been tracking COVID-19 testing capacity throughout the pandemic, rapid antigen test capacity has risen steadily over the last several months, from 315 million tests per month in November 2021 to 722 million in February. Capacity for Test to Treat also benefits from the fact that the program will be serving symptomatic individuals in person. Many of the access challenges with regard to rapid antigen testing have revolved around a lack of enough over-the-counter tests for use in symptomatic and asymptomatic individuals.
One possible drawback to the program's reliance on rapid tests is that these tests are less sensitive than molecular assays early in infection, which is when antivirals are most effective. This raises the possibility that some positive individuals could be missed.
"There's a trade-off either way," Inglesby said, noting the longer turnaround time required for molecular testing. He suggested that symptomatic people who receive a negative result should test serially or consider ordering a molecular test.
Mara Aspinall, professor of practice at Arizona State University's College of Health Solutions and a consultant with COVID-19 Response Advisors, said that she believed rapid tests are well suited to the program. She noted that while these tests "might have some false negatives" early in infection, Paxlovid is meant to be started within five days of the onset of symptoms, not the onset of the infection itself, a window in which rapid antigen tests typically have good performance.
While Test to Treat will rely primarily on rapid antigen tests, it's expected that molecular testing will continue to play a role in managing COVID-19, as well, though shifts in demand will present a challenge for labs.
Robert Boorstein, medical director of Brooklyn-based Lenco Diagnostic Laboratory, said that with the arrival of the Omicron variant this winter, his lab saw a two- to threefold spike in molecular testing demand. Caseloads have since fallen dramatically, but the New York City region where Lenco does much of its testing has seen a slight uptick in recent days as the Omicron BA.2 subvariant has begun to spread in the area.
He said the increase in demand his lab saw this winter was "within the realm of normal variation."
"It's when you start to increase five- to tenfold that you have to scramble," he said, citing staffing as a major issue labs will run into in this situation.
Another likely challenge, Boorstein said, will be inventory of reagents and other testing supplies.
"How much inventory will people normally keep on hand? It varies tremendously, but let's say for a normal, predictable amount of testing, about two months' worth," he said. "If suddenly your testing rate goes up by a factor of 10, you're going to use your inventory on hand in about a week, and if everyone goes up at the same time, that's going to create a shortage."
Given that many reagents degrade over time and must be replaced, manufacturers are similarly unlikely to keep sufficient supplies of materials on hand to deal with tenfold spikes in demand, Boorstein said. "It's not like storing oil or butter. Having them hold inventory isn't going to keep it from timing out."
The Biden administration has reached out to the testing industry asking for input on how the government might help it manage uncertain levels of test demand.
"We asked for a series of things from industry, their best input and recommendations for managing that kind of market volatility," Inglesby said. "How they would advise us to strengthen the infrastructure to maintain it in periods of time where the demand is very low."
He said the administration hopes within the next several months to put out requests for proposals addressing the identified areas of need.
"But it will be completely contingent on whether or not we are able to get congressional support for doing this work," he said.
One potential tool for tackling the challenge of fluctuating demand is automation. Menlo Park, California-based SummerBio has built out a highly automated CLIA lab that it believes will be able to efficiently adjust to ongoing changes in COVID-19 testing needs. In February, the California state government put out its SMARTER Plan, which lays out its long term strategy for dealing with COVID-19. Among its components is a call to maintain total statewide testing capacity of at least 500,000 tests per day. The SummerBio lab, which will become fully operational in April, will be able to handle a substantial portion of that, running up to 240,000 molecular tests per day.
Importantly, said Sasha Seletsky, the company's cofounder and chief business officer, the lab's high level of automation will allow it to quickly ramp capacity up and down as needed.
"We can be processing 10,000 samples per day and then within a few weeks we can be processing 100,000 samples per day," he said, noting that in the case of Omicron the lab increased its test volumes by tenfold "over the course of a few days."
Pandemic Response Lab (PRL), the COVID-19 testing company launched by Queens-based lab automation company Opentrons, is also relying on automation to help it manage quick changes in testing needs.
"As the pandemic trends toward a more endemic situation, I think everyone is mindful of the next potential variant, the next Omicron, the next Delta, and the need to be able to respond to that and to scale capacity on demand," said Jon Laurent, R&D director at PRL.
"At PRL the lab was really built around that central idea of enabling rapid scale-up," he said, noting that during the Omicron surge the facility was able to double its capacity from around 30,000 tests per day to more than 60,000 in about a week.
Laurent said that a combination of extensive automation and a modular process design allows for rapid scaling, letting the lab, for instance, reallocate staff to different portions of the workflow as required.
Even so, PRL plans to run its operations with significant buffer room to allow for fluctuations in testing.
"We built up our capacity significantly in response to the recent surges, and we sort of left it there because we see no reason to dismantle parts of the lab given the potential for another surge at any point," Laurent said. He noted that this capacity overhang may in the future be taken up by new non-COVID-19 tests the lab plans to introduce, but that "we will still maintain a significant buffer to handle COVID going forward."
SummerBio's Seletsky said that for the lab industry to indefinitely maintain the ability to rapidly scale up COVID-19 testing would "probably require some level of state and federal government investment and maintenance."
He said the company was continuing to work out its longer term business model, exploring what mix of non-COVID-19 assays and other potential funding sources like government contracts would make the most sense.