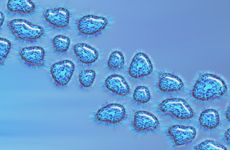 NEW YORK – With the Delta variant of SARS-CoV-2 continuing to spread throughout the country and the traditional winter respiratory virus season right around the corner, combo COVID-19/Influenza tests could see strong demand in coming months.
On the other hand, they might not.
Last summer saw a number of diagnostics developers bring combination COVID-19/Flu tests to market. Laboratories, meanwhile, were trying to cope with the challenges of adding SARS-CoV-2 to the usual mix of winter infections, including what many anticipated would be a shortage of tests and testing supplies.
Then … nothing.
Likely due to social distancing, mask wearing, and other practices taken to mitigate the spread of SARS-CoV-2, the 2020-2021 winter flu season was a remarkably light one. Demand for flu testing was so light that in some instances vendors were trying to tie sales of combo COVID-19/Flu tests to orders of singleplex COVID-19 products.
"We spoke to one manufacturer about COVID reagents, and they basically said we had to take one unit of COVID/flu for every unit of [singleplex] COVID reagents," Robert Boorstein, medical director of Brooklyn-based Lenco Diagnostic Laboratory, told 360Dx last February.
More recently, Boorstein suggested that labs and vendors have little visibility into the coming respiratory virus season, as well.
"I would like to think people realize that we can't predict these things, and we can get very rapid changes in the spread of these diseases in ways that are not predictable," he said.
Samuel Caughron, chair of the economic affairs committee at the Association for Molecular Pathology and president and CEO of Lenexa, Kansas-based MAWD Pathology Group, said that while he has "heard of scattered rare influenza cases," and that "there is general belief that influenza will appear this year," what it will look like "is, I think, anyone's guess."
Susan Butler-Wu, director of clinical microbiology at the LAC-USC Medical Center, agreed that it was difficult to say what labs can expect from the coming flu season. She noted that one of the major challenges in predicting what the winter will bring is the vast difference in COVID-19 policy between the US and Australia.
Australia's winter flu season occurs during the US' summer months, which provides the US and other Northern Hemisphere countries data they can use to gauge the likely severity of their coming flu seasons as well as what strains might be prevalent.
Australia, however, has maintained a strict lockdown throughout 2021, while the US has relaxed many of its COVID-19 mitigation efforts. This makes it unclear how informative Australia's recent flu season, which was historically light, will be for the US.
Butler-Wu noted that the surge in respiratory syncytial virus infections in Australia in early 2021 was matched by a rise in RSV seen in the US this summer, which does suggest that respiratory infection patterns in the US are to some extent following those in Australia despite the two countries' different COVID-19 strategies.
Nonetheless, she said, "I don't think we have a clue. Anyone who says they know is basically full of it."
In an email, Chris Allman, director of media relations and public relations for Laboratory Corporation of America, echoed Butler-Wu, noting that "at this point it isn't possible to estimate what the demand will be for COVID-19 or flu testing."
Quest Diagnostics spokesperson Kimberly Gorode declined to comment on what level of demand the company expects to see for combination COVID-19/Flu testing this winter, but said it aims to have "a COVID/Flu/RSV multiplex" test available by the end of September and is also exploring making a COVID-19/Flu combo test available through its retail partners.
On Becton Dickinson's recent Q3 2021 earnings call, Chris Reidy, the company's executive vice president and chief administrative officer, said that in its financial projections for the second half of the year, the company was basing sales of its COVID-19/Flu combo test on a normal flu season, which he characterized as between $80 million and $100 million in flu testing.
Reidy noted, though, that it was "still pretty early to call that" and added that the company would be able to give more clarity in November.
Becton Dickinson began shipping its BD MAX and BD Veritor combination COVID-19/Flu assays in August.
Danaher CEO Rainer Blair said during his company's Q2 2021 earnings call in July that during the quarter its Cepheid business shipped 14 million respiratory testing cartridges, with 80 percent of those being COVID-19-only tests and the remaining 20 percent being the company's four-in-one COVID-19/Flu A/Flu B/RSV test.
He said that the company expects to ship 50 million of the COVID-19 and four-in-one tests during 2021, and added that based on the RSV breakouts in the US and elsewhere, it anticipated demand would start to "skew more toward the four-in-one solution."
Quidel CEO Douglas Bryant said during the company's Q2 2021 earnings call that the flu situation was "unforecastable," though he added that the company had several leading indicators (which he declined to identify) that it believes could help it pick up the emergence of flu.
Bryant said Quidel has some inventory of COVID-19/Flu combo tests remaining but that it believed it could ramp up manufacturing to meet demand within around three weeks if needed.
Boorstein said that he was uncertain how much demand there would be for combo tests, even in the event of a relatively normal respiratory virus season.
"I think the general feeling is you are going to have to identify COVID, but I'm not entirely sure how important it will be to identify the specific non-COVID respiratory organisms for people who are basically healthy," he said. "I think the demand for combo tests, whether they are small combo tests or large panels, I don't see it as being that strong."
Boorstein added that reimbursement was in some cases an issue for combo tests.
Caughron said that while progress has been made on the reimbursement front, with new CPT codes having been created specifically for COVID-19, COVID-19/Flu, and COVID-19/Flu/RSV, "it is still a challenging reimbursement landscape" for combo tests.
Existing policy during last year's respiratory virus season "generally took a very restrictive coverage perspective on [combo] tests," he said. "While there was some coverage, it was typically at the time restricted to immunocompromised patients or the most severely ill who were going to be hospitalized, but of course there were many more situations where the tests were being used."
"We have made some progress, but there are still issues," he added.
Thus far, Boorstein said he has seen relatively little marketing of combo tests from vendors.
"They haven't really been pushing flu testing and combo testing on us as much as last year," he said. "I think they pushed it [last year], and I think people got a little burned."
Butler-Wu said that despite the uncertainty, she has begun to round up supplies for flu and COVID-19/Flu testing, noting that her lab has run into issues sourcing enough tests for flu season even prior to the COVID-19 pandemic
"This is the normal time where we are trying to accumulate product in advance, because historically we have always had issues during flu season accessing sufficient product," she said. "We weren't critically or chronically short … but it's not unusual for there to be a little bit of wibbly-wobblies in the middle of the respiratory virus season."
"We try to get an early start and cushion ourselves, so if there are some kind of shenanigans around Christmas or some issue getting cartridges we are OK. This year is no different," she added.