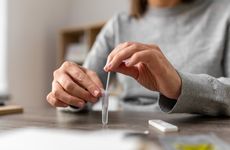 NEW YORK — As the US federal government's emergency COVID-19 funds dry up, the US is transitioning away from the testing programs that expanded testing access by removing personal costs, worrying public health experts and advocates about the repercussions if another wave of infections hits this fall and winter.
Earlier this month, the Biden administration stopped taking orders for free at-home COVID-19 antigen tests, saying Congress had not provided the necessary funding to continue the program. Meanwhile, White House COVID-19 response coordinator Ashish Jha said last month the administration is planning a broader transition of COVID-19 response into the private healthcare market. The administration began making antigen tests available for free in January during the global spread of the SARS-CoV-2 Omicron variant, when it said it would buy 1 billion tests for distribution in the US.
The program provided up to 16 tests per household in three rounds of ordering.
Andy Slavitt, senior adviser for the Biden administration's COVID-19 response and head of Medicare and Medicaid in the Obama Administration, last month tweeted a dire warning about the coming colder months. 
"What I learned yesterday: If there is another Omicron this winter, we will not have nearly enough tests for the public," he said on Twitter. "US manufacturing of testing is shutting down. This is a result of Republicans deciding not to fund the pandemic response. We know this going in."
Jha said in a video recorded Aug. 16 for the US Chamber of Commerce that Congress hadn't come through with money for vaccines and treatments this fall and winter, despite the Biden administration's request in February for $22.5 billion in additional emergency funding. Widespread availability of testing had helped keep businesses and schools open and hospitals from becoming overwhelmed earlier in the pandemic, he said.
"We have taken money from other really important priorities like having a stockpile of tests and having a stockpile of personal protective equipment — PPE — took those dollars, and put them into buying vaccines for the fall and winter," he said.
Administration officials spent recent months planning how to get the government out of the business of buying vaccines, treatments, and diagnostic tests, Jha said, adding he hopes to see almost all of them transition to the commercial healthcare system in 2023, provided uninsured and underinsured people remain covered.
Such an approach, though, has some healthcare experts worried that it may result in greater spread of COVID-19. For example, Mara Aspinall, professor of practice at the Arizona State University College of Health Solutions and adviser to the Rockefeller Foundation on COVID-19, said the change puts the onus on individuals to protect their own health. Some people will be unable to afford to buy tests once they are no longer free, fewer people will know they and family members are infected and, as a result, fewer people will know when to isolate themselves, she said.
"Testing is the only way to slow a surge," Aspinall said. "It doesn't prevent a surge, but it is the only way to slow a surge."
Blame politics for the current state of affairs. Congressional Republicans rebuffed the Biden administration's request for more emergency funding by saying some earlier funding remained unspent and they wanted more details on the proposed and past spending in the pandemic response. Senate Republicans said in a letter this spring that the federal government had failed to give the American public a faithful accounting of the trillions of dollars spent in response to COVID-19.
While the US has allocated tens of billions of dollars toward access to COVID-19 diagnostics, the precise amount spent is unclear. According to the Council of the Inspectors General on Integrity and Efficiency, an independent monitoring organization within the executive branch, about $70 billion in pandemic relief funds have been dedicated to diagnostic tests. But those data, gathered by the council from PandemicOversight.gov, often combine amounts spent on assays, vaccines, and contact tracing. Testing is also an allowed expense in other multibillion-dollar programs, and pandemic-related money is often awarded without meaningful descriptions.
Kristin Wikelius, chief program officer at the health equity advocacy organization United States of Care, of which Slavitt is a cofounder, said that while the Biden administration has clearly signaled the COVID-19 response will be folded into the typical healthcare system, the biggest changes will come once the official public health emergency ends.
"As we look ahead to a world in which we're no longer in a declared public health emergency, people could face out-of-pocket costs, cost sharing, [and] copayments that they haven't typically paid or faced when they're getting a COVID test," she said.
For now, health insurers are still required to reimburse policyholders for up to eight tests per person per month. But that upfront cost of buying at-home antigen tests and the process of securing reimbursement from insurers can still raise barriers to testing, some experts said.
Christina Silcox, research director for digital health and adjunct assistant professor at the Margolis Center for Health Policy at Duke University, said easy access to testing is critical to telling people when they and their families have been infected and when to isolate themselves and help them stop COVID-19 spread in their communities. The federal government's at-home test distribution program gave them access to COVID-19 testing without needing to go through their insurance for reimbursement or their provider for a PCR-based test.
Silcox also noted that rapid antigen self-tests already instruct users to take them serially, which makes the up-front cost higher than the price of a single test. Abbott's BinaxNOW packaging and instructions, for example, state that people who lack symptoms of COVID-19 need at least two tests per person and anyone who receives negative results should take a second test 24-36 hours later.
While the tests were free from the federal government, that extra cost probably didn't matter for many patients, but that may change if they will now have to pay for the tests, and individuals may not do serial testing.
In order to provide antigen tests free to the public, the federal government essentially bought them from test-makers, and according to Wikelius, this provided certainty for diagnostics manufacturers, who have seen demand for their tests wax and wane throughout the pandemic. When COVID-19 vaccines rolled out in 2021 and caseloads declined, test developers lowered the number of tests they manufactured, for instance, but when the Omicron variant caused a surge in infections, they had to ramp up production, she said.
Overall, COVID-19 testing has been retreating since mid-2021, and diagnostics manufacturers have reported declining COVID-19-related revenues for several consecutive quarters. Some firms are also tightening their operations associated with the pandemic. PerkinElmer and SummerBio filed this spring plans to lay off workers in response to weakening demand for COVID-19 testing. They, plus others, including Opko Health and Laboratory Corporation of America, also previously laid off workers from COVID-19 testing operations since the height of the pandemic. 
Asked about the impact of reduced federal funding for COVID-19 assays, QuidelOrtho CEO Douglas Bryant said in a statement that the company continues working with the US Department of Health and Human Services and the US Department of Defense to meet testing needs. The company remains able to produce millions of self-administered antigen tests per month and can ramp up production to tens of millions of tests weekly, he added.
"For us, vigilance against the virus means keeping our supply lines stocked, our manufacturing lines running, and our personnel in position to handle a surge in demand for our QuickVue At-Home OTC COVID-19 test," he said.
The company reduced its manufacturing capacity and employees as demand softened but maintains "the ability to respond to the needs of our customers and the US government as caseloads change."
In a statement, Abbott echoed that maintaining domestic manufacturing infrastructure is critical for responding to COVID-19 waves and new variants. The company said it remains able to produce up to 100 million of its self-administered BinaxNOW tests per month.
While the federal program for COVID-19 tests remains up in the air, some state and local governments, such as in New York City, continue to provide COVID-19 antigen tests for free. According to Silcox, though, the end of the federal program to distribute antigen tests still puts more responsibility on individuals. She recommended that the government establish educational campaigns to help people find tests, understand the results, and get treated for infections, especially as new variants emerge.
Wikelius said if free tests will no longer be available through the federal program, uninsured people will likely rely more on federally qualified health centers, community clinics, and public health departments for access to COVID-19 diagnostics. As with federally funded testing programs, those efforts depend on funding.
With Congress facing an end-of-the-month deadline to pass a stopgap spending bill, the White House is again asking for about $22.4 billion in COVID-related funding, according to The Wall Street Journal. It is unclear how much of that would be directed at testing.
Meantime, the daily number of deaths in the US remains in the hundreds while federal officials are forced to decide whether to direct their available funding either to testing or vaccination programs but not both.
"How do you balance both the needs of today and the needs in the future?" Arizona State University's Aspinall said. "We have some awful choices to make."