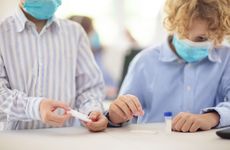 NEW YORK — Who doesn't love free stuff?
When it comes to free COVID-19 tests, many schools and school districts.
Last month the Biden administration announced a new initiative to supply an additional 10 million COVID-19 tests per month to K-12 schools, characterizing the effort as key to helping the facilities "safely remain open and implement screening testing and test to stay programs."
The experience of the last year suggests, however, that K-12 COVID-19 testing has been limited less by access than a reluctance by individual schools and school districts to implement testing.
When the American Rescue Plan Act passed in March 2021, it provided $10 billion in funding for K-12 COVID-19 screening. Those funds were distributed through the US Centers for Disease Control and Prevention to state departments of health, which received the money in early April of last year.
Few states put the funds to use right away. When 360Dx contacted state health departments in May about how they planned to use the ARPA funds, none of the 16 states that responded had begun broadly distributing them to individual schools or school districts. Most of the responding states said they were still in the process of identifying vendors and/or piloting programs that they planned to expand throughout the summer and fall.
In the middle of August, 360Dx followed up with the 50 state departments of health to determine where they were in terms of putting together K-12 testing plans and making funds available to individual districts and schools. Of the 18 states that replied, 13 had put in place K-12 testing programs using the ARPA funds, and the other five were in the process of finalizing the selection of vendors for K-12 testing.
Most responding states had seen relatively little uptake by individual schools and school districts, however. Georgia, for instance, had contracted with two vendors to provide turnkey testing for its K-12 schools, but, according to a spokesperson with the state's department of health, as of Aug. 12 — when many of the state's districts had started the school year — just 73 of its more than 2,200 schools had signed up to access this testing. This was amidst a wave of infections in the state that drove more than a dozen of its school districts to either close, go virtual, or move to hybrid learning. As of Jan. 27, 492 of the state's schools had signed up for the program.
360Dx checked in with states at the end of January to assess how their K-12 testing programs had developed over the first half of the 2021-2022 school year. Of the 20 states that responded, a number have seen increased uptake over this period, though usage levels vary widely.
In North Carolina, for instance, 2,283 schools and 89 districts have done testing through the state's COVID-19 testing program as of last month. That is up from 48 districts that had opted into the program as of the beginning of the school year and represents a large majority of the state's 115 school districts and roughly 2,500 schools.
In West Virginia, by contrast, just 12 of the state's 55 counties had participated in its K-12 testing program as of Dec. 1, 2021. That is up slightly from 10 counties that were enrolled in the program at the start of the school year.
Meanwhile, at the beginning of the school year, South Carolina surveyed its districts and individual schools to determine interest levels in testing. Of the districts and schools that replied, 30 indicated they wanted to provide some form of COVID-19 testing during the school year, 29 were undecided, and 44 said they did not wish to offer COVID-19 testing.
Participation has actually been somewhat higher than this initial survey would have suggested, with 61 of the state's 80 public school districts enrolled in its testing program as of January 2022.
But nationwide, the available data may not provide a true picture of the participation rate among K-12 schools in COVID-19 testing. In particular, on the district level the data can mask lower participation at the level of individual schools. Additionally, enrollment in a state program does not necessarily mean a school or district is actively testing. In Texas, 963 of the state's 1,216 public school districts had opted into the state's testing program as of Jan. 27. However, only 537 districts had received tests or testing staff through the program. The other districts had enrolled in the program just to be prepared if they ever felt they needed to begin testing, but they hadn't actually done any testing yet, said Douglas Loveday, a press officer with the Texas Department of State Health Services.
In any case, all responding states said that the money provided by ARPA has been sufficient thus far to fund their K-12 testing efforts, indicating that to the extent schools are not testing, it remains due more to a lack of interest than access.
ARPA is the main source of federal funding for K-12 COVID-19 testing, but schools can also access testing through Operation Expanded Testing, a $650 million program run by the US Department of Health and Human Services and the US Department of Defense. Unlike the ARPA funds, which were administered by the CDC through state departments of health, individual schools can access OET testing services directly. The program was launched at the end of May 2021 and uses federally funded contractors to provide testing to participating institutions.
According to the CDC, OET is currently supporting testing in 1,909 K-12 schools around the country, meaning that those schools have done COVID-19 testing through the program within the last 30 days. Of the roughly 130,000 K-12 schools in the US, a total of 2,675 schools have used OET for testing since the program launched. While the program was initially slated to end Nov. 25, 2021, it has since been extended to July 1.
Under the initiative announced last month by the Biden administration, the CDC is distributing up to 1.25 million point-of-care rapid antigen tests per week to schools for the next three months. The agency said that as of Feb. 7, it has received test requests from 45 jurisdictions (out of a total 64 jurisdictions — each representing a different US state or territory). A total of 3.5 million tests have been requested, and the CDC has allocated 3.25 million tests.