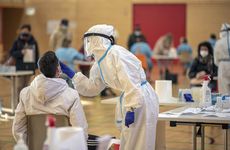 NEW YORK — With the launch this month of a new COVID-19 home testing initiative, the Centers for Disease Control and Prevention and National Institutes of Health are looking to evaluate the effectiveness of self-administered, population-scale testing at suppressing the spread of SARS-CoV-2.
The effort builds on recent findings from an NIH-funded study at the University of Illinois and comes as the notion of rapid antigen home testing for the virus is gaining momentum following recent US Food and Drug Administration Emergency Use Authorization for several tests and the roll-out of a nationwide home testing program in the UK.
Rapid antigen tests have been identified as a potentially key technology for slowing transmission of SARS-CoV-2. While they are not as sensitive as laboratory-based molecular tests, they are easier and cheaper to deploy and can, in theory, be conducted frequently enough to overcome any lack of sensitivity.
Modeling studies suggest that frequent and consistent testing can significantly reduce transmission of SARS-CoV-2 even when using lower performance tests. Evidence from real world studies is mixed. A COVID-19 testing pilot in Liverpool, England that used a rapid antigen test from Pasadena, California-based Innova Medical Group to test around 40 percent of the city's population found that while the program identified several thousand COVID-19 positive individuals who might otherwise have gone undetected, there was little evidence from Liverpool COVID-19 infection or hospitalization trends to indicate the testing program significantly reduced the spread of the virus.
Results from a Slovakian study published last month in Science were more promising. Conducted in October and November 2020, the campaign ran 5,276,832 SD-Biosensor Standard Q rapid antigen assays, testing more than 80 percent of the country's population between 10 and 65 years old along with older adults who were still a part of the workforce. The Slovakian researchers found that infection prevalence dropped by 82 percent over three rounds of testing, though, as they noted, other interventions to slow the spread of the virus were also introduced during that period, making it difficult to determine what proportion of the decline could be attributed to the testing pilot.
Slovakia has continued to test roughly one-third of the country each week using rapid antigen testing. The UK, meanwhile, began on April 9 to offer everyone in the country free rapid COVID-19 testing and is encouraging people to get tested twice a week with lateral flow tests.
The US has not pursued a similarly comprehensive approach to rapid antigen testing, though some states and localities have explored rapid testing. In January, Ohio purchased 2 million Abbott BinaxNow rapid antigen tests that the state is distributing through public health and police departments and local libraries. The new CDC-NIH initiative could provide a model for communities interested in implementing large-scale testing, said Bruce Tromberg, director of the National Institute of Biomedical Imaging and Bioengineering and leader of the NIH Rapid Acceleration of Diagnostics (RADx) Tech program, which is collaborating on the effort.
Called "Say Yes! COVID Test," the initiative is providing up to 160,000 residents of Pitt County, North Carolina and Chattanooga/Hamilton County, Tennessee with access to free rapid home test for roughly a month. The program is using San Diego-based Quidel's QuickVue At-Home COVID-19 Test, which last month received FDA EUA for over-the-counter use as for serial screening. Residents can order up to three tests a week for either home delivery or pick up. The initiative is also using an online and smartphone-based tool developed by Ann Arbor, Michigan-based CareEvolution that provides instructions on taking and interpreting the test and sends text messages reminding participates about testing.
The app is also able to capture a photograph of the test and provide interpretation of the results, though Tromberg said that capability was still being validated and would not be available to the "Say Yes! COVID Test" participants.
Tromberg said that NIH negotiated for 2 million QuickVue At-Home COVID-19 Tests as part of its RADx contracts with Quidel and developed the "Say Yes!" initiative to use those tests for a demonstration project looking at the effectiveness of community-wide home testing.
The two communities were selected based on a variety of considerations including infection rates and the availability of data on infection rates based on factors like lab testing results and wastewater monitoring programs as well as connections to the Rapid Acceleration of Diagnostics Underserved Populations (RADx-UP), which aims to improve testing in medically underserved communities.
Bettie Murchison, a Wake Forest, North Carolina-based consultant who is working on outreach efforts for the program noted that a key challenge is getting tests into communities where access to testing has been limited, and particularly to people who might not have access to online ordering.
"The rate of COVID infection and death rates among brown and Black people are the highest of any group, and a lot of marginalized groups don't have access to health care or good health information," she said. "So we are making sure that in addition to people being able to go online and order these kits, that people who are not able to go online also have equal opportunity to get a kit and do testing at home."
Murchison said the program is using community groups and leaders, including churches, to make people aware of the availability of testing and to help with test distribution.
The initiative will compare the trajectory of infection rates and other measures in the two communities against those of other nearby, similar populations to assess the impact of regular home testing. The researchers are also collecting survey data from participants on a voluntary, anonymous basis that will gather information including on how people changed their behavior based on test results.
While a central goal of the project is to evaluate the effectiveness of population-scale rapid testing, the initiative's reach will be far short of comprehensive, with enough tests available to reach only around 40 percent of the target populations.
Tromberg said that NIH projections indicated that at least 10 percent participation would be needed for the researchers to see a statistically significant impact from testing.
The "Say Yes!" project follows a RADx-Tech-funded study at the University of Illinois that looked at the use of rapid antigen testing for regular screening of asymptomatic individuals.
"Late fall of last year we knew that we would not really be able to definitively establish guidelines for the use of lateral flow assays or quick antigen tests unless we had a study rather than just theoretical models that said you can use these tests and they can be effective at detecting infectiousness," Tromberg said.
The study piggybacked on the University of Illinois's SHIELD testing program, which requires that all on-campus students and employees undergo molecular SARS-CoV-2 testing every two to four days. In the study, participants collected saliva and nasal samples every day for 16 days. The samples were analyzed using RT-qPCR, Quidel's SARS Sofia FIA rapid antigen test, and a virus culture test evaluating a sample's infectiousness.
In a MedRxiv preprint published last month, data from 30 participants indicated that while molecular testing was more effective than rapid antigen testing at identifying people with COVID-19 before or early in their infectious period, rapid antigen tests used two to three times per week detected infected individuals with a sensitivity of above 95 percent.
This finding provided a roadmap for the "Say Yes!" initiative, Tromberg said. "We wanted to use that [finding] in the community study because that would give guidance, rather than just throwing tests into the community and saying, do whatever you guys want to do."
He added that it could help inform rapid antigen and home testing efforts more broadly.
"Everyone wants to know the answer of how many lateral flow assays do you need to do to have the functional equivalent of PCR," he said. "The world really needs guidance that is based on real-world evidence about what should be the cadence for testing with antigen assays. And the answer is, every two to three days."
"We're hoping that this will provide a template for people, that it will signal to the world how [rapid antigen] tests can deployed effectively," he said.