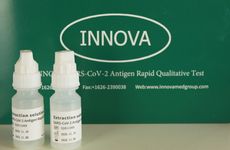 NEW YORK ─ As the UK winds down its COVID-19 rapid antigen testing program, scientists, clinicians, and policymakers continue to debate its effectiveness.
In the US, many proponents of COVID-19 rapid antigen testing have pointed to the UK approach as a model to be emulated, but in the UK itself opinions are more mixed with many questioning whether the program has significantly reduced the spread of the virus and if its benefits have justified its costs.
Beginning in April 2021, the UK Department of Health and Social Care made two free rapid lateral flow COVID-19 tests per week available to all residents of England with the goal of suppressing the virus by more quickly catching infections and breaking chains of transmission. Since then, the country has provided more than a billion lateral flow tests at a cost of more than £6 billion ($7.9 billion).
Last month, the UK government released new guidelines indicating that, with the COVID-19 situation moving into what many expect will be a long-term endemic phase, it is downshifting its testing programs. It announced that as of Feb. 21, it would no longer require twice weekly testing of students and staff in schools and child care facilities — much of which has been done via lateral flow assays. Additionally, it said that as of April 1, it would no longer provide free COVID-19 testing to the general public, though free testing would remain available to certain high-risk groups.
A year after universal access to free rapid testing became available, the impact of this program remains muddy, said Alex Crozier, a researcher in the division of biosciences at University College London.
"There's not really any good evidence to say whether it really had an impact on the epidemic," he said. "My hunch is that [lateral flow tests] had an overall net benefit, but my hunch is also that the [benefit] wasn't all that great."
The raw case and fatality figures don't provide a strong indication of the program's success. According to numbers from the New York Times' COVID-19 Tracker, as of March 9, the UK has reported 243 COVID-19 deaths per 100,000 people, putting it in the top quartile for deaths among the countries reporting. The US, which had no organized rapid testing program and where test accessibility has been an ongoing problem, has fared worse, though, with a reported 290 COVID-19 deaths per capita.
Crozier said that the Liverpool City Region COVID SMART study, a pilot project run between December 2020 and April 2021 to evaluate the effectiveness of rapid antigen testing, remained the best available evidence supporting the case for rapid antigen testing. Over the course of the pilot, 283,338 (57 percent) Liverpool residents took an Innova SARS-CoV-2 rapid antigen test, with 27 percent of the city's residents taking more than one test. The tests identified 6,300 asymptomatic individuals positive for COVID-19.
While an analysis of initial data from the project found no statistically significant decrease in COVID-19 hospitalizations compared to control regions outside the pilot area, a later analysis of a more complete local and national dataset determined that the testing program resulted in a 32 percent reduction in COVID-19 hospitalizations.
A recent editorial in The BMJ by Angela Raffle, a public health researcher at the University of Bristol, and Mike Gill, a former regional director of public health with the National Health Service, noted, however, that the hospital "admission trend in Liverpool at the time was already downwards."
Crozier also raised the question of whether the Liverpool pilot was generalizable to the larger population and COVID-19 situation.
Compared to the nationwide rapid testing program, the Liverpool project "was much more organized," he said. "People would go to tents or facilities for testing. So, it was not quite translatable."
Additionally, much of the Liverpool data was collected before vaccines were available and before the emergence of the Omicron variants, Crozier said. "How much can be drawn from that to the more recent situation?"
Test quality
Some have also questioned the UK rapid testing program's heavy reliance on tests from Pasadena, California-based Innova Medical Group, which has supplied the government with more than 1 billion tests for the program. In June of last year, the US Food and Drug Administration issued a warning letter advising the public against using the test, citing concerns about its performance and the potential for false-positive or false-negative results. The UK's Medicines and Healthcare products Regulatory Agency, or MHRA, extended its Exceptional Use Authorization of the tests following the FDA action, however.
Germany's Paul Ehrlich Institute, an agency of the German Federal Ministry of Health, has also approved the Innova test for use, with a PEI spokesperson previously telling 360Dx that the test performed well in its validation process.
Nonetheless, data from the UK's Porton Down testing facility, which is responsible for validating SARS-CoV-2 rapid tests for use in the country, indicated the Innova test would likely miss a high proportion of positive cases, especially when self-administered by members of the general public. The facility's evaluation found that the test registered 79 percent specificity (compared to PCR) when performed by laboratory scientists, 73 percent sensitivity when performed by healthcare workers, and 58 percent sensitivity when performed by members of the public.
That COVID-19 lateral flow tests have lower sensitivity than molecular tests is widely known and accepted. Proponents of widespread use of lateral flow testing have argued, however, that in many cases molecular tests are picking up patients with extremely low viral loads who are not infectious and that lateral flows tests detect a high percentage of infectious individuals.
Anika Singanayagam, an infectious disease doctor at Imperial College London, said, though, that this has argument has rested more on assumptions than hard data.
"To define infectiousness in the first place is [a] challenge because there is no reference standard," she said.
People have tried to use information like PCR cycle threshold (Ct) values or viral culture assays as proxies for infectiousness, but these approaches come with pitfalls, Singanayagam noted.
For instance, "a Ct value in one laboratory might not mean the same thing in terms of viral load as a Ct value in another laboratory," she noted.
Singanayagam and colleagues at the University of Birmingham, University of Oxford, and Imperial College recently published a paper in The BMJ calling into question several of the models used to support the notion of widespread lateral flow testing. They also combined data from a variety of previous studies in an analysis that predicted that among individuals deemed infectious based on viral culture, the Innova test would miss between 20 percent and 81 percent depending on the setting in which it was used.
In a rebuttal, researchers including UCL's Crozier argued, however, that The BMJ paper ignored a number of studies providing data indicating a higher sensitivity for infectious individuals (as determined by viral culture) for lateral flow tests.
They also note that the paper assesses the performance of "a single test in an asymptomatic population," and observe that models promoting large-scale use of rapid antigen testing are based on "repeat testing to identify and avert transmission from individuals when infectious, either through daily testing of contacts of cases … or regular whole population testing at different intervals."
This is a key distinction, as regular, serial testing can help counter the typically lower sensitivity of rapid antigen tests compared to PCR. This point also underpins much of the criticism of the FDA and its more stringent standards for rapid antigen test performance.
Whether people have, by and large, used these tests as recommended by their proponents is another matter, though.
Crozier said that while the idea was the tests should be used twice a week to catch cases in asymptomatic people, in reality, they were typically used in a more irregular fashion, often at a single time point to test after the onset of symptoms.
"There was this constant sort of discrepancy between the official program and the official way you were supposed to use the tests … and how the tests were actually being used, which was that when people were feeling a bit sick they would take a test, and if they were positive they would isolate, and if they were negative they would go on and live their life," he said.
The problem with such a single-time point approach — particularly with a lower sensitivity product like the Innova test — is that a single negative result is not strong confirmation that a person is, in fact, negative for the virus.
"If people got a bit of a sore throat, they could self-test at home, and that made people feel safe and happy," said the University of Bristol's Raffle, who has been a vocal critique of the UK's testing program throughout the pandemic. "But there are so many well documented instances where people with symptoms have tested negative and said, 'Oh, I'm fine,' and then they test a day or two later and they are positive. The reason the tests are so popular is they give people a feeling that they are in control, but a lot of that is an illusion."
Crozier said he believed better communication from the government about how testing should be used could have improved the program's effectiveness.
"It's hard, and there are challenges. It's quite a complex intervention. But I think the problem here was the population as a whole was left to figure it out for themselves," he said. "There could have been and should have been a lot more guidance from the government on how to use these tests."
"It was never going to be perfect, but I think certainly it could have been improved upon," he said.