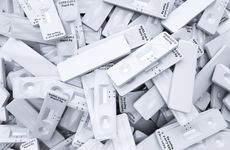 NEW YORK – Beginning before he even took office, President Biden and his administration turned to ramping up the availability of rapid antigen tests for COVID-19 as a crucial step to try to control the pandemic. 
Throughout much of the first year of the pandemic, some healthcare experts called for greater use of rapid antigen tests to identify individuals who had the SARS-CoV-2 virus and manage them more quickly. To them, the federal government was mistakenly ignoring the utility of such tests because they are less sensitive than molecular tests – a drawback that proponents of antigen tests said can be easily overcome with serial testing.
In 2021, those clarion calls began to be answered under the Biden administration. The president's $1.9 trillion American Rescue Plan, unveiled on Jan. 15 before his inauguration, allocated $50 billion to expand COVID-19 testing, with much of the money invested in rapid tests and expanding laboratory capacity. An additional $30 billion was earmarked to invest in the Disaster Relief Fund to provide supplies, such as glass vials and testing reagents, and another $10 billion was invested in expanding domestic manufacturing for pandemic supplies.
Six days later, on his first full day in office, the president released another plan – this time solely focused on the COVID-19 pandemic. His National Strategy for the COVID-19 Response and Pandemic Preparedness created a national pandemic testing board to implement a clear and unified approach to testing and directed agencies to provide free testing for people without health insurance. Under the plan, the federal government expanded the rapid testing supply and increased antigen and molecular testing manufacturing in the US. 
As part of the plan, Biden also invoked the Defense Production Act (DPA) to fill supply chain issues for testing supplies, including PCR sample collection swabs, test reagents, pipette tips, PCR instruments, high-absorbency foam swabs, nitrocellulose material for rapid antigen tests, and rapid test kits. The federal government also committed to a five-year investment in onshore manufacturing of test kits and related supplies for COVID-19 and other emerging biological threats.
In February, the White House focused more specifically on at-home SARS-CoV-2 tests, announcing it was finalizing contracts with six companies to increase domestic testing capability for at-home tests. It followed an announcement by the US Department of Defense that the agency, in coordination with the US Department of Health and Human Services, had awarded Ellume USA $231.8 million to produce the Ellume COVID-19 Home Test.
Later in February, DoD and HHS announced they were investing $815 million to build and scale up domestic manufacturing of testing supplies, including supplies for point-of-care antigen tests, as a bridge before the American Rescue Plan was passed in Congress in March. 
After a slowdown in the number of COVID-19 cases early in the summer, the infection rate started to rise again later in the season, resulting in Biden announcing in September a new COVID-19 Action Plan, which emphasized the importance of rapid POC and at-home antigen tests. 
According to the plan, Biden would use the DPA to further accelerate rapid test production, procuring 280 million tests from multiple manufacturers and making them available for long-term care facilities, community testing sites, shelters for unhoused people, prisons and jails, and other congregate settings and vulnerable populations. Twenty-five million free at-home rapid tests were sent to 1,400 community health centers and hundreds of food banks. At the same time, the plan expanded the number of retail pharmacy sites where people could get tested for free.
The increase was also intended to provide for stockpiles of tests and the ability to further scale up manufacturing if necessary. Retailers, including Walmart, Amazon, and Kroger, were also required to sell rapid tests at-cost for the rest of the year, allowing people to buy the tests for up to 35 percent less than pricing at the time, the White House said. Medicaid was also required to cover at-home tests for free for its beneficiaries.
The DoD also announced in September the awarding of four procurement contracts totaling $647 million to purchase over-the counter COVID-19 tests. OraSure Technologies received $205.2 million to deliver 20.6 million test kits; Quidel received $284.2 million to provide 25.6 million tests; Abbott secured $47.8 million to deliver 3.8 million tests; and Intrivo Holdings nabbed $109.8 million to provide 10 million tests. OraSure later received an additional $109 million contract from the agency to scale up manufacturing capacity for its InteliSwab rapid antigen tests.
The sky-high demand left industry worried about test developers' ability to meet demand and manufacture enough tests not only to fulfill the federal government's contracts, but also retail needs. Market analysts and other stakeholders have noted that labor shortages and supply chain issues could impact the ability of testing companies to manufacture tests at the levels they've claimed.
In an analyst note in September, William Blair's Brian Weinstein said that "there is simply nowhere near enough supply of POC or OTC tests … today to meet the demand of the US government (280 million tests), employers (likely millions of tests per week), schools, traditional healthcare settings, and retail demand." He added that "even with the DPA invoked, it will likely be months before meaningful additional supply comes on the market to be able to address the current demand, and at that time it is unclear what the demand will look like."
Mara Aspinall, a professor in the College of Health Solutions at Arizona State University who is also on OraSure's board of directors, wrote in her weekly COVID-19 newsletter that Biden's move to increase rapid antigen assays was "a big step in the right direction for testing in this country," but noted that "it's not clear how some test manufacturers, who are already struggling to keep up with demand, will handle this new push." 
She added that she hopes "the right incentives and infrastructure are quickly put in place to ensure that tests become easily and readily available to all." 
That infrastructure has not necessarily made its way to the US, unlike in Europe. Despite the steps taken by the White House throughout the year, the US has lagged behind Europe in adoption of rapid antigen testing, partly due to lack of supply and higher costs. More stringent regulatory policies have also handicapped efforts to expand antigen testing in the US, where only 13 rapid antigen at-home tests have received Emergency Use Authorization from the US Food and Drug Administration. In the Germany, at-home tests are available from dozens of manufacturers, and both the UK and Germany provide rapid antigen tests for free to its populations. 
One key concern for many consumers, in light of the higher cost of rapid antigen tests compared to Europe, was who would pay for these tests. Unlike lab-based tests, which are largely covered by insurers, at-home tests have been paid for completely out of pocket. Earlier this month, the President addressed the issue by mandating private health insurers cover 100 percent of the cost of at-home tests purchased by plan members. 
However, the policy doesn't apply to tests purchased before it is enacted in January 2022, and people covered by public insurance won't be eligible for reimbursement. For those who aren't covered by private insurance, the White House said it will distribute 50 million free at-home tests to community sites.
In October, the US seemed to be following Europe's lead, investing $1 billion to expand access to rapid antigen tests and purchasing an additional 180 million tests over the next year. But stakeholders, including members of Congress, have called on the administration to invest more in antigen testing and make more tests available, with US Rep. Kim Schrier (D-Washington) requesting Biden issue an executive order providing an expedited approval process for tests that have already been approved in Europe.
Heeding those calls, HHS established its Independent Test Assessment Program, creating an accelerated pathway to support FDA evaluation of tests with potential for large-scale manufacturing. Under the program, HHS experts will work with companies to assess over-the-counter tests, compile necessary data, and work toward performance benchmarks to help developers submit their tests for FDA review.
The FDA also provided recommendations for labeling updates allowing over-the-counter, single-use testing for symptomatic patients for tests that currently only have EUA for serial testing. Developers are now able to request authorization to add the additional indication without having to submit more data to the FDA.
Also in October, the National Institutes of Health's Rapid Acceleration of Diagnostics initiative awarded $77.7 million for the development and manufacture of 12 new rapid diagnostic tests for SARS-CoV-2 for use at the point of care and in the home – five for detecting viral RNA, and six for detecting viral antigens.
And earlier this week, in wake of the surge in the number of COVID-19 cases resulting from the Omicron variant, the White House announced it is launching new federal testing sites and distributing 500 million free COVID-19 rapid tests. It is also once again using the DPA to increase production of rapid tests. The administration said it is building a website where people can request free rapid tests, with delivery beginning in January 2022.