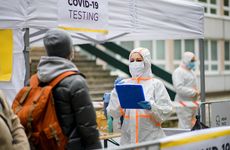 NEW YORK – When COVID-19 hit the US in the winter of 2020, it revealed a country woefully unprepared for the testing challenges presented by a rapidly spreading pandemic.
From clinical labs to federal agencies to public health departments to vendors of in vitro diagnostics, the nation's medical system was unable to rapidly ramp up testing for SARS-CoV-2. As a result, the country spent the first month of the pandemic flying blind without the ability to meaningfully track and monitor the spread of the virus.
Two years later, the US is in a different place, with testing capacity in the high hundreds of millions per month — typically enough to meet demand, though spikes like the recent Omicron wave can still strain the system, leading to shortages and delays. Is the country, though, any better prepared for the early days of future pandemics? Will it be able to deliver testing quickly and broadly enough that it can actually mitigate the disease's spread?
On Jan. 21, 2020, the US Centers for Disease Control and Prevention said it had confirmed the first case of COVID-19 in the US in a 35-year-old Seattle-area man. Two weeks later, on Feb. 4, the US Department of Health and Human Services declared a public health emergency. The import of this declaration with regard to testing was that assays were now required to receive Emergency Use Authorization from the US Food and Drug Administration. This meant that even CLIA facilities that wanted to produce their own laboratory-developed tests for the virus would have to take those tests through the FDA.
The CDC made an EUA submission for its molecular COVID-19 test on Feb. 3, 2020, and received authorization from the FDA on Feb. 4, upon which it began distributing test kits to public health labs around the country. The expectation was that the CDC and state and local health labs would perform SARS-CoV-2 testing while academic and industry clinical labs and IVD manufacturers developed their own tests and moved them through the FDA EUA process. This plan ran into problems, though, when it became apparent that the CDC test was flawed (due, it turned out, to contamination during the production process), causing it to fail in the hands of some public health laboratories.
This meant that throughout much of February 2020, as the virus began to spread across the country, test capacity was extremely limited. The situation became so dire that on Feb. 24, lab groups including the American Association for Clinical Chemistry and the Association of Public Health Laboratories (APHL) asked the FDA for permission to begin testing using LDTs that had not received EUA, a request that the FDA denied. Several days later, responding to growing pressure, the agency said labs could begin testing before they received EUA provided they had validated their assays and filed for EUA within 15 days of deploying them.
"The whole system was just dragging on," APHL CEO Scott Becker recalled of the early difficulties to deploy SARS-CoV-2 testing. "We were at our wits' end. We were like, 'What is going on?' Because we couldn't do our job, yet we knew how to do our job."
The fact that the FDA's regulations prevented CLIA labs from quickly deploying LDTs for detecting SARS-CoV-2 has led some to blame the agency for the early test delay and suggest that in the event of a future pandemic it should allow LDTs to go to market without requiring them to receive EUA. This, the argument goes, would keep the country and its early testing efforts from being vulnerable to failure at a single point, as happened in February 2020 with the CDC's SARS-CoV-2 test development work.
Presented with this notion, an FDA official, speaking to 360Dx on background, responded skeptically that while the agency had expected to see a large influx of test submissions after it loosened its rules on Feb. 29, in fact it received just seven submissions in the first week following that decision, indicating, the official suggested, that there was not at that point in time a large number of labs being held back from offering LDTs by the FDA's EUA requirements.
Of those seven initial submissions, three turned out to have issues either with test design or test performance, he added. In an October 2020 commentary in the New England Journal of Medicine, Jeffrey Shuren, director of the Center for Devices and Radiological Health at the FDA, and Timothy Stenzel, director of the FDA's Office of In Vitro Diagnostics and Radiological Health, wrote that of the 125 EUA submissions for SARS-CoV-2 molecular tests that the agency had reviewed at that point, 82 had design or validation problems, and "several" were denied authorization.
APHL's Becker pushed back on this interpretation, however, suggesting that one reason many labs hadn't developed SARS-CoV-2 LDTs at that time was that they were put off by the requirement to obtain EUA.
It can be daunting for labs "if you've never been through the process, and you don't know what it is," he said.
Becker said he believed that had labs been able to put out SARS-CoV-2 LDTs without EUA, it would have meaningfully boosted testing capacity in the early weeks of the pandemic.
"I think it would have because there are plenty of very competent assay designers," he said. "Remember, you had large commercial labs who were interested in this, too."
A recent paper authored by healthcare industry leaders including Laboratory Corporation of America Chairman and CEO Adam Schechter looking at lessons from the COVID-19 pandemic did not directly criticize the EUA process but did highlight the failure to engage "private sector laboratories earlier" and the initial reliance on "government-created testing." Contra the FDA official's claims that the agency's Feb. 29 guidance would likely not have spurred a substantial increase in test capacity had it been issued earlier, the authors note that "within days of" that guidance "diagnostics companies responded by bringing tests to market and rapidly ramping up capacity."
Mara Aspinall, professor of practice at Arizona State University's College of Health Solutions and a consultant with COVID-19 Response Advisors, also said she believed the FDA's delayed willingness to loosen regulations around testing hamstrung the country's early response.
"If we had CLIA labs throughout the country — even just the existing ones, forget the fact that they ended up expanding tremendously — we could have contained the virus far more effectively," she said. She cautioned, though, that the next pandemic might require more complex testing than the relatively straightforward PCR assays used to detect SARS-CoV-2, in which case stricter regulatory oversight could be warranted.
In any case, Becker said that while he believed the FDA's EUA requirements limited the ability to scale testing for SARS-CoV-2, he didn't expect they would present a challenge for the ramp-up of testing in future pandemics. Over the last two years, the FDA has substantially improved its communication of the EUA process and its requirements, and clinical labs and vendors have become more experienced in making submissions, he said.
"I think now the diagnostic community is much more confident in being able to put an EUA application in to FDA, and FDA is much more competent in being able to communicate with this constituency," he said.
Given this greater level of experience, "would the community [now] react differently and apply [for EUA] in much greater droves?" he said. "I think it would. I know that my members would, now that they have gotten a little taste of it. And, I think it is a friendlier FDA than it was."
"I don't have a problem with the EUA process now," Becker added. "I did [at the beginning of the pandemic] because it was dragging on, the whole system was dragging on, way too long."
In short—while the regulatory process likely constrained testing at the start of the COVID-19 outbreak, it's less likely to prove an issue in the future.
Better Coordination is Key
What, then, will be the keys to a more rapid ramp-up of testing at the start of the next pandemic?
"I think in 2020 we were really relying on PCR testing to be developed by government alone, and then moving methodically forward from that position," said Tom Inglesby, senior adviser on the White House's COVID-19 Response Team. "We would proceed quite differently in the event of a pandemic now. We would engage industry right from the start. It wouldn't be one federal agency, but all federal agencies that have equities in testing would be engaged, and we would be moving to scale up right at the start."
The criticisms of the FDA's early response to COVID-19 would indicate that more rapidly enabling a large number of labs and vendors to get testing up and running could lead to a better outcome in future pandemics. A number of observers (including, perhaps predictably, the FDA), suggested, however, that despite the failure of an overly centralized early response to COVID-19 (as the country was left largely without testing capacity following the failure of the CDC assay), what is needed is a more centrally coordinated effort on testing — one, however, that, as Inglesby suggested, prominently features the private sector.
Aspinall called for a national laboratory system akin to the network of government-owned, contractor-operated labs run by the US Department of Energy.
"When there is a crisis in [the energy space], the government is able to step in and work with the infrastructure in these labs," she said, suggesting that a similar structure could enable a more rapid response in pandemic situations. "Do we take some of the largest national labs and have a partnership with the federal government? Does the federal government upgrade the labs at the CDC and then in turn upgrade public health [labs]? There are lots of different ways to do it."
Ultimately, what is needed is some form of an ongoing, "systematic partnership of government, academia, and private industry," Aspinall said. "Could you have a small group of people — academics, government, and private [industry] — regularly meeting to say, 'Are there any major threats on the horizon?' The advantage of doing that is then people know each other and they know their capabilities, and when a threat comes out you know exactly who to talk to."
Becker pointed to the example of South Korea and the high level of coordination between the government and lab and diagnostics industries at the beginning of the COVID-19 pandemic as a model for the US to emulate.
"They brought together government, the diagnostic manufacturers, their public system, and their clinical lab system, and they said, 'OK, here is what we are going to do,'" he said. "We're not South Korea. We have a different healthcare system, but could we take some elements of that coordination, of having everyone at the table, and getting up and running quickly? We probably could."
The FDA official likewise cited South Korea as an example to follow.
"The [South Korean] government had already invested and set up relationships with a handful of [diagnostic] developers so that when COVID-19 hit, before the government was even asking folks to make tests, two of the developers had already made them," he said. "They were able to come out a lot faster because they just hit the ground running."
In a May 2020 paper published in Clinical Chemistry, a group of South Korean researchers detailed the country's early response to COVID-19. They noted the "collaboration between the public and private sectors" as among the key factors leading to the country's success in ramping testing.
In their JAMA commentary, Shuren and Stenzel argued that the "diffuse efforts" that characterized the US' testing response to COVID-19, with a large number of labs and vendors all developing assays independently, was "an inefficient use of resources."
They said that a more effective early response would be "to authorize a small number of well-designed, well-developed, and validated tests run on common high-throughput platforms, followed by a few point-of-care tests all of which are manufactured in large quantities."
Rapid antigen tests have also played an important role in the COVID-19 pandemic but are unlikely to be available in the first weeks of an outbreak given the time required to develop and validate antibodies against a new viral antigen.
Test designs could be developed or identified by the government or a government-industry collaboration and manufactured according to preset contracts and arrangements, they suggested.
Aspinall similarly suggested that the first step around testing in any future pandemic should be to identify "who are the best players for the particular threat who have the scale to get [testing] out broadly."
The FDA official suggested that test validation was another area where a more centralized approach could speed development.
"We've seen a number of manufacturers and test developers do a terrible job with validation even to the point where you just can't tell what the performance is," he said. Having test validation handled by the government or some other outside body would address this problem while also easing the challenge faced by labs — particularly acute in the early days of an outbreak — of obtaining positive clinical samples for test validation.
The US has developed this capacity over the course of the pandemic, establishing a system for validation of serology testing at the National Cancer Institute and for rapid antigen testing through the National Institutes of Health Rapid Acceleration of Diagnostics initiative.
Aspinall noted that essential to any efforts to quickly ramp up testing capacities in a future pandemic will be government purchase guarantees or other similar mechanisms to ensure that companies don't lose money in the event that their tests aren't needed.
"I think advanced purchases are a way that are consistent with our capitalist, profit-oriented system to put the right incentives in place to provide tests to the public," she said.
"There was not that de-risking" for testing early in the COVID-19 pandemic, said the FDA official. "And so many of the manufacturers who would make these kinds of tests for infectious diseases didn't race into making tests so quickly. We spoke to a number of them, we pushed a few of them, said, 'Please get into the game.' But some of them had gotten spooked from prior emergencies where they made tests and there just wasn't a market for them. So, they had made investments and they lost money."
"Those folks were skittish, and the government wasn't de-risking and propping up the marketplace," he said. "For a manufacturer, they are either going to have to establish a new line to make a test, or they are going to have to take an existing line and put it out of commission and transition over to a new test. Both of those have significant risks."
He added that government guarantees will also be necessary to ensure a sufficient supply of reagents and other materials needed for testing. Becker likewise noted the importance of better understanding the testing supply chain and making it more robust, a point also echoed by Labcorp's Schechter and his coauthors in their commentary.
"What hit us in mid-March, the very first thing, was I started learning from our members that there were no swabs [for sampling]," Becker said. "As soon as we were up and running with testing, we got hit with the supply chain, with swabs being the first thing that was no longer in stock."
Some Progress, but More Needed
As for advances along any of these lines, Becker said that while the testing industry and FDA are now "more sophisticated" in their understanding of how to approach a pandemic situation, he still doesn't see the level of coordination he believes is needed.
"I feel like I'm pretty tied in, but I don't see a lot of action on that yet," he said. He noted that while HHS's COVID-19 Testing and Diagnostics Working Group had been effective in coordinating industry, government, and public health during the recent Omicron wave, it's long-term status, especially after the COVID-19 pandemic has ended, remains uncertain.
In September 2021, the Biden administration put forward a summary of its pandemic preparedness plan that called for all aspects of pandemic readiness to be coordinated by a "single, unified 'Mission Control' office" at HHS and called for funding of that office in the amount of $65.3 billion over seven to 10 years.
Thus far, however, both this office and the funding for it exist only as proposals, and, recently, efforts to fund the campaign against COVID-19, to say nothing of a hypothetical future pandemic, have stumbled as, several weeks ago, Congress removed $15 billion in COVID-19 emergency funds from a $1.5 trillion spending bill, a move the White House said could impact the nation's testing capacity.
"We've been pretty clear that that is just the beginning of what will be needed for testing and for other priorities in the administration," Inglesby told 360Dx at the time. "We know we have had lots of support, but we also know that to do this kind of work it is going to require public-private partnerships, government supporting industry, and building the systems we need for the long run."