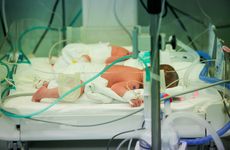 NEW YORK — While a number of tests are available for evaluating a woman's risk of preterm delivery, a recent report from the American Association for Clinical Chemistry suggests none are effective clinical tools.
In an AACC guidance document published this month, a team of pathologists and Ob/Gyns examined the performance of existing markers for preterm delivery and recommended against their use for the "routine evaluation" of women with symptoms of preterm delivery.
The team's analysis focused largely on single markers of preterm birth, including the proteins fetal fibronectin (fFN), interleukin 6 (IL-6), and placental alpha microglobulin-1 (PAMG-1), but it also looked at the performance of Sera Prognostics' PreTRM test, which uses the ratio of the proteins insulin-like growth factor-binding protein 4 (IBP4) to sex hormone-binding globulin (SHBG) to predict risk of preterm birth.
In all cases, the markers failed to deliver high enough positive predictive value to make them worthwhile, said Rob Nerenz, assistant professor of pathology and laboratory medicine at Dartmouth's Geisel School of Medicine and an author on the AACC report.
"Because most women with signs and symptoms of preterm labor will not deliver within a week, without doing any testing at all, your negative predictive value is pretty high — just on the basis of it being a low prevalence condition," Nerenz said.
This means that a test for ruling out preterm birth isn't particularly useful for clinicians, he said. However, he noted, this is how fFN, one of the most commonly used preterm birth markers, has often been marketed.
"People really emphasized its negative predictive value," he said. "That if you do the fetal fibronectin test and you get a negative result, that is reassuring because you can say to the women, you probably aren't going to deliver prematurely. But you could say the same thing without even doing the test. And so even though [fFN] has a high negative predictive value, that doesn't really change clinical decision-making."
What is really needed is a test that can reliably rule in preterm birth, Nerenz said. "And it's just not there. The majority of positive tests are false positives, and so if anything, it kind of muddies the water and makes it harder for clinicians to manage patients."
In the case of fFN, this led Nerenz and his colleagues at the clinical chemistry lab at Dartmouth-Hitchcock Medical Center to stop offering the test due to low demand.
"We went back and looked at a year's worth of data and found that our lab had performed six [fFN tests] over the span of a year," he said. "Four of those had been sent to us by an off-site partner hospital and our own internal clinicians had only ordered two of them. So, we said, look, we're doing way more quality control and spending way more on [College of American Pathologists] proficiency [testing] than we are on actual patient specimens."
Looking at data from CAP fFN proficiency testing surveys, the report authors observed a modest but steady decline in labs participating in fFN testing, from 1,669 labs in 2017 to 1,625 labs in 2020.
In their analysis, Nerenz and his colleagues determined that in a patient population with a pre-test probability of preterm delivery of 3 percent, a positive fFN result increases that probability to around 15 percent while a negative result does not meaningfully reduce the post-test probability.
They also observed that studies have found that fFN testing "does not consistently improve clinical outcomes, as measured by reduced hospitalization rates, rates of [preterm delivery], or healthcare costs."
While fFN is the only marker of preterm birth risk to be recommended by major US or European professional society guidelines, the proteins IL-6 and PAMG-1 have also been studied as markers for preterm birth.
IL-6 has shown largely similar performance to fFN, the AACC authors noted, adding that while it shows "modestly improved performance in African-Americans" this "is not sufficient to significantly impact clinical decision-making."
PAMG-1 shows somewhat higher PPV than fFN and IL-6, but it still does not have high enough PPV to be useful in the general population. It does appear potentially useful, however, in women at high risk of preterm delivery as identified by the use of transvaginal ultrasound. In women with a pre-test probability of 20 percent to 25 percent, a positive PAMG-1 result yields a post-test probability of 75 percent.
The AACC panel also looked at Sera Prognostic's PreTRM test, noting that it also lacked strong enough PPV to be clinically useful. In the company's Proteomic Assessment of Preterm Risk study, the assay showed PPV of between 2 percent and 7 percent for patients deemed by the test to be at the highest risk of preterm birth before 32 weeks gestation.
Sera is currently collaborating with insurer Anthem and its subsidiary HealthCore on a 5,600-woman study exploring whether screening patients with the PreTRM test and treating patients identified as being high risk for preterm delivery with established interventions lowers costs and improves outcomes.
The company currently sells the assay as a laboratory-developed test run out of its CLIA laboratory but has to date invested relatively little in driving sales as it is working to line up payor coverage before launching a serious commercialization effort.
In April, Sera closed a $100 million Series E financing round. The company did not reply to requests for comment on the AACC study.
In addition to Sera, firms including Nixxi and NX Prenatal are also working on tests for preterm birth, with the former using steroid hormone markers and the latter working with Thermo Fisher Scientific to develop exosome-based proteomic tests for the condition.