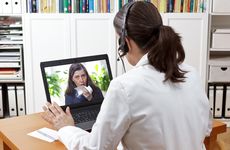 NEW YORK – The COVID-19 pandemic has seen a significant expansion of telemedicine, as many patients unable or unwilling to see their doctors in person have opted for remote visits instead.
It's a trend that many observers expect to continue even post-pandemic, and one with implications for the lab industry as telehealth firms work to secure diagnostic testing for their growing customer bases.
According to a July report from McKinsey & Company, telehealth utilization is currently 38 times higher than it was pre-pandemic, with between 13 percent and 17 percent of outpatient visits occurring remotely. Additionally, the report observed a flood of money entering the space, with $14.6 billion in venture capital invested in digital health in 2020, roughly double the $7.7 billion invested in 2019.
The authors also highlighted the role innovations in testing and diagnostics will play in driving the expansion of telemedicine, citing this as a key to its adoption and evolution.
"I think it has become more clear, the need for lab testing when it comes to telehealth services," said Poorya Sabounchi, chief operating officer of San Francisco-based healthcare informatics firm Ixlayer, which offers a technology platform aimed at enabling home and remote testing.
The company has seen roughly fivefold growth over the course of the pandemic, as organizations including Stanford University, CIC Health, and the US Coast Guard have used its platform to help administer COVID-19 testing programs. It plans to use the momentum from its COVID-19 testing business to move into home testing for a wider variety of health issues, and last month it received an investment from Accenture Ventures to help it further build out its platform.
"Before COVID-19, telehealth had mostly been focused on the interaction between a patient and a physician," Sabounchi said, noting that this was despite the fact that some 70 percent of clinical decisions involve lab results.
The pandemic, however, has changed testing patterns, particularly with regard to COVID-19, where a number of alternative test ordering and sample collection approaches, including home collection, have arisen to help meet the demand for testing.
"It's not just COVID-19 testing where this is happening," however, Sabounchi said. "This is going to happen for many other lab-based diagnostic tests. As the market [for telehealth] is growing what we are seeing is the opportunity for more testing, the opportunity for lab companies to create new test solutions for a broader set of patients.
"COVID-19 has reduced the cost of [remote] testing and reduced the barriers to [remote] testing, and so we are seeing adoption in other areas," he said.
He said that he saw early detection and management of chronic conditions like diabetes as a near-term opportunity for telehealth and home testing.
"Conditions like diabetes, or cardiovascular health, [are] where you have an immediate need and traditionally there is a shortage of screening because of the challenges of logistics," he said. "Right now if you want to get an appointment with a general practitioner for your annual checkup, probably the first appointment you can get is three or four months from now.
"Early diagnostics will only happen if diagnostics are easier," he said. "We think that with these telehealth solutions, this shortage of [access] can be turned around."
Glendale, California-based LigoLab has also used the COVID-19 pandemic to develop a software platform to enable remote testing. Called TestDirectly, the tool is intended to facilitate direct-to-consumer testing. Last month, the company expanded the platform to support at-home testing, allowing laboratories to offer online test ordering as well as the shipping of specimen collection kits to patients' homes and automated return of test results.
LigoLab, which to date has processed some 10 million orders, is primarily focused on streamlining the patient-laboratory connection, said CEO Suren Avunjian, though the platform does help with the scheduling of telehealth consultations if test interpretation and care follow-up is needed.
He said he anticipated that most telehealth firms would look to contract directly with large national labs to provide testing services. Most telehealth companies operate remotely, and so don't have many physical locations. As a result, they want labs with numerous drop-off points, or essentially Laboratory Corporation of America and Quest Diagnostics, he said.
Both Labcorp and Quest have been active in the telehealth space. In 2017, for instance, telehealth firm Doctor on Demand partnered with both companies to integrate test ordering directly into its platform. Telehealth firm MDLive allows its doctors to electronically send patient test orders to nearby Labcorp facilities. Quest recently inked collaborations with the telemedicine firms Catapult Health and 98point6 that incorporate self-collection for lab testing as part of employer-sponsored health screenings.
At the beginning of the year, Opko Health's BioReference Laboratories launched its Scarlet Health program, a digital platform that allows patients to schedule phlebotomy or other specimen collection services at their home or office.
In a recent interview, Natalie Cummins, chief commercial officer at BioReference, said the company believes such services could move from being relatively niche offerings to a commonly used approach for sample collection.
"We believe we can be efficient, and it will offer people flexibility with this mobile alternative to having to go to the bricks-and-mortar service center," she said. "We believe that the Scarlet model is really going to be the model that is in demand as we are coming out of the pandemic."
BioReference has said that a number of telehealth companies have expressed interest in accessing the service. On the company's Q2 2021 earnings call, BioReference's executive chairman, Jon Cohen, said Scarlet Health was in 73 markets and that the lab aimed to have coverage of 80 percent of the US population by early 2022.
Another option for telemedicine firms is to bring lab testing in-house. This summer, New York-based telehealth company Ro acquired at-home diagnostic testing company Kit for an undisclosed amount.
Kit sells physician-ordered diagnostic tests, including finger-prick blood assays, blood pressure tests, and weight measurement tools that are shipped to patients. The tests are self-administered by the patient and then processed by Kit at a high-complexity, CLIA-certified and College of American Pathologists-accredited lab in San Francisco.
"Over time, Ro will integrate Kit's diagnostic infrastructure with its existing in-home capabilities," Melynda Barnes, Ro's chief medical officer, said via email. "This integration will create a comprehensive in-home care and diagnostics API designed to seamlessly collect clinical data from patients in convenient and clinically appropriate ways, whether it's a self-administered test or an in-home visit by a provider."
The Kit acquisition "will strengthen our ability to power patient-centric primary care experiences for an expanded scope of conditions and support chronic and preventative care, virtually and in patients' homes," she added.
Ro also works with Quest to provide patient testing. The company inked a deal with Quest in December 2020 to add diagnostics and lab testing to its platform. Under the arrangement, Ro patients are able to use Quest sample collection sites or have samples taken at home by arranging for collection via Ro's Workpath software platform, which the company acquired at the end of 2020.
The Quest deal initially focused on hormone testing but will expand to cover a range of conditions including hypothyroidism, STIs, diabetes, and hyperlipidemia.
Barnes noted that a number of healthcare entities, from labs to health systems "are increasingly investing in at-home testing," adding that the COVID-19 pandemic "pulled the future forward faster" by demonstrating the potential of telehealth and in-home testing "to unburden the existing healthcare system and expand patients' access to care."