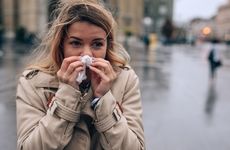 NEW YORK (360Dx) – Rapid molecular flu tests are gaining ground, buoyed by a strong flu season and increasing dissatisfaction with rapid antigen flu tests, labs and manufacturers said. 
This year's flu season is on track to beat some recent records, US Centers for Disease Control Acting Director Anne Schuchat said during a conference call earlier this month, and makers of rapid molecular flu tests, as well as labs that offer them say the powerful flu season is helping to further boost usage of the tests which had already been steadily gaining acceptance in recent years.
 "These rapid molecular tests have taken hold right now across the country," said Holly Batterman, Quest Diagnostics laboratory medical director and medical director for infectious disease in San Juan Capistrano, California.
Quest first began offering rapid molecular influenza tests in 2014 and then rolled the tests out to 18 regional labs across the country in 2015 and 2016, Batterman said. The tests were rolled out to regional labs to put them closer to patients, as clinicians have turned to rapid molecular flu tests due to their high sensitivity and specificity, she said.
Rapid antigen tests, which have low sensitivity, can have false negative rates of 50 percent or higher, an issue that can be concerning to clinicians, especially in a flu season with many reported hospitalizations or complications, Batterman said.
"The test just needs to be highly sensitive because you don't want to miss anything. You don't want those false negatives," Batterman said. "You want to make sure you have the right diagnosis because treatment for influenza will help decrease not only symptoms, but the risk of hospitalization and complications," she said.
According to the CDC, there have already been more than 120,000 positive flu tests reported from clinical labs and more than 27,000 positive flu tests reported from public health labs as of February 3, with weekly totals during recent peak weeks nearly doubling the weekly total from last year.
Labs have reported higher testing demand as well. Quest's lab in Teterboro, New Jersey has seen a twofold to fourfold increase in influenza A and B immunoassay testing compared to past seasons, with volumes compared to last winter on the higher end of that spectrum, according to Larry Tsao, medical director for the East region. Rapid molecular testing has also spiked at Quest, according to Batterman.
"Every influenza season we have seen a lot of testing but this year we are definitely doing tons of testing and seeing lots of positives," she said.
Laboratory Corporation of America has also seen a "notable increase" in the volume of orders for flu testing across rapid influenza tests, rapid molecular tests, cultures for influenza virus and various point of care tests, according to a company spokesman.
Manufacturers of rapid molecular influenza tests, however, say the season's demand has been exceptionally high.
"I think in January we produced and delivered almost 7,000 tests a day for global production, so we were up to 200,000 in January alone," said Mark Miller, chief medical officer for BioMérieux, whose BioFire diagnostics makes several highly multiplexed PCR influenza tests.
Roche Diagnostics, which produces PCR-based rapid molecular influenza tests for use on its Cobas Liat platform has also seen a jump, according to Chris Newhouse, group marketing manager, microbiology. He attributed an uptick in orders to both the flu season and the increasing usage of rapid molecular testing.
"The demand for our specific product is even above and beyond what we are seeing for the flu season because we have so many new customers," he said.
 Antigen test problems
 Both Miller and Newhouse attributed part of the growth of rapid molecular flu testing to problems with rapid antigen flu testing. Last year the Food and Drug Administration announced that it was reclassifying rapid antigen flu tests from Class I to Class II devices with special controls, in part because of sensitivity issues that first came to light during the 2009 H1N1 flu pandemic. Manufacturers of rapid antigen tests that did not meet the new criteria had one year to make changes to their devices.
Some makers of rapid antigen flu tests have only recently had their tests reapproved. Quidel just announced this week that its QuickVue flu test received 501(k) clearance as a Class II rapid influenza diagnostic test.
 That regulatory hiccup faced by rapid antigen flu tests helped open the door for rapid molecular tests, manufacturers said.
"Those rapid antigen tests that would not meet the new FDA requirements, they literally had to pull them off the market," Roche's Newhouse said. "Those customer were scrambling. We found that many of them made the decision to go to a testing technology that they had more confidence in, a PCR-based technology like the Liat platform."
The sensitivity issues that rapid antigen tests face are increasingly difficult to accept as new molecular technology offers a significant performance advantages, BioMérieux Miller said.
"It used to be that you did an antigen test and you were OK with the 50 percent sensitivity," he said. "Now you have molecular tests like the BioFire FilmArray panel and others that are 95 percent sensitive, and for some viruses, 98 percent-plus sensitive from a single-specimen perspective, and just as fast if not faster than a rapid antigen test. It has to put into question the whole usefulness of a rapid antigen test."
 Increasing selection
In recent years, manufacturers have introduced several varieties of rapid molecular influenza tests, including versions that are Clinical Laboratory Improvement Amendment, or CLIA-waived.
Roche offers two PCR-based Cobas Liat influenza tests – an influenza A/B test, as well as an Influenza AB plus RSV tests, which also tests for respiratory syncytial virus, a common flu like virus. The tests deliver results in just 20 minutes, Newhouse noted.
"With a 20 minute turnaround, patients can stay in the office, and the doctor can send them home with a clear answer and a clear path forward in their treatment," he said.
BioMérieux's BioFire respiratory panels for its FilmArray multiplex PCR system come in four differerent versions, according to Miller. The original product, the bioMerieux FilmArray Respiratory Panel targets 20 pathogens and can provide results in an hour. In addition to Influenza A and B and RSV, it can identify the subtypes of influenza, such as H1 or H3, as well as parainfluenzas, coronaviruses, rhinovirus, and several other viruses and bacteria.
The company's RP2 panel also detects whooping cough, and its RP2+ also detects Middle East respiratory syndrome cornonavirus, known as MERS-CoV.
While those panels are not CLIA-waived, the company also has an RP EZ panel, which is CLIA-waived, and detects 14 targets. The BioMérieux BioFire tests take 45 minutes to an hour to complete, depending on the test.
Abbott, which recently acquired Alere, offers the CLIA-waived Alere i Influenza A & B test. The company recently announced its second generation Alere i Influenza A & B2 test has received 510(k) clearance, according to a company spokesperson. The second generation test, which has not yet been commercially launched, is able to deliver positive test results in as little as five minutes.