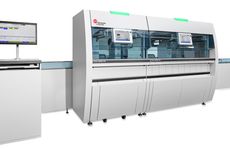 NEW YORK – Among the changes that the COVID-19 pandemic has effected is an acceleration among laboratories to automate workflows.
Although many labs were already taking steps to automate various processes before the pandemic, the heightened demand for testing and the strain on resources over much of the past year has pushed many laboratories to expedite their plans, in particular those related to sample preparation and processing, as well as liquid handling.
The move toward automation wasn't limited to one type of lab either, experts said, as microbiology labs, core labs, large hospital labs, and smaller rural labs all made moves to automate their workflows.
The driving force behind increasing automation, many lab professionals said, was the need to increase efficiency as test volumes soared during the peak of the pandemic. Another key component was the need to reallocate staff to tasks that required more critical thinking and a human touch, rather than basic sample preparation that could be done by a robot. Many laboratorians also noted the ongoing shortage of qualified lab technicians and said that automation had helped them make the best use of the techs they have.
Take the case of Northwell Health Labs in New York, where 50 million tests are performed each year across multiple labs, including a microbiology lab and a core lab, said Christopher Zavala, Northwell Health's assistant vice president of operations. The lab system started a significant expansion and move toward automation in 2019 but added automated instruments to address the increased need for testing during the COVID-19 pandemic.
Northwell's general laboratory has an entirely new robotic line, increasing the number of analyzers from 12 to 32, according to Laurel Tria, technical lab director at Northwell. By automating some of the lab workflows, repetitive nonessential tasks for laboratorians have been eliminated so they can make better use of their time to review results, rather than spending time labeling specimen tubes, she said.
Similarly, while Northwell's microbiology lab doesn't have the same degree of automation as the general lab because it does a lot of specimen cultures, which require hands-on work, automation has helped reduce "nonessential or insignificant tasks for technologists," according to May Tso, Northwell's senior director of clinical lab operations.
Additionally, the pandemic stalled plans by the microbiology lab to explore automating certain processes, and identification and susceptibility testing are still performed manually, Tso said. However, as the demand for pandemic-related testing has slowed, the lab has begun to further explore automation options, although there is still "a lot to be developed."
Especially during the pandemic, employees from other labs, such as the microbiology lab, were redeployed and shuffled to different areas to meet the demand as molecular testing volumes skyrocketed and other testing declined, Tso said.
Currently, the lab has automated plate movement and inoculation, which she said requires less handling and reduces errors that could result from human involvement. After incubation, the lab uses high-resolution imaging to identify colonies, minimizing occupational exposure by eliminating the need for a technician to open the plate, Tso said.
Northwell has been impacted by the overall shortage of lab technicians, but with automation, the lab system can maintain its turnaround times, Tso said.
Error reduction and lab tech shortages have also been a key impetus for automation at TriCore Reference Laboratories, headquartered in Albuquerque, New Mexico. David Grenache, chief scientific officer at TriCore and president of the American Association for Clinical Chemistry, said that the shortage of lab professionals and large testing volumes drove the lab's move toward automation, which began prior to the COVID-19 pandemic.
Grenache echoed the Northwell laboratorians, noting that front-end processes like sample preparation are where automation makes a difference. "We have a lot of manual processes there that lend themselves to more automation," he said.
Right now, TriCore has staff scanning sample barcodes to input them into the laboratory information management system before bringing them into the correct lab, which Grenache called a "waste of a person." The lab is now looking at an automated sorter to put samples in a rack depending on which lab they need to go to, which "would bring an incredible amount of efficiency to make automated a process that right now is very manual," he said.
Aliquoting samples is another key task where automation can make a difference, Grenache said. When a person is aliquoting parts of samples and then labeling them, it is both time-consuming and a ripe opportunity for errors.
While there may be concerns that automation could take away jobs from humans, Grenache said the reality couldn't be further from the truth, noting, instead, that machines ensure the lab is "keeping up with the labor shortages." Due to the lack of qualified personnel in the lab industry, he said that his lab has been asking available staff to step up and perform additional tasks. Automation can help move those staff to tasks that require a human touch.
To be sure, automating a lab can result in cost savings and other financial benefits, but Grenache noted that the reasons for automating a lab extend beyond sheer economics. "The value would come from more efficient processes, fewer lost samples … and that leads to higher customer or client satisfaction," Grenache said. "There are many downstream benefits of automation that aren't just financial."
Although TriCore was automating some of its processes before the pandemic, Grenache said the pandemic made the lab look seriously at automating its front-end workflows. It was previously able to handle the volumes it received, but with the pandemic came an "enormous volume" of COVID-19 samples, many of which weren't labeled and thus required manual processing, although test volumes have been declining since the rollout of vaccines for the coronavirus.
The pandemic, he said, provided a trial by fire that allowed TriCore to learn how to "more effectively manage that volume of work," and as TriCore's labs automate more processes, it "will have an enormous impact."
Evolution underway
According to Matthew Binnicker, who directs the clinical virology lab at Mayo Clinic in Rochester, Minnesota , there has been "a gradual evolution from very manual, labor-intensive methods … to taking a sample, putting it on an instrument, extracting out the virus's RNA or DNA and then putting it on a different instrument that does the molecular PCR test that generates an answer."
Binnicker's lab, where 90 percent of the testing performed is molecular, has tried to implement equipment to automate end-to-end processes that include extraction, mixing, and the actual testing. He said that to date about 40 percent to half of the molecular testing process in his lab is automated, depending on the disease that's being tested. Some viruses require manual steps as part of the testing procedure, particularly more rare infections.
For more common infections with a broad impact, such as COVID-19 and herpes, he said manufacturers have been developing highly automated tests and equipment, but for rarer infections and more complex testing modalities, such as a next-generation sequencing for cytomegalovirus, his lab may need to develop its own test. That laboratory-developed test will likely have a "more multistep process" that requires manual steps, he said.
Like others interviewed, Binnicker said that rising test demand has been a major driver of lab automation at Mayo Clinic, which the pandemic magnified. His lab purchased five liquid handling systems, along with five to 10 pieces of large equipment to run Mayo Clinic's molecular tests, most of which were running on automated instruments, while the lab expanded to keep up with volumes.
However, as the pandemic winds down and the numbers of COVID-19 test requests decrease, Binnicker said his lab must look at how to use automation in different ways. Although it's not possible for all tests, he said the lab is looking to convert some manual tests to automated tests to continue using the equipment. The machines will also likely run at 30 percent to 50 percent capacity, he said, compared to the peak of the pandemic when they were running at 80 percent to 90 percent capacity. Many labs are also looking at bringing on new tests and potentially expanding their menus to utilize the new automated equipment.
Reducing costs was a consideration for automating his lab, but Binnicker said the large upfront cost of equipment and installation requires some calculations to determine "at what point … will that upfront investment lead to long-term financial gains." Depending on the equipment, the purchasing decision may not be difficult. Buying a liquid handler for $100,000 or less could have a quicker return on investment than purchasing large chemistry automation lines, which could cost millions of dollars, for example.
But in other cases, buying new equipment to automate may not be cost-effective. For instance, if the new equipment requires more space than is available in the lab's current space, it will necessitate remodeling or reconfiguration. In 2019, Northwell's clinical lab operations expanded from 92,000 total square feet to 194,000 total square feet, at a cost of approximately $108 million, in part to ramp up the automation of the lab's functions, said Zavala.
Binnicker noted the different requirements for different instruments surrounding electricity and ventilation, as well, which could add on to the remodeling costs. There's also the question of maintenance, which may require a long-term service contract with the instrument manufacturer.
Despite all the considerations, though, Kelly Wroblewski, director of infectious disease programs at the Association of Public Health Laboratories, said she has seen a rapid increase in the use of automation, with the most popular solutions being liquid handlers and tube decappers. Public health labs have begun thinking about needs for future pandemics, which has resulted in an interest in automated pipetting, as well, she said.
In the public health sector, an "unprecedented" volume of tests due to the COVID-19 pandemic drove the automation surge, as well as the large influx of federal funds to increase capacity. Before the pandemic, public health labs weren't as keen to automate the testing process, except for newborn screening, Wroblewski said, because many of the babies being born in a state were tested at only one laboratory in the state, so the demand required automated solutions only in those labs.
The big bottlenecks at public health labs are in the preanalytical and postanalytical phases, and Wroblewski said the preanalytical phase could be relatively easy to automate. Test accessioning, inputting specimen info into the LIMS, prepping the specimen for testing, and moving the specimen to where it will be tested could all be automated, she said, but "different public health labs are going to have different needs and different setups."
Manufacturers' perspective
The COVID-19 pandemic has provided a boost for developers and manufacturers of automated lab systems that they expect to continue. According to a spokesperson for Abbott, the pandemic "highlighted the critical importance of a laboratory to be able to scale quickly in response to increased testing demand." Having an automation system that can support this needed agility is key for laboratories.
"Even as the impact of the pandemic wanes, the need to be able to adapt to changing circumstances quickly will remain," she added.
Chris Hagen, vice president of global marketing for Danaher's Beckman Coulter, said at one point during the pandemic there was a 245 percent increase in clinical lab testing volumes, mostly for molecular testing, and that manufacturers can help labs think about how to automate to ramp up testing. "Any innovation we can bring to that core lab is really helpful for them as a system," he said.
Before the pandemic, Beckman's automation efforts tended to focus on "much larger labs," said Jacqui Reithel, senior manager of workflow and automation at Brea, California-based Beckman Coulter. But as the pandemic continued, small and medium-sized labs also became interested in automation due to the pressure for faster turnaround times.
While large laboratories have long realized the benefits of automation, in midsize labs the "vast majority of those [sample processing] steps are going to be manual," Hagen said. It's "two different tales depending on which lab you walk into," he added.
Labor efficiencies were also a major concern with labs asking how they could best utilize limited staffing, Reithel added. Approximately 60 percent of labor in midsize labs is spent in the preanalytical phase, such as checking sample conditions, loading and unloading samples, and decapping, and Beckman has created an instrument to meet those needs.
Its DxA 5000 Fit instrument, which launched earlier this month, automates the preanalytical and postanalytical steps in midsize labs that run fewer than 5,000 tests per day. While "every lab got hit" by the pandemic, Beckman decided to focus on medium-sized core labs because of their higher throughput, Hagen said.
Since smaller labs have space challenges that larger labs don't, Reithel said an issue was figuring out how to downsize preanalytical steps into one module for automation and keep everything centralized and compact.
In addition, a majority of errors happen during the preanalytical phase, so the "more that we … automate things like sample checking, or checking barcoding … then we're freeing up the technician to spend time on more meaningful things that will help them be a partner to the clinician," Hagen said. Each error has a cost, and while automation equipment is paid for upfront, that investment can be recouped by the savings achieved from fewer errors and labor savings, he said.
Although it appears that the worst may be over for the pandemic, Reithel doesn't see the desire for lab automation changing. Along with a continued lab staffing shortage, people who delayed routine testing during the past year still need those tests and are returning to doctors' offices to receive them, she said.
Labs are never going to be completely automated, but they should be trying to automate about 80 percent of their steps, Reithel said.
Carola Schmidt, PerkinElmer's global director of automated solutions, said automation will be "key in the future."
Schmidt emphasized pipetting as a starting point, with instruments available to move samples, centrifuge them, and recap them. People learned from the pandemic that they can't manage the testing demand by doing everything manually and have turned to automation of at least some tasks to ramp up capacity.
Liquid handling and reading are also key areas of automation where a human can mismatch samples that automation won't, although Schmidt said there is still a desire among labs for a person to control the final result to ensure the process was done correctly. DNA extraction is another area she said has seen a huge demand for automation.
That demand is paying off for Waltham, Massachusetts-based PerkinElmer. Schmidt said in the first quarter of 2021, Perkin Elmer placed the same number of automated solutions as during all of 2020, and the demand wasn't only for COVID-19 testing.
Schmidt emphasized the importance of being "open-minded to automation," rather than seeing it as a job threat. "It's the agility we need in the lab … it frees up resources and brings up new opportunities for us to do something different," she said.
For one company that solely offers automated solutions, the pandemic has been a boon. Automata, a robotics and automation firm headquartered in London, has seen a "massive need for huge throughput" during the pandemic, said Nick Pattinson, the firm's senior product manager.
He said labs are "definitely looking for automation," with the most common request being auto sampling. One major question labs have is "how do you scale up testing across the globe, and how do you do that robustly so that you ensure quality," he said. Simply throwing more people into the mix doesn't work — but automation does.
Automata is launching its autosampler to meet some of this demand and had its first deployment earlier this month. The autosampler is a robot that performs liquid handling and automates the full sample preparation stage, Pattinson said. The company plans to go "full throttle" on launching the instrument and has already developed it for a group of three large customers, though he declined to identify them.
Part of the automation shift Pattinson has noticed is a move away from complicated, bespoke solutions specific to each lab and a move toward more flexible, modular solutions that can be used at any lab, such as the new autosampler. That also allows equipment to be swapped on demand if there's an issue. However, Automata's systems can be modified based on a lab's needs, he noted.
Hurdles to implementation
The largest barrier to automating a lab, Northwell's Tria said, is "getting all of the computers to talk to each other." Ensuring the analyzers, middleware, and LIMS can communicate is a huge component of automation, since data must be transferred from instruments to the LIMS in order for technicians to work with it. Previously, instruments were standalone, but Northwell's lab has worked to integrate them and make sure samples are going to the correct place at the correct time, her colleague Zavala said.
Some steps are also just difficult to automate, such as some bacteriology steps, which require a person to run tests on a culture, and flow cytometry, which involves multiple manual steps. There's also still a need for critical thinking skills to interpret tests, so there are some areas of the lab that may be slower to automate.
There is also the matter of getting employees to accept change, APHL's Wroblewski said. There will be questions about how automation will impact people's jobs, what the return on investment will look like, and whether quality of testing will be maintained, she said. None of those questions are insurmountable, but they are "concerns that must be addressed."
One challenge labs have faced is getting the necessary funding to purchase new equipment, as the importance of a lab's role has sometimes been overlooked, Beckman Coulter's Hagen said. The pandemic showed hospital systems and federal and state governments how crucial they are to the healthcare ecosystem.
"Coming out of the pandemic then, we've got to really continue to invest in solutions like automation so that the next time we have a pandemic they're even more prepared in that fight," he said.