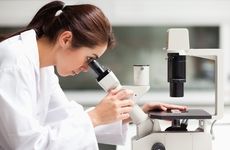 NEW YORK (360Dx) – Until last year's regulatory approval of the Philips Intellisite Pathlogy Solution scanner, many, if not most, small and mid-sized pathology labs were slow to embrace the use of digital pathology technology.
But the approval by the US Food and Drug Administration of Philips' instrument, as well as new options being offered by firms that allow smaller labs to use digital pathology technology, has served as both a catalyst and wake-up call for a segment that accounts for an estimated 70 percent of the total lab market.
The FDA approval of the Intellisite system as the first whole-slide imaging system for primary diagnostic use in the US sent a clear signal that digital images could one day become the standard of care in anatomic and clinical pathology, said Nicolas Cacciabeve, a pathologist at the mid-sized lab Advanced Pathology Associates in Rockville, Maryland. 
The current setting for the digital scanner market, he said, is similar to the hematology analyzer market from years ago when Beckman Coulter dominated the space. When Beckman Coulter, now part of Danaher, launched its instrument called the Coulter Counter, it revolutionized hematology by providing more accurate and faster complete blood analysis through machine automation. Its high price made the instrument accessible only to the largest hospitals at first, but eventually competition among manufacturers and clever pricing models led to lower cost alternatives, said Cacciabeve.
Priced at $250,000 to $300,000, the cost of an Intellisite or similar high-end digital scanner can be daunting to small pathology labs, but as the hematology market demonstrated, the lab industry has adapted to high-priced technology before, and will do so again, Cacciabeve said.
While Advanced Pathology has yet to purchase Philips' instrument, or something similar, the company has begun to assess the viability of such a purchase, and, said Cacciabeve, because its reference lab has contracts with four hospitals, Advanced Pathology would be able to spread the cost of the platform across the entire group, making it easier to absorb over the long term.
Offering digital pathology services, he added, would enable Advanced Pathology to capture revenues from smaller hospitals that would use its offerings.
"We're incurring additional costs now to expand our business," Cacciabeve said.
To be sure, not everyone is ready to transition from glass slide images to digital images just yet. Costs aside, the benefits of the technology remain an open question for some. And up until a year ago, digital pathology methods could not be used in the clinic because the technology had not been comprehensively tested with all different conditions and tumor types, David Rimm, a professor at the Yale University School of Medicine recently told 360Dx.  
But some observers believe that the technology is poised for rapid adoption. At the Lab Institute conference last October, for example, Andrea Langston of the Nichols Management Group told attendees that the use of digital pathology technologies could see a sharp uptick in coming years, boosted by the FDA approval of Philips' system.
W. Dean Wallace, center director for anatomic pathology informatics at the UCLA Center for Telepathology and Digital Pathology lab, said that it recently decided to invest in an onsite server and infrastructure to begin digitizing images. The center is digitizing lung, prostate, and breast tissue to promote use by researchers in other areas of the medical center.
Wallace expects the center eventually will use digital images for primary diagnosis, but when that time comes, he expects the cost will be lower than at present.
According to David West, CEO of Proscia, a pathology diagnostics and research software supplier, the pace at which labs, both small and large, have adopted digital pathology technology has seen an uptick during the past 12 months. The value proposition is different for each lab, and some labs may adopt the technology in hopes of improving their workflows and overall business, while others view it as essential to participating in more challenging tumor diagnoses. A third group may also anticipate an increase in consults, or telepathology.
Some subspecialties, such as dermatology, have also been eager to integrate artificial intelligence into their practices and have been early adopters of workflows, such as those offered by Proscia, West said.
Unlike Philips' Intellisite — which is a whole-slide imaging platform that enables the review and interpretation of digital surgical pathology slides prepared from biopsied tissue — Proscia offers software that uses artificial intelligence and deep learning to convert glass slide images into digital slide images that can be viewed and shared on a computer.
Its algorithm is not FDA cleared, though the company is seeking such designation.
West estimated that most of his firm's pathology lab customers now have workflows that are 20 to 30 percent digital. While he said he doesn't anticipate labs will go completely digital in the near term, since the FDA approval of Philips' system, manufacturers have become more confident in capital spending and will seek to introduce new machines that will be bigger, faster, and, importantly, less expensive.
Proscia's workflow management platform is designed to work in any lab environment, but West said he expects high-volume subspecialties to adopt the system first. Proscia provides services to 300 organizations around the world.
Transformational moment
Offerings such as Proscia's come at a potentially transformational moment for the digital pathology space.
Manufacturers of the large scanner instruments were able to operate in the past by serving larger, research-oriented labs. Accordingly, there was not much incentive to be the first to market with an FDA-approved scanner. Now that that barrier has been pierced, those manufacturers see a clear regulatory path to the market and a reason for pursuing it, and so are scaling up development efforts quickly.
Michael Rivers, vice president of digital pathology at Roche Tissue Diagnostics said gaining FDA approval for one of its scanners remains a major part of the company's strategy, though he declined to provide an anticipated timeline for completion of studies and an application to the agency. "The FDA takes a very specific, rather than holistic approach, to regulating whole-slide imaging  compared to other countries around the world," said Rivers, adding Roche, as a company, maintains a global focus for all of its businesses
"There is still a low penetration of digital pathology in smaller labs around the world. Serving the small lab is how we approach our business," he said. The launch of the Ventana DP 200 slide scanner last month was the first step in updating the Ventana portfolio because it is well-suited to smaller labs and satellite labs of major hospital systems, said Rivers.
A piece of the puzzle
According to one lab director, the decision to purchase a scanner is only one piece of the economic puzzle in anatomic pathology. Anatomic pathologists work with microscopes, and the accuracy of lab results depend on a pathologist's expertise in interpreting the image. But some labs and pathologists wonder whether the adoption of digital pathology workflows would jeopardize the livelihoods of pathologists, said Robert Boorstein, medical director at Lenco Diagnostic Laboratory, headquartered in Brooklyn, New York.
For example, a lab may decide that buying a $300,000 scanner could reduce costs by allowing it to have four pathologists on staff, rather than eight, as the scanner would allow each pathologist to scroll through images much more quickly than by looking at individual slides. That's not a scenario that many pathologists would welcome, Boorstein said.
For other types of labs, such as those specializing in hematology, cytology, and cytogenetics, digital imaging has been introduced every three to seven years, when the lab's capital equipment is upgraded. But smaller anatomic pathology labs had not faced that purchase choice until the Intellisite was approved by the FDA.
As a result, many manufacturers of digital pathology instruments have approached small labs by claiming a scanner purchase would reduce costs over time, rather than allowing it to gain new business, said Boorstein. But medium-volume labs with largely independent pathologists have resisted the cost-reduction value proposition, he added, preferring to see a direct line to increasing revenue.
What could become a game changer in terms of adoption at the smaller labs would be an integrated IT platform for routine surgical pathology in which digital imaging is one component, suggested Boorstein. West and Cacciabeve, however, noted that a complete pathology system is evolving but has yet to take shape.
Cacciabeve said adding open-system, complementary software and middleware to the manufacturers' scanners would advance the use of the scanners beyond the largest labs. Different companies already are competing to provide the complementary infrastructure.
Roche, for example, is integrating enterprise software that supports the entire anatomic pathology workflow in its new scanners, including case management and assignment, image review, and image analysis with different algorithms. The concept is to develop a complete system that will be able to report results either through the Roche software or through the lab information system.
"The cost of image storage, the ability to move images quickly, and demonstrating to pathologists that their workflow process is improved are aspects of digital pathology that need to be addressed," said Rivers. Until they are, smaller labs are unlikely to fully embrace digital pathology.
Many pathologists, said Rivers, evaluate digital systems and conclude, "I'm faster at my work using a microscope."
The digital software from large manufacturers still is designed primarily for use with that company's scanner. A more open system with flexible software that can be applied to the smaller lab's needs, and middleware that connects the labs with hospitals and medical centers will propel adoption at smaller labs, said Cacciabeve.
OptraScan, based in California, provides a subscription-based digital pathology service for research use only, primarily for smaller labs that cannot pay for a high-end scanner. Inspirata is applying a software-as-a-service model to expedite adoption and integration of scanners at medical centers in the US and Europe. The Inspirata SaaS model is linked primarily to the Intellisite platform because it is FDA approved, but the company can apply its model to different manufacturers' scanners in Europe.
The goal of OptraScan and Inspirata, as well as Proscia, is to provide integrated software that will facilitate broader use of digitized images. Artificial intelligence (AI) also is a background catalyst, said West.
"Five years ago, it was not possible to apply deep learning in digital pathology," said West, who started Proscia with engineers from Johns Hopkins after recognizing the potential of AI in pathology. "As soon as pathologists can recognize the return, in terms of workflow, outcomes and cost, they will adopt."