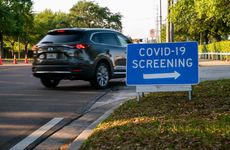 NEW YORK – In the early days of the coronavirus pandemic, pooled molecular testing for SARS-CoV-2 was promoted as an approach that could increase lab capacity while saving valuable resources such as reagents and other supplies.
But as COVID-19 positivity rates have reached new highs and because of the logistical and personnel challenges involved in running pooled testing, implementation of the method has been limited, especially within smaller facilities, said a number of laboratory heads.
As the country struggled with supply chain issues when ramping up SARS-CoV-2 testing in the early months of the pandemic, a number of laboratories and researchers began exploring pooled testing as one way to address these challenges. Commonly used in applications like blood banking, a pooled approach tests multiple samples at once, running them in a single reaction.
If none of the samples test positive for the virus then no further testing is needed, and multiple samples have been tested for the price (in terms of reagents and instrument time) of one. If one of the samples does test positive, then the lab must retest every sample in the pool individually to determine which caused the positive result.
The US Food and Drug Administration provided test developers with guidance in June on validating pooled testing for Emergency Use Authorization. Shortly thereafter, Deborah Birx, the response coordinator for the White House coronavirus task force, encouraged labs during her keynote address at the virtual American Society for Microbiology Microbe conference to begin using sample pooling to expand test capacity. A month later, Quest Diagnostics received the first EUA for a pooled molecular test for SARS-CoV-2. Since then, dozens of test developers have received EUA for such assays.
Rising infection rates have limited the approach's usefulness of late, however. Because pooled samples must be broken apart and tested separately in the case of a positive result, pooled testing is inefficient in populations with high positivity rates.
Erin McElvania, a clinical pathologist with NorthShore University HealthSystem, said that her lab validated pooled testing but that "the rates were just really too high to put it into practice."
McElvania noted that the cutoff for positivity rates varied with the number of samples a lab pooled together. For instance, at a positivity rate of 10 percent it would make no sense to run pools of 10 samples but it might still make sense to run pools of three or four samples. However, she said, as a lab lowers the number of samples in a pool, other trade-offs — such as the increased labor involved in pooling — become more relevant.
"One of our most limited resources right now is highly skilled labor," she said. "And any kind of pooling is going to increase the amount of labor unless you have a liquid handling instrument that does it for you."
Another challenge for labs has been the implementation of sample tracking and lab information tools needed to keep track of the pooled samples and make sure those that needed follow-up testing receive it.
"You have to pool the specimens and then you have to track which specimens are in each pool," McElvania said. "That's easy when you have 20 specimens, but when you have several thousand specimens coming in every day, it is very difficult to keep track of."
Matthew Binnicker, director of the clinical virology laboratory at Mayo Clinic, said that Mayo "strongly considered pooling" in the early days of the pandemic "when there were pretty limited molecular testing options and testing volumes were extremely high."
Ultimately, he said, the lab didn't pursue pooling, largely due to the logistical challenges involved.
"For a large reference lab like ours, with the number of samples we were testing on a daily basis, that logistical challenge was pretty significant," he said. "You can run into some issue mixing up test results and misreporting, and we were concerned about that."
Binnicker said that because pooling is not common practice in labs, most didn't have information software with modules that would enable easy tracking of pooled samples.
And a pandemic, McElvania noted, is a particularly difficult time for implementing new processes.
Instead of pooling, Mayo focused on bringing a variety of different testing platforms online to better accommodate demand and diversify its supply chain exposure, Binnicker said, adding that as more labs around the country have brought SARS-CoV-2 molecular testing online, Mayo's testing demand has begun to drop off.
"I think the interest in pooling is a lot less now than it was, say, six or seven months ago," he said.
Binnicker said that another concern at Mayo was that the tests would lose sensitivity when run in a pooled format causing labs to miss positive patients with low viral loads.
Christina Wojewoda, a pathologist and director of microbiology at the University of Vermont Medical Center, said that loss of sensitivity was also initially a concern for her with regards to pooling.
"My clinical mindset for microbiology has always been, you want the most sensitive test available," she said.
She added, though, that her thinking on this question has evolved over the course of the pandemic as it became clear that molecular tests were detecting very low levels of virus and in some cases flagging as positive patients with residual bits of viral nucleic acid from infections months before.
"We also know that patients with active clinical infections have pretty high viral loads that would be relatively hard to dilute out if you are doing pools of two to five," she said. "So, I kind of came to grips with not being as concerned with the diluting out of positives."
Ultimately, logistical hurdles were what kept Wojewoda and her colleagues from pursuing pooling.
"As we got more pressure to do more testing but our supplies of reagents weren't increasing, we looked at it, but we decided that it would be much more work for us because we don't have an automated pipetting system," she said. "We would have had to rely heavily on staff that were already pretty strapped."
She added that her lab has dealt with overflow demand by sending out any molecular testing it couldn't get done on its own.
Wojewoda also noted that while pooling can be effective for stretching reagent supplies, it actually slows down reporting of positive results since two rounds of testing are required to identify a positive sample.
Wojewoda said that most of the labs she was aware of that had implemented pooling were either large academic institutions or large reference labs that have the infrastructure and the IT support needed to get it up and running.
She added that smaller labs might using more modest versions of the approach by, for instance, pipetting two samples into one test cartridge.
Binnicker estimated that fewer than 10 percent of labs in the US have adopted pooled SARS-CoV-2 testing, adding that he was only familiar with a few.
"I think the vast majority just decided that because of the concerns and limitations [involved in pooling] they would try to bring up different testing platforms and assays to accommodate their demand rather than trying to accommodate all on one system with pooling," he said.
Opko Health's BioReference Laboratories did not respond to a request for comment on its use of pooled testing for SARS-CoV-2. Laboratory Corporation of American also declined to comment, but spokesperson Kelly Smith Aceituno noted that it has received EUA for pooled testing and that "it is a useful approach when positivity rates are lower."
In an email, Nigel Clarke, VP, R&D, core diagnostics and technology development at Quest Diagnostics said that the company was currently using pooling at several of its laboratories across the US and pooled up to four samples at a time. He added that he and his colleagues have published a study in Open Forum Infectious Disease in which they found that results from individually tested and pooled showed 100 percent agreement.
Clarke noted, however, that the recent surge in cases throughout the US has limited Quest's ability to use pooled testing.
While high positivity rates currently preclude the use of pooled testing in the general population, it could still be useful for more targeted testing in populations where infection rates are expected to be relatively low, such as for school or workplace screening.
"If the lab is having difficulties meeting testing demand and it says, well, we know we have 50 percent of our samples coming from this low prevalence population… you could say, these samples we are going to pool them," Binnicker said. "You would have to validate it to show that when you pool three or five samples together, it doesn't significantly impact test performance, and if it doesn't, then you could use that approach."
McElvania agreed that this sort of targeted approach could make sense, though she noted that it would add to the logistical challenges of pooling.
"You would have to have an efficient process in place to track which specimens come from this low risk, low positive group versus the symptomatic group," she said. "But I agree that is an area where it would make sense to implement pooling if you were able to separate them out."
She added that despite the relatively limited uptake of pooling so far, she expects the method to see wider use as positive rates come down with the rollout of vaccines and labs perhaps have more time and resources to make the changes in their workflows and internal systems to accommodate the approach.
"Going forward I think it will be very important as the rates go down … to use pooling or other strategies to save reagents and test these populations," she said. "I think we have to be prepared to be testing for a very long time, and pooling definitely has a role going forward."