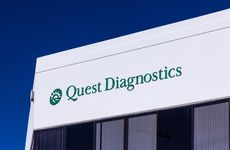 NEW YORK – With the decline in recent years of exclusive lab contracts among payors and an increasing role for customers in choosing lab providers, testing firms are working to differentiate themselves in the eyes of consumers.
That effort is one of the main drivers of the recently announced strategic relationship between Quest Diagnostics and insurer Anthem, said Al Bowles, vice president, health plans, at Quest.
The two companies said this week that they had entered an arrangement through which they planned to collaborate on reducing costs by driving operational improvements, creating price transparency, and improving consumer engagement and outcomes.
Bowles said that on Quest's side much of this effort would revolve around improving convenience and pricing for patients through, for instance, use of its extensive home and retail sampling offerings along with improved price transparency.
Bowles added that the relationship would also involve Quest using test data it generates to improve care of Anthem patients and providing data to the insurer that it can use to improve patient outcomes.
"The consumer is becoming much more empowered in making their health decisions," Bowles said, noting that the increased prevalence of patient cost sharing due to, for instance, growing numbers of people on high-deductible insurance plans, was creating a world where patients were more attuned to healthcare costs, including lab testing.
"I'm old enough to remember the days [when] there was no out-of-pocket, you had insurance and everything was paid for. You had no idea what the cost was," he said. "As that dynamic has changed, we certainly want to be on the forefront, as does Anthem."
At the same time, the once common trend of insurers signing exclusive contracts with national lab providers has been on the wane in recent years with, for instance, UnitedHealthcare and Aetna both opening up their networks as has Anthem in a number of states. This has further heightened the need for labs to appeal directly to consumers.
"Lab has not been the highest cost in the whole healthcare system, but a lot of the things that have been taking place over the years around value-based initiatives are trickling now into the lab area and this certainly will be a [relationship] where we will be working around creating outcomes that are value-based," Bowles said.
On average, large national labs like Quest offer testing at lower prices than do smaller independent firms or hospital outreach firms, which make them attractive providers for insurers like Anthem.
Given that, Bowles said that a key role for Quest within the relationship would be providing a customer experience that would drive patients to choose its lab service over other options.
"Member experience is very important and foundational to the partnership and what we are trying to do in working with Anthem," he said.
He suggested that convenience would be key to the effort, citing Quest's efforts to enable more sampling in home and retail environments.
"Members will go where they think they need to go to get the testing done, so the role that Quest plays in this is [providing] a great member experience, ease of access," he said, noting that the company aimed to meet customers "where they are."
"We have home test kits or mobile phlebotomists that can go to people's homes. We have a huge retail footprint where we have relationships with Wal-Mart and Safeway where we have patient service centers … and then ultimately we also have 2,200 patient service centers across the country," he said. "As a consumer, you know that if you have a good experience, then you will continue to go back to that location in order to get that experience again."
The agreement also involves work between the two companies to use Quest's lab data to improve outcomes for Anthem customers, Bowles said.
"One thing we have worked diligently with Anthem on, and we believe this is a great opportunity, especially for improving member outcomes, is the data that we can gain and send to Anthem that will allow them to better manage patients," he said. "We have data feeds directly with Anthem and we have a number of different products that we have where we can enrich and enhance the dataset that Anthem currently receives."
He cited as an example of this sort of collaboration Quest's ability to look up if an Anthem member using a Quest testing facility has diabetes and, if they do, looking up if they are current on their A1c testing.
If they aren't current, "we can alert them and we can perform that test," he said. "There are a number of additional services that we can provide including key messaging and interactions with [Anthem] members when they come into our patient service centers, and using that from a health plan standpoint that is a really meaningful interaction where we want to create as much value as possible for Anthem and their members."
Such an effort would seem to fit into the broader Lab 2.0 approach being explored by a number of players in the lab business, the idea being that rather than simply providing test results, labs can increase their value within the healthcare system by using lab data to guide population health initiatives and similar programs.
Bowles declined to go into further detail regarding other specific uses to which it might apply its lab data as part of the Anthem relationship but noted that the companies were "trying to work together to come up with a road map in which we can do these things in a more thoughtful way."