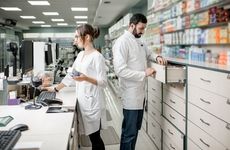 NEW YORK (360Dx) – Having over the last two decades established themselves in the vaccination space, pharmacies are now moving into point-of-care testing.
The spread of POC testing technology along with changes in state regulations and pharmacist education are driving an increase in pharmacist-administered testing, said Michael Klepser, a professor of pharmacy at Ferris State University, whose research focus includes the utility and implementation of pharmacy POC testing.
Pharmacies have been in the POC testing space for roughly a decade, Klepser said, "and I've seen big strides with respect to interest and uptake, but it's still just scratching the surface."
Pharmacy POC testing is distinct from other retail testing models like retail clinics such as CVS' MinuteClinic, which offers a relatively wide range of healthcare services (typically provided by a physician assistant or nurse practitioner), or collaborations between retailers and reference labs like Quest Diagnostics or Laboratory Corporation of America, where the retailers essentially serve as draw centers for these labs.
Pharmacy POC testing is done within pharmacies themselves, which are allowed to offer CLIA-waived tests provided they are registered as CLIA-waved laboratories. Around 10,000 pharmacies across the US are registered as such.
Thus far, the bulk of pharmacy POC testing has largely focused on strep and influenza testing, Klepser said.
"A patient who is symptomatic can go into a pharmacy, and if they meet eligibility criteria after a brief physical examination by the pharmacist, the pharmacist can run the [POC strep or flu] test," he said. In the case of a positive result, the pharmacist can then start treatment depending on the state regulations where they practice.
While the number of retail clinics has in recent years either grown modestly or declined, defying initial optimistic projections, pharmacy POC testing, though more limited in its offerings, is perhaps more easily sustainable, Klepser suggested.
"It's a relatively expensive proposition to put [a retail clinic] in a pharmacy and then just wait for patients to come in," he said. "It's not going to be a financially viable service at all locations."
Pharmacist-administered testing, on the other hand, is more akin to something like a flu shot.
"Patients for immunizations walk in and they say 'Hey, I want to get immunization,' and if they qualify, then the pharmacist is able to just kind of fit it into their workflow," Klepser said.
The history of pharmacist-administered immunizations is a potential model for the POC testing space, he said. "Everyone has kind of been looking for what will be the next [version] of immunization in the pharmacy," he said. "And [POC testing] has the potential to be fairly significant."
A 2015 report by Deloitte predicted that POC testing will in fact surpass immunizations as a revenue driver for pharmacies, noting that "pressure from payers to detect high-cost diseases early will help speed up the growth of pharmacy-based diagnostic screening services."
That said, Klepser noted that while some pharmacies are exploring reimbursement relationships with payors for POC testing, most currently offer testing on a cash basis. And while pharmacists are exploring options beyond strep and flu testing, it remains unclear what additional test will prove winners in this space.
"It's a matter of finding the actual tests that are going to make financial sense for a pharmacy," he said. "There are a lot of CLIA-waived tests a pharmacy could run, but it comes down to what can the physician do with that information, and can they make enough money to make that service sustainable."
Klepser said that he has done work with a number of pharmacies looking into offering HIV and hepatitis C testing, though he said that it is uncertain whether those tests will prove cost-effective for pharmacies.
Sometimes an offering may be highly location- or context- specific.
"We were actually asked by Flint, [Michigan] a few years ago when they had the lead crisis with their water to start doing lead testing in pharmacies, and then if their patients has detectable levels we would report them to primary care and to the public health department," he said.
Klepser added that it is also important to assess whether a pharmacy can contribute in a meaningful way to patient care with the results of the POC tests it offers.
"It's not just about, hey, look, here's something cool we can do, here's a result, now go talk to your doctor," he said. "We look at it from the perspective of, can we offer a care management service that utilizes the test?"
The answer to this question will depend significantly on the state where the pharmacy is located. Klepser said that generally speaking, state regulations are moving toward allowing more POC testing and patient management on the part of pharmacists, though each state is different.
Idaho, for instance, has one of the more expansive regulatory frameworks in terms of pharmacy POC testing and prescribing. Under legislation that went into effect July 1, 2018, pharmacists are authorized "to independently manage a whole range of conditions including influenza, strep, and urinary tract infections," he said, noting that this means pharmacists can test for these conditions and then, if required criteria are met, prescribe medication to treat the patient.
In Michigan, pharmacists are able to enter collaborative practice agreements with physicians in which the physician authorizes collaborating pharmacists to dispense a given medication or medications to patients testing positive based on a POC test administered by the pharmacist.
States including Kentucky and Oregon have also recently passed legislation expanding pharmacists' ability to test and treat patients, Klepser said.
Florida legislators have introduced a law that would allow pharmacists to test and treat patients for strep and influenza.
In January, pharmacy-based clinical services network eTrueNorth today announced an agreement with Southeastern Grocers to launch CLIA-waived laboratories in 253 retail pharmacies throughout the Southeast.
Pharmacists aren't required to received additional training to provide these services, but the National Association for Chain Drugstores offers a certificate program that covers subjects including assessing patients and running POC tests as well as how to enter necessary agreements with physician practices along with other regulatory, legal, and business questions.
Klepser said that to date around 4,500 pharmacists have gone through the program.
Pharmacy-based POC testing is attractive from a healthcare system perspective in that it can provide patients with access to more convenient care while reducing the workload on primary care physicians, Klepser said.
"Patients don't have to go into a physician's practice, where they might not be able to get an appointment for a couple of days," he said. "And one thing physicians have said in terms of this being valuable is that a lot of these patients who end up in the pharmacy don't actually have influenza or strep, so they, especially the low-risk patients, can probably be managed in the pharmacy."
Pharmacy-based POC testing is largely separate from the retail relationships major reference labs have established, such as Quest's partnership with Safeway and Walmart, or LabCorp's with Walgreens.
"The testing that we offer is testing whereby we actually do a venipuncture and draw blood and send it to our central laboratory for testing," said Cathy Doherty, senior vice president and group executive, clinical franchise solutions & marketing at Quest. "I wouldn't describe us as competing against [the pharmacy POC] market."
Tom Kaminski, senior vice president of corporate strategy at LabCorp, likewise said he did not see the pharmacy POC testing business as competing directly with his company's retail offerings, but he added that LabCorp is following the segment closely to assess whether it might potentially fit into its business model.
Specifically, he suggested that the development of easy to use microsampling devices might allow pharmacists to add sample collection to their repertoire.
"A lot of the point-of-care testing ends up running into a kind of business model issue where … it is hard to make the numbers work, and I think that has been the biggest challenge in this segment over the last 10 years or so," Kaminski said. "But if you look at it as, we really just want to solve the specimen acquisition problem and we can loop that into a central lab mode,l then we can get the best of both worlds where you are getting specimen collected on patients who might otherwise not get collected, and you are getting the quality and cost of a central lab model."
"The great thing about leveraging the role of the pharmacist is that you are having that interaction with the patient on the spot," he said. "If they are able to collect specimens, for instance, in all the 10,000 Walgreens and do it reliably and not have the need for the specialized, trained phlebotomist, that just enhances your number of access points."
Kaminski suggested the possibility of placing something like LabCorp's Pixel microsampling kit in pharmacies. Currently, the Pixel kit, which LabCorp launched last year, is sent to customer's homes where they collect their own fingerstick blood sample that they then mail to the lab for testing.
He said LabCorp is not currently piloting any pharmacist-based sampling efforts but said that "it is a category we are exploring with Walgreens as part of what we have set up around value-based care—what more we could do and how we can reimagine what things look like."