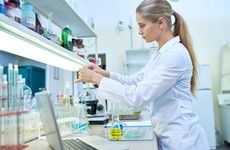 NEW YORK (360Dx) – For a time during the last decade, the drug testing business was something of a gold mine.
With the US opioid epidemic driving an increase in testing, physician practices, pain management clinics, and clinical laboratories billed Medicare and private insurers for billions of dollars per year in urine drug tests and related assays. A 2017 analysis by Kaiser Health News estimated that in 2014, spending on drug testing hit $8.5 billion.
"It was extremely lucrative," said Charles Root, CEO of lab coding and reimbursement consulting firm CodeMap. "Because you could charge per drug, [labs and clinics] were promoting large panels of drugs to be tested on every patient. If you were really aggressive, you could get around $1,000 per test."
Since then, a crackdown on over-testing by the Centers for Medicare & Medicaid Services and private insurers and several high-profile prosecutions of drug testing kickback schemes has largely curbed these abuses.
Today, Root said, "drugs of abuse testing has probably the same economic status of any other fairly high volume test out there. If you run a good, efficient laboratory, you can still make money, but you're not going to make a lot. It's no different really than other routine testing."
But if the drug testing gold rush is over, the opioid epidemic is still very much with us, and clinical labs continue to play a key role in addressing and managing the crisis.
"Everybody has been seeing a huge increase in [testing] volumes," said Paul Jannetto, director of the clinical and forensic toxicology laboratory at the Mayo Clinic. "All laboratories are noticing the increase in controlled substance monitoring."
In significant part this is due to new drug testing guidelines put in place by medical institutions, professional practice organizations, state governments, and other authorities, Jannetto said. These guidelines, he added, have sown confusion among providers who are aware that they are supposed to be testing certain groups of patients but are less clear on the specifics of what tests are appropriate, how often they should test, and how to interpret lab results.
"The vast majority of people who are taking a controlled substance may have, at one point in time, seen a pain management specialist," he said. "But then they don't go back to that specialist. They are managed by their primary care physician. And the primary care physicians don't always know what the appropriate testing is. They just know they have to order [testing] because their guidelines, their institutions says to."
There is even some confusion on the payor side, Jannetto said, as insurers evaluate the different options offered by different labs. "They are like, well, this lab offers 30 different test panels, this one offers 100," he said. "What do we actually need for our patients?"
Clinical labs have a major role in sorting out this confusion, Jannetto said. "The laboratory is a very important member of the healthcare team, and we have to get involved and help the providers and actually guide them into what the appropriate tests are to order."
To aid this process, Jannetto and a number of his clinical colleagues developed through the American Association of Clinical Chemistry Academy a laboratory medicine practice guideline that provides recommendations for what test should be run in what patients, as well as assessments of the different testing methodologies available.
Another area where labs are often called upon is interpretation of results, Jannetto said. He gave the example of oxycodone, which can metabolize in the body to oxymorphone.
"When you order testing and you see someone comes back positive for oxycodone and oxymorphone, does that mean they took both drugs?" he said. "Or did they only take oxycodone and the oxymorphone is just a metabolite? Physicians won't know that."
Additionally, with the increasing sensitivity of testing methods like mass spectrometry, tests are now picking up pharmaceutical impurities.
"Oxycodone can have up to 1 percent hydrocodone," Jannetto said. "And hydrocodone is a separate prescribable drug. A physician will get a report back where [they] think, '[My patient] was prescribed just oxycodone, but oxycodone, oxymorphone, and hydrocodone were all found by this LC-MS test. Holy cow! My patient is clearly using two medications I haven't prescribed.'"
"That's where the lab has to get involved and look at the concentrations and values and say, 'Look, this is what this is telling you,'" he said. "Because [PCPs] don't know these things. Even then pain management specialists don't always know these things."
This has meant labs need to have staff capable of interpreting toxicology test results, something Jannetto said not every lab is currently able to do.
"We are educating people, and there are efforts in that arena, but just like all physicians aren't geared up to handling this type of testing, all laboratories aren't geared up, either," he said.
Having automated reporting systems capable of providing this sort of nuanced interpretation is also key, Jannetto said, noting that he has on some days spent half his time on the phone providing interpretations of results to physicians.
"You can't do that on a consistent basis," he said. "It goes back to how the results are reported back to the clinician. Can we give more descriptors and information? Can we make more user-friendly reports that actually provide an interpretation?"
Interpretation of results has become a more pressing issue as the circle of physicians ordering drug testing has expanded due to new state regulations, said Jennifer Colby, director of toxicology and esoteric chemistry at Vanderbilt University Medical Center.
"We've seen a huge increase in the total number of tests, and also they're coming from places that are not historically where you would think, from providers who have very little experience in ordering urine drug tests and trying to interpret them," she said. "We now have all these different groups who have very different, specific needs and different levels of comfort in deciding what are the appropriate tests and then interpreting the results of that testing."
Colby's lab currently offers several varieties of drug testing with immunoassays used for emergency department testing and immunoassays followed by confirmatory mass spec tests for much of its non-emergency testing.
To help streamline the drug testing process, she and her colleagues are now developing a mass spec test for use without an initial immunoassay screen. The test will cover seven or eight different drug classes and around 60 compounds, which Colby said her team selected in collaboration with several of the provider services they expect will be heavy users.
"We're trying to get as close as possible to one analytical approach that will allow us to give everything a particular provider would need," she said. "Not that everyone will need everything on the panel all the time, but it is one test that can sort of be chunked out into different groups for different practices."
The new test will also have the advantage of keeping the lab's drug testing workflow predictable, Colby said. "Whatever somebody has ordered, the sample prep will be the same, the run time will be the same. It's just what results go out the door versus what results never even get pulled out of the data."
At Brigham and Women's Hospital, a team led by Athena Petrides, medical director for pathology at the hospital, recently implemented a mass spec-based assay that tests for 37 drugs and related metabolites in patient urine.
According to Petrides, the lab developed the assay, which she said can be run in five minutes and provides next-day results, to accommodate increasing test volume, due both to the opioid crisis and the fact that the lab has started to take on more drug testing from other hospitals affiliated with the Partners HealthCare system, of which Brigham and Women's is part.
She said her lab is now working to add additional drugs to the panel based on requests from one of the hospitals they service. They are also adding an automated plate changer to their mass spec setup to further improve their throughput.
Increased automation will be key to adoption of mass spectrometry for drug testing, said Joe El-Khoury, codirector of the clinical chemistry laboratory at Yale-New Haven Health.
"We're seeing a lot more automation in the mass spectrometry world, and as it becomes more automated, more labs will be able to adopt it," he said.
His lab is currently working to automate not just the sample prep and mass spec analysis portion of the workflow but also mass spec data analysis steps, which he described as a major bottleneck.
Mass spec data analysis "is usually very involved, with a tech having to look at each individual chromatogram," he said. "And when you have a panel of 50 drugs, that means that for each sample they are looking at 50 chromatograms to make sure the peaks are ok, the integrations are ok."
"So we're paying a not insignificant amount of money to automate our data analysis and also automate the front end [sample handling and sample prep]," El-Khoury said. "Because we simply don't have enough people to handle our existing volume without these automated solutions."