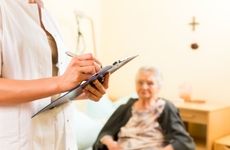 NEW YORK (360Dx) – Reimbursement cuts driven by the Protecting Access to Medicare Act, or PAMA, have raised concerns across the lab industry, but few segments stand to be more affected than the nursing home testing business.
Given their customer base, labs focused on nursing home testing have particularly high exposure to PAMA's impact. This, combined with the business's traditionally low margins and labor intensive nature, has raised questions as to how such firms will manage to stay afloat as the law's rollout continues.
Even before PAMA, nursing home testing was a relatively unattractive segment of the lab business, said Kyle Fetter, executive vice president and general manager of diagnostic services at Xifin. He noted that major labs like Quest Diagnostics and Laboratory Corporation of America largely exited the space years ago, leaving it primarily to smaller regional firms.
"It's really a sort of low margin business, and that has always been the case with nursing homes," he said. "[PAMA] exacerbates that quite a bit."
Fetter said that while Xifin customers servicing the nursing home space continue to do so, "we have heard indications from our customer base that it is going to be hard for them to continue to service that market based on what is going on with [reimbursement] rates."
"I do think you're going to end up running into an access issue at some point," he said.
Another factor that has kept large national labs out of the nursing home testing business is the relatively labor-intensive nature of the business, said healthcare consultant Dennis Weissman.
"It requires more of a hands-on approach [than other segments of the lab business]," he said. "You basically have to send a technician to the nursing home to collect the specimens, then they have to bring them back, and you have to have reasonably quick turnaround and the margins are low."
"This is testing that the bigger guys out there really avoid, and they certainly aren't going to want it in the future, especially with the [PAMA] cuts," he added.
While some labs have tried to offset the effects of PAMA by increasing their advanced molecular testing, which is generally better reimbursed under the new law, this is less of an option in the nursing home space, Weissman said.
"They don't do a lot of exotic advanced testing," he said. "It's basically the more routine tests, the CBCs, the urinanalyses."
Nursing home testing "has always been a matter of [running low-margin tests], watching the pennies, basically," said Peter Gudaitis, president of Aculabs, a family-owned lab firm specializing in servicing nursing homes in the Mid-Atlantic region. "And now it's becoming even more so."
The company has been in the nursing home testing business for 45 years over which time it has grown to serve more than 400 facilities, picking up accounts as larger labs left the space.
Prior to PAMA, Gudaitis said, the last wave of exits occurred in the late 1990s as a number of larger labs left the nursing home business in response to changes in Medicare billing that required them to distinguish between Medicare Part A patients (in whose case the lab bills the nursing home for testing) and Medicare Part B patients (in whose case the lab bills the patient's insurance directly).
"It sounds hard to believe now because we deal with it all the time, but at the time you [suddenly] had to know, is the person on a Part A stay or a Part B stay? Do I bill to Medicare Part B? Do I bill the facility? What rate do I charge the facility? Is the facility going to pay?" Gudaitis said. "I think it was too much for the large laboratories to want to deal with, so they ended up dropping out."
More recently, Aculabs has begun picking up accounts from labs leaving the space due to PAMA, Gudaitis said, noting that in the last year the firm added around 90 new facilities.
Around 80 of those facilities came from Trident Holding, one of the few large lab national firms with a significant nursing home business, which filed for Chapter 11 reorganization bankruptcy in February. The company cited the loss of business due to bankruptcies and financial challenges among its skilled nursing customers.
Gudaitis noted that Aculabs was relatively well-placed to pick up this extra business due to new lab equipment it had purchased and ordering processes it put in place.
"We had purchased new equipment at the end of last year, so we had the technological capacity in terms of testing and throughput and that sort of thing to make it happen," he said. "And we made all of our clients use an online order entry system so that we didn't have to have as much manpower to do the labeling and the data entry."
But while the company is growing rapidly, Gudaitis said PAMA has made for a challenging environment.
"It's been a struggle to say the least," he said. "And as we face [continuing PAMA] cuts, it becomes more and more difficult."
Weissman noted that many of the routine tests that make up the bulk of nursing home testing will see additional reimbursement cuts in the future as caps on the allowed annual cuts to reimbursement rise from 10 percent per year to 15 percent in 2021.
One place nursing home testing labs may be able to find efficiencies is in phlebotomy, which Gudaitis said accounts for around 36 percent of his business' costs.
"One of the things we've been looking at with a lot of customers is scaling back on the number of routine days of service," he said. "We're taking a little bit of a closer look at how often we [send a phlebotomist] to these facilities. You simply can't afford to go every day to every facility because you're sometimes only getting one or two or three patients at them."
Part of this, he noted, is better educating nursing homes and physicians to make sure they are, for instance, only ordering stat tests when it is truly needed.
The other option is to charge nursing homes higher rates on the Medicare A patients for whom labs bill the facility directly, Gudaitis said, adding that this could only be taken so far, given that the financial outlook for many skilled nursing centers "isn't looking very bright."
"You can try to raise rates, but in the end they are also struggling, so I don't know how much latitude they will have," he said, though he noted that Aculabs had "been fairly successful negotiating better rates" with some of its customers.
Xifin's Fetters said that the plight of nursing home testing specifically has received relatively little attention amidst the broad industry pushback against PAMA.
"I think [legislators and the Centers for Medicare and Medicaid Services] will become more aware as labs become less willing to service [that space], but I think it's been hard to [draw awareness] because there has been so much pushback on the PAMA cuts that [nursing homes] are just one of the many casualties."
Weissman suggested that if lab access becomes the issue for nursing homes some anticipate, community or regional hospitals could step in to fill gaps in service.
"I'm not suggesting that they are going to come running to do that work, but if it becomes an issue in their community and that work needs to be done, then I think in some cases [hospitals might pick up the slack]," he said.
Richard Tesoriero, VP of business and operational performance at Northwell Labs, the laboratory division for Long Island's Northwell Health hospital system, said that while the system was not interested in getting into the nursing home business (which currently accounts for less than 2 percent of its business), it has contracted with nursing homes to help fill testing gaps.
He cited the recent closure of a lab that serviced around 100 nursing homes in New York state, noting that Northwell Labs began servicing around a dozen of those facilities following the lab's closure.
"Not that we were looking to do that business, but there was a need and the state had reached out to many players to see if they could do it," he said. "We picked up the ones that we could do quickly, easily, and efficiently."
Tesoriero said Northwell prioritized nursing homes used by its patients, as well as facilities where the hospital could connect easily to its electronic medical records system — facilities that were "more turnkey, less labor intensive."
Additionally, in the case of nursing homes that didn't do their own phlebotomy, "you needed some density or volume in that nursing home to make it efficient to send a phlebotomist," he said. "You couldn't send a phlebotomist to a location, travel, do two draws, and then come back with the specimens. You needed some economies of scale."
Tesoriero said that in the case of some nursing homes without in-house phlebotomy services, the hospital system offered to train their staff to do blood draw but that the facilities declined, saying they didn't have the capacity to take it on.
He said that moving forward he expected that labs would respond to the more challenging reimbursement environment by making greater demands of the facilities they service.
"They will tell the nursing homes that they have to have the connectivity solutions to order specimens electronically, to label specimens, and to work with labs that way," he said. "Additional services [like stat testing] would be provided a la carte. The laboratories can't absorb costs and provide services to the level that they used to."