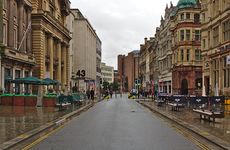 NEW YORK – Throughout the COVID-19 pandemic, a number of researchers including prominent epidemiologists and economists have promoted population-wide rapid antigen testing as a means of controlling transmission of the virus.
A recently launched pilot project in the UK has returned data that sheds light on the effectiveness of such an approach and indicates that it may be more less impactful in practice than in theory.
In November, UK Prime Minister Boris Johnson announced that Liverpool, England would be running a COVID-19 testing pilot offering serial testing to all residents and workers, both symptomatic and asymptomatic. At the core of the plan was to use rapid lateral flow antigen assays from Pasadena, California-based test vendor Innova Medical Group.
At the end of December, researchers from the University of Liverpool published an interim report evaluating the project. This month, researchers, including one of the leaders of the Liverpool effort, published a commentary in the BMJ looking at the utility of rapid testing for managing COVID-19, including within the Liverpool effort.
Rapid antigen SARS-CoV-2 tests are typically less sensitive than molecular tests, but they have the advantage of providing results in a matter of minutes as opposed to days. Proponents also argue that despite their lower sensitivity, these tests can nonetheless detect most individuals with high viral loads, which is when they are most likely to transmit the virus. Additionally, they note that the ability to use these tests serially — testing, for instance, every several days —  mitigates against any sensitivity disadvantages. Essentially, advocates have argued that a testing regimen using assays that can be repeated frequently and return results quickly could dramatically reduce SARS-CoV-2 transmission and prove much more effective than current testing approaches, which have been dominated by lab-based molecular assays.
To date, arguments for population-scale testing using rapid antigen tests have largely relied on modeling work indicating, for instance, that high-frequency, moderate-sensitivity testing is more effective at stopping virus transmission than low-frequency, high-sensitivity testing, and that frequent, routine testing may be effective in stopping COVID-19 outbreaks.
However, the ultimate effectiveness of any such screening program depends on difficult to predict factors like what percentage of the population makes use of the rapid testing and how users change or fail to change their behavior in response to results. This being the case, the Liverpool experience provides a useful look at how well real-world rapid antigen-based screening programs might work.
While Johnson said in his statements announcing the Liverpool pilot that the project would offer testing to all the city's residents and workers, this was deemed unfeasible. Instead, the project planners developed what they called their SMART (systematic, meaningful, asymptomatic, repeated testing) approach, which focused on using rapid-antigen tests in a more targeted manner to protect vulnerable individuals and settings, to enable quarantining individuals to exit quarantine more quickly, and to enable citizens to return to activities important to the city's social and economic life.
At the time of the December write-up, 25 percent of Liverpool's roughly 500,000 residents had been tested using lateral flow antigen tests, while 36 percent were tested using either lateral flow or molecular tests, with 897 individuals testing positive for COVID-19 via lateral flow and 2,902 positive individuals identified by PCR. As of Jan. 21, 359,606 lateral flow tests had been performed on 205,836 residents (41 percent of the Liverpool population) and had identified 4,421 positive individuals.
The Innova test demonstrated sensitivity of 40 percent, which was well below the 77 percent accuracy the test showed in validation studies collected by Public Health England and Oxford University in which trained staff performed the test. The test identified roughly two-thirds of individuals with high viral loads (as determined by a PCR cycle threshold of less than 25). Test specificity was 99.9 percent.
While the testing program identified several thousand COVID-19 positive individuals who might otherwise have gone undetected, there is little evidence from Liverpool COVID-19 infection or hospitalization trends that indicates the testing program reduced the spread of the virus, said Alex Crozier, a researcher in the division of biosciences at University College London, and an author on the BMJ commentary reviewing the pilot's results. Crozier was not formally involved in the Liverpool project, but he said he has been in regular discussion about the project with one of its leaders, Iain Buchan, chair of public health and clinical informatics at the University of Liverpool and a co-author with Crozier on the BMJ paper.
Crozier said that the Liverpool researchers compared the city's outcomes to those in nearby Manchester, which did not do a similar testing program, and found a small decrease in hospitalizations and deaths but not a statistically significant one. The Liverpool researchers noted in their interim report that asymptomatic cases and contact identifications rose in the city during the pilot while they fell in Manchester over the same period.
Crozier said that it is often difficult to find strong effects in such studies and that the appearance of the new B117 variant further complicated the comparison. He noted, though, that ultimately the testing program was not able to prevent the wave of infections that washed over Liverpool and the UK more broadly this winter.
"It seemed for a while that Liverpool might have been holding off that second wave more than comparable cities, but in the end it basically got hit as badly as everywhere else," he said. "It doesn't seem from the initial analysis that it was able to prevent the second wave or keep society more open, which I think is probably quite an important finding."
Sheila Bird, a researcher in the Medical Research Council Biostatistics Unit at the University of Cambridge, said that the Liverpool project provided the best evaluation of a COVID-19 mass screening approach to date, though she noted that the results reflected the performance of the Innova test and that other assays might show better performance.
Angela Raffle, honorary senior lecturer in population health sciences at Bristol Medical School, Raffle compared the trajectory of infections in Bristol, where she lives, to those in Liverpool, similarly noting that there was little apparent difference between the two, despite the latter's rapid testing efforts.
Raffle also voiced her concern that the test's performance varied depending on who was conducting it. While it showed 77 percent sensitivity in validation studies when used by trained staff, that figure dropped to 58 percent for self-trained members of the general public, though, as researchers from the Liverpool project noted in a response to criticism in a BMJ commentary by scientists skeptical of the effort, that gap in performance could close as the public becomes more experienced in using the tests. Members of the Liverpool team and others also published a commentary this week in The Lancet addressing some of the criticisms of the Innova test and the UK efforts.
Raffle additionally questioned whether a serial home testing program, as some have advocated for, would actually reach the most at-risk members of the community consistently.
"It will be the least at-risk people who do the tests and they will be doing them for reassurance value, and the people who are on really low incomes, in multi-generational households in cramped conditions with precarious work, they aren't going to be doing serial tests at home," she said.
The Liverpool project did find wide variation in test usage across the city's population, with uptake among the most economically deprived fifth of the population roughly half (17 percent) of that in the most economically advantaged fifth of the populations (33 percent). Additionally, the positivity rate among the least advantaged was double that in the most advantaged populations (1 percent compared to .5 percent).
Residents also cited as a major disincentive to testing their fear that they would not have the resources they needed to isolate in the event of a positive test. In the Liverpool pilot, 95 percent of positive cases self-isolated, but Crozier suggested that concerns about the inability to isolate significantly impacted test uptake.
"Self-isolating when you have a positive test result requires financial and practical support from the health authorities or the government," he said.
There is also the concern that individuals could take a negative test result to mean that they are clear to go about their normal lives. The Liverpool researchers noted in their report that they did not have enough data to draw any "firm conclusions" about this dynamic, but said that "there were no alarming indicators in survey results."
According to survey data from the Liverpool project, 62 percent of people said a negative result would be unlikely to lead to a change in behavior, though 9 percent said they were likelier to visit friends and 7 percent said they were more likely to go to work following a negative result.
Raffle said that from her perspective, the results of the Liverpool study showed "that mass community testing is a huge waste of time and resources, and could actually be counterproductive."
Crozier was less critical but suggested that more targeted use of rapid antigen testing would probably prove more feasible and more useful than a true mass screening campaign. For instance, he cited daily antigen testing of people who have had contact with COVID-19-positive individuals as a possible alternative to self-isolation, particularly given that many such individuals are not complying with self-isolation guidelines.
"A lot of critics of that argue that you will get some false negatives, and some will slip through the net, and you probably will," he said. "But I think we have to look at the reality of the situation and see that we have less than 30 percent self-isolation rates here. If you test, it sort of gives, not a free pass, but people don't have to self-isolate, and they are more likely [to isolate] if they do receive a positive result."
Such an approach would have the added benefit of helping to quickly identify clusters of infections, Crozier said, another area where he said he saw rapid antigen testing as potentially playing an important role.
He said he also saw rapid antigen testing as potentially useful for screening at workplaces and schools in combination with molecular testing. That way, people who test positive on the antigen test can begin self-isolating immediately, preventing them from spreading the virus while they await the results of their molecular test.
"Again, this is sort of accepting the reality of the situation that these workers are still working for two or three days while awaiting the PCR results," he said.
Rapid antigen assays for SARS-CoV-2 "aren't a perfect test, but they can be a public health tool, and they can get around certain problems that we have," Crozier said. "The counterfactual is the current situation, which, let's be real, isn't working."