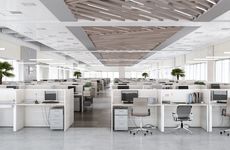 NEW YORK (GenomeWeb) – As businesses across the US begin reopening, a number of clinical labs have rolled out SARS-CoV-2 employee testing programs.
Last month, large national labs including Quest Diagnostics, Laboratory Corporation of America, and BioReference Laboratories launched SARS-coV-2 employee testing programs, with a number of regional and specialty lab companies offering such programs, as well.
Among firms in the latter category, one of the most active has been San Francisco-based genomic testing company Color, which has been making testing available to essential city workers in San Francisco as part of the city's CityTestSF program and is providing employee testing to workplaces including the Morehouse School of Medicine, and Cambridge, Massachusetts-based Verve Therapeutics.
In the case of Verve, the testing program is part of a pilot the company is running in collaboration with Color to provide employee testing to 12 smaller biotech companies in the Boston area.
While firms like Quest and LabCorp have well established employer wellness programs they are now using to address the need for employee SARS-CoV-2 testing, these have not traditionally focused on smaller companies like Verve, which is currently testing its roughly 20-person laboratory staff on a weekly basis.
"The need here is you have a number of early-stage biotech companies, each with a modest employee base, somewhere between 20 and 200 people, which is a slightly different scenario than one large employer that has thousands of people," said Verve Co-founder and CEO Sekar Kathiresan, explaining the rationale for the pilot. "So, there needed to a fair amount of customization of the set-up."
"Almost everything here is new, in terms of the contracting, the relationship with a physician to order the test, even the consent forms for employers and employees, so all of that we are doing for the first time, so we needed to be able to customize and have a partner who would interact with us very fluidly, and that is what we found with Color," he said.
There are a number of questions employers must consider when implementing a testing program, including who to test and how often along with what kinds of testing to use. Verve is currently focusing on testing its lab employees, given that its administrative and executive staff are still mostly working at home, said Kathiresan.
He added that the company was using PCR testing exclusively because of questions surrounding the reliability of SARS-CoV-2 serology testing. It began testing the week of May 18 with Color providing the testing site and staff as well as running the tests.
Kathiresan said that the most important factor for Verve in terms of evaluating the pilot was the user experience.
"Is it easy for employees to go to the site, get in, get the testing, get out, feel safe?" he said. "Did they get the [results] back in a timely way? That's really what the pilot was about."
Thus far, the company has been pleased with the results, he said, adding that getting samples taken typically took five to 10 minutes and results were available the next day.
"It's been running very smoothly," he said. "And now, with all that working, we are ready to scale this and are evaluating how many companies in the area would want to participate, and then we will be setting that up [with Color] when the pilot is over."
To date, Verve has run 348 tests on its employees, all of which have been negative.
Prior to the SARS-CoV-2 pandemic, Color offered workplace genetic testing programs for a number of companies and organizations including Salesforce, Levi's, and the Teamsters Union, said Caroline Savello, the company's chief commercial officer.
She said that Color anticipates employee testing will be key to controlling the virus' spread in coming months.
"We know that workplace transmission is going to be one of the key nodes of this pandemic," she said. "It's going to be the first time people are returning to physical proximity with one another, and we need to reduce the risk of that transmission."
She added that Color saw that a number of companies were interested in implementing workplace testing but that methods and procedures for putting this testing in place were lacking. To address this, the company developed a workplace testing protocol to guide its efforts, which Savello said has two main points of emphasis — the ability to catch and suppress outbreaks early and simplicity of operation.
"The entire purpose of our protocol is, one, that an employer operating this way would not ever need to shut down due to an outbreak," she said. "You have a flexible model so that you can catch cases early and suppress outbreaks as rapidly as possible so you don't have an outbreak and shutdown."
"Secondly, it's simple to operationalize," she said. "We have seen a lot of contexts where people are thinking about very complicated schedules for testing, and what we found was that it is really important to have simplicity in the way that the programs are designed. [For example,] everybody in your workforce is tested once a month is an easy thing for employees to grapple with, for HR teams to grapple with. So, we are implementing our protocol with some partners and customers, and we are implementing specific protocols that they have designed with others."
10X Genomics is another Bay Area firm that has begun employee testing. The company each week tests around 180 of the roughly 450 employees at its Pleasanton, California facility. It is using San Francisco-based One Medical, a membership-based primary care practice that offers employer health services, to facilitate the testing and the Phoenix-based Translational Genomics Research Institute (TGen) to run the tests.
"Your initial reaction [as a genomics firm] is, I know how to do PCR, I know how to set up a lab," said Ben Hindson, 10X's co-founder and CSO. "But then about 24 hours later it dawned on me the complexities of doing that in the context of providing a diagnostic test, and I realized there was no way 10X alone could do this on any kind of timeframe for what we wanted to do. That prompted me to talk with One Medical and talk through some of the adjustments we would want to make to rapidly put in place a program to provide this screening capability."
One Medical declined to comment for this story.
10X began piloting the effort as a voluntary program in April and has since made regular testing mandatory for workers at the Pleasanton site.
National reference labs like Quest and LabCorp have well established employer programs that they have in recent weeks begun using to meet the need of employee SARS-CoV-2 testing.
LabCorp is offering services including health questionnaires, temperature screening, and SARS-CoV-2 test collection either offsite or at the employer site as well as access to the company's home-collection based serology test.
BioReference, meanwhile, has built its SARS-CoV-2 employer testing program around serology testing, which could allow companies to identify workers who have already been exposed to the disease and have protective antibodies. However, as Verve's Kathiresan noted, there are concerns about the accuracy of serology tests, particularly given the low prevalence of SARS-CoV-2 infections.
Quest provides lab services for millions of employees at thousands of self-insured companies as part of its existing employer testing business, said Wendi Mader, executive director for employer population health programs at Quest, noting that the company was able to use this existing infrastructure for its SARS-CoV-2 testing program.
Mader said that given the diversity of the company's employer testing customer base, determining the most suitable testing protocols for a particular workplace is a key part of the effort.
For instance, she said, workers who are interacting with the general population frequently may need regular PCR testing to pick up early signs of an infection, while serology testing might be best suited to employees who are largely working from home to see if they have been exposed to the virus at some point.
"Our goal is to help [employers] through that and help them to understand what they can do based on [their worker type]," she said.
Quest is ramping up its molecular testing to meet what it anticipates will be increased demand from employers. It expects to have a capacity of around 150,000 molecular tests per day by the end of June, up from around 100,000 per day currently.
The company does around 50,000 biometric screening events for employers covering millions of individual employees each year. March, Mader said, is typically a particularly busy time for these screenings, but this year many employers canceled those events as the pandemic spread.
Shortly thereafter, though, Quest began to receive request from many of its employer customers for services like temperature checks to help them detect infected workers early.
The company does not yet have a good sense for how many of its existing biometric screening customers would sign up for SARS-CoV-2 testing, Mader said, noting that testing needs and expectations vary by employer.
She suggested that the pandemic would drive Quest's biometric screening business in addition to employer SARS-CoV-2 testing in the coming months, particularly given data on comorbidities and infection outcomes.
"When you think about where this disease has caused the most issues, if you ask public health officials, it is in those who were sick and have chronic conditions," she said. "Biometric screenings play an important role in identifying those risks and diseases in populations, so we do expect that to return. We expect it to be very strong in the fall season."