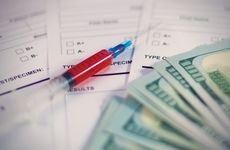 NEW YORK (360Dx) – At Quest Diagnostics patient service centers, patients are receiving estimates of their expected cost for healthcare that may take into account factors such as their insurance deductible, copays and coinsurance, executives said.
"In this era of increasing patient cost share for health services, the real-time estimator is about price transparency for patients," said Gary McCabe, Quest's executive director, health plans. "For patients to be able to understand at [the] point of sale what the potential share of their cost is for deductible, coinsurance, copay, we think that's really important for our patients and for our customers."
Quest is not alone. Other labs including ARUP Labs and Laboratory Corporation of America have recently launched web-based tools to give patients more information about their lab test costs.
"It's something that keeps us competitive in the industry of genetics and molecular testing. It gives patients transparency into their benefits," said Clara Murphy, a director in the finance department of ARUP, which rolled out an out-of-pocket estimator on its website approximately six months ago, she said.
The movement to offer patients real-time price estimates not only addresses rising healthcare costs but a longstanding challenge in the lab industry, according to Kyle Fetter, executive vice president and general manager of diagnostic services at health information technologies firm Xifin.
"It has actually been a major issue because patients don't know what their responsibilities are going to be. It's not like when you walk into a pharmacy and they know right away what your copay is and if there is some deductible that needs to be met," Fetter said. "In laboratory [testing] it has always been a little bit more of a black box in the sense that testing may get ordered from an outside laboratory and the patient doesn't necessarily have a good sense of what their financial responsibility will be until long after the service was performed."
Xifin is currently preparing to roll out its own price estimation tool as part of the company's revenue cycle management system, Fetter said. The Xifin tool will be a web service that estimates lab costs by incorporating some eligibility information from payors along with edits the company has built based on its own experiences with payors and their plans.
At Quest, real-time estimation is built into the company's ordering system. The level of accuracy of price estimation depends to some extent on the type of connection Quest has with the patient's insurer, according to McCabe. At its most sophisticated level, Quest connects to a health plan's adjudication system pinging it with CPT codes associated with tests that are being ordered. The system relies on the ANSI 837 standard outbound claim message and an ANSI 835 inbound claims message to receive a real-time response from payors on patient cost share, McCabe said. The messages are informational only and the transaction is not closed at the point of sale.
The system's estimates are 96 to 97 percent accurate, McCabe said. Intervening factors affecting price estimates include test add-ons by physicians after the initial order, reflex testing based on the result of the test, and instances where the test is not performed due to an inadequate sample or other reasons.
"Additional testing, or testing not performed, can cause that 3 to 4 percent gap. Also actually getting the claim into the health plan could take a couple of days, and there could have been another provider who submitted a claim for that health card for that customer that intervened and changed their cost share," McCabe said.
For health plans with adjudication systems that Quest cannot access, the company connects to a health plan's eligibility system, using the ANSI 270/271 inquiry process to confirm a member's eligibility and cost share arrangements, according to McCabe. When using eligibility inquiries, Quest applies CPT code data internally using its own developed logic rather than receiving a CPT code-based response from the insurer, he said. McCabe did not have an estimate of the accuracy of that system but said it is only slightly less accurate than the adjudication connection.
When Quest has neither type of connection with a health plan, the lab estimates costs based on its own claims experience with customers of the health plan, McCabe said.
In addition to offering the real-time estimator service in patient service centers, Quest has a small amount of practitioners' offices using the system, but plans to roll it out to practitioners' more broadly. Quest has had real-time estimator connections with some insurers for several years and is currently continuing expand to more insurers, he said.
"In our UnitedHealthcare relationship, real-time estimation is one of the initiatives that we will be collaborating on moving forward. In fact we are connected with them already in one area and we are going to roll that out more broadly across their system for all of their patients in 2019," McCabe said, referring to the new contract the company announced with the insurer last month.
While feedback from patients and insurers has been positive so far, McCabe said the company has not noticed whether price transparency might affect physician ordering patterns on behalf of patients.
At ARUP, however, Murphy thought it was likely that the company's new out-of-pocket estimator could impact test ordering, particularly for genetic screening tests.
"Some of these tests are really expensive, so it can make a difference for a patient whether they proceed or not," she said. "It can depend on a patient's ability to pay for the testing."
Murphy noted the lab sees more test ordering at the end of the year after people have satisfied their deductibles. She expected the tool could inform decisions for patients who try to wait to have testing until their deductibles are satisfied.
ARUP's out-of-pocket estimator is a Web-based tools provided by the healthcare API platform PokitDok. It is available on the company's web site, and while anyone can use it, Murphy expects it to be primarily used by genetic counselors.
As ARUP is a reference lab, Murphy noted, its out-of-pocket estimator served a different role than similar products at independent clinical labs.
"Most of ARUP's clients are hospital systems and large hospitals. We are not a LabCorp or Quest that is patient-facing. They are in doctor's offices, we are not," she noted.
Murphy predicted the tool would largely be used as genetic counselors work with outpatients, such as for genetic screening tests for familial conditions, where patients might have more flexibility of when or whether to order a test.
Each of the companies rolling out estimators expect them to usher in increasing transparency to lab test pricing. Opinions are divided, however, on whether the tools will lead the lab industry to closing transactions at the point of sale.
Xifin's Fetter noted that collecting payment up front for smaller tests could improve efficiency for the industry.
"Collecting money up front negates the need to send out statements and things like that on the back end that can be expensive to a provider. It also ensures patients have clarity up front, and with money collected up front everyone tends to get a win," he said.
But Quest's McCabe was more cautious, noting that the 3 to 4 percent of orders that cannot be estimated because they involve additional or reflex testing, or tests not performed, could be problematic for real-time adjudication.
"I don't think the industry is ready for an auto-claim correction process yet or an auto-add-on process yet," he said. "Would we like it and would our health plan customers like it? Yes, but I think we are a ways off until real-time adjudication in the lab industry."