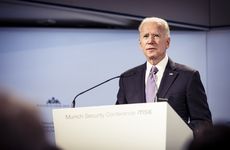 NEW YORK – With Joseph Biden, Jr., poised to become the next president of the United States, laboratories and diagnostic firms began planning for an administration switch that could change reimbursement, supply chain manufacturing, and other key components of their businesses come January.
Much of the conversation has been focused on the COVID-19 pandemic and preparing for new policies that could impact the lab industry. President Trump and his administration's handling of the pandemic, particularly regarding reimbursement for SARS-CoV-2 tests and supply chain disruptions, has come under fire from some laboratory organizations, including the American Clinical Laboratory Association.
Namely, the recent decision from the Centers for Medicare and Medicaid Services to only pay its highest reimbursement rate for high-throughput labs that complete testing within two days of specimen collection has caused significant pushback. ACLA President Julie Khani said the change wouldn't address "the root causes of delayed turnaround times," which she said were largely access to needed supplies and demand fluctuations.  
American Association for Clinical Chemistry Past President Carmen Wiley said the current rates of and guidance around reimbursement for SARS-CoV-2 were okay, but that she hoped there would be no cuts in the rates as the Biden administration takes over.
Biden's plan for managing COVID-19 includes significantly expanding access to testing and ensuring reimbursement for laboratories. By vowing to make testing "widely available and free," Biden plans to ensure everyone who needs a test can get one for free, regardless of immigration status, and has requested the US Centers for Disease Control and Prevention clarify criteria for testing, including prioritizing first responders.
Biden's plan also mentions establishing at least 10 mobile testing sites and drive-through facilities per state, starting in large cities and then expanding that figure. The CDC, Biden said, must work with private labs and manufacturers to "ensure production capacity, quality control, training, and technical assistance. … The number of tests must be in the millions, not the thousands."
Biden also said he would provide a daily report on the number of tests performed and expand surveillance programs from the CDC and other agencies to offer tests to patients who may not know to ask for them, including nursing home residents and people with underlying medical conditions. 
Finally, the plan would require CMS to establish a diagnosis code for COVID-19 on an emergency basis so surveillance could be done using claims data. 
Biden has also assembled a COVID-19 task force of public health experts, including former US Surgeon General Vivek Murthy, former US Food and Drug Administration Commissioner David Kessler, and Rick Bright, the former director of the US Department of Health and Human Services' Biomedical Advanced Research and Development Authority.
The other members are Yale associate dean for health equity research Marcella Nunez-Smith; former assistant FDA Commissioner Luciano Borio; Zeke Emanuel, a former Obama administration health policy advisor; Atul Gawande, professor of surgery at Brigham and Women's hospital; Celine Gounder, assistant professor at New York University School of Medicine; Julie Morita, the former Chicago public health commissioner; Michael Osterholm director of the Center for Infectious Disease Research and Policy at the University of Minnesota; Loyce Pace, director of the Global Health Council; Robert Rodriguez, professor of emergency medicine at the University of California, San Francisco; and former Ryan White Care Act Director Eric Goosby. 
When reached for comment, a representative for UCSF, where three task force members work, said the Biden team had asked those members not to speak with the media. Other members of the task force didn't respond to requests for comment.
Lab organizations, nonetheless, expressed optimism about the task force. For example, AACC's Wiley was encouraged by the number of scientists and public health experts on it. 
Upon the unveiling of Biden's COVID-19 plan, Khani released a statement saying ACLA "agrees that patients need certainty that their COVID-19 tests will be covered," and she noted the need for "significant investment in high precision instruments, adequate testing supplies, a highly trained workforce, modernized reporting systems, cutting edge research, and specialized transportation logistics."
Khani added that ending "harmful' reimbursement cuts from the Protecting Access to Medicare Act remains a priority for ACLA members. "The effects of PAMA are in plain sight," Khani said. "This pandemic has exposed a truth that lab directors have been warning us about for years: spiraling, year-over-year, across-the-board cuts to Medicare reimbursement left labs with razor thin margins and significant challenges when it came to scaling up." ACLA currently has a lawsuit pending against the US Department of Health and Human Services regarding PAMA in an attempt to clarify which labs are required to report reimbursement rates under the law, which has been a source of confusion since implementation of the bill in 2018. 
Other stakeholders weighed in on what the laboratory and diagnostic industry needs to combat the pandemic. Patrick Godbey, president of the College of American Pathologists, said the biggest challenge facing the industry is the COVID-19 pandemic and the ability to provide enough testing. He said his laboratory in Georgia is still having problems accessing enough reagents and consumables, and as a result has been forced to send samples away to other labs, significantly increasing turnaround times. 
He said he'd "like to be able to perform and meet the demand of COVID-19 testing where we are. This means that we have to have adequate, not only instrumentation, but medical laboratory scientists to run the tests and pathologists who are responsible and direct the laboratories that they work in."
Regarding the CMS decision to cut payments for labs with long turnaround times, he said the issue for labs was not being able to get enough reagents and other supplies to provide all the testing. "Every physician, every member of the CAP, wants to deliver those results as quickly as possible, but we don't control a lot of those variables," he said. "To penalize labs because of things that they don't control is really not a good idea."
Having to send samples to other labs in different states for testing requires the use of courier systems and can take days to receive results. In-house testing, meanwhile, means the return of results in less than five hours, he said.
Godbey also emphasized the need for the incoming administration to examine the supply chain and make sure costs are covered through reimbursement or subsidies for labs. "We have to make sure that we can perform the testing necessary to meet the pandemic," he continued. Although there have been pushes to fully invoke the Defense Production Act to provide additional testing supplies and personal protective equipment, Godbey said one potential issue is that many reagents are manufactured outside the US, so the DPA would have no power over them.
The most efficient way to provide necessary testing would be to use two versions of the same instrumentation, so there would be no need to change techniques or switch reagents depending on the instrument. However, because of the reagent shortage, Godbey said his labs are using a variety of machines depending on reagent availability and changing machines day by day, which he said was "not ideal, but it's necessary."
Wiley mentioned the importance of improving distribution of medical and testing supplies and stockpiling those supplies for a future health emergency. She said the federal government should play a larger role in coordinating supply chain management and ensuring coordination between public and private labs and healthcare organizations. The five labs she oversees have all continued to see supply issues, ranging from reagents and consumables to viral transport media to nasopharyngeal swabs. Her labs are also facing difficulties getting enough influenza kits, possibly because of diagnostic firms' emphasis on manufacturing for SARS-CoV-2.
ACLA's Khani also emphasized the need for a "comprehensive federal strategy" to support broad access to SARS-CoV-2 testing for patients regardless of insurance status. 
As the pandemic continues to spread and a second wave begins to ravage the US, Godbey said pathologists are worried about the coming months. "As the COVID numbers go up, the demand on testing, particularly polymerase chain reaction tests, is going to go up," he said.
Another key stakeholder in this space, the Association for Molecular Pathology, has laid out priorities both in the short-term related to COVID-19 and in the longer term for the industry as a whole.
Last month, the organization released the preliminary results of its second SARS-CoV-2 testing survey, which found that in addition to supply chain interruptions, laboratories across the country are also facing staffing shortages. In light of the results, AMP recommended governments on all levels ensure regulatory requirements aren't duplicative or burdensome and encouraged better collaboration and communication between labs and relevant government agencies.
It also reaffirmed five earlier recommendations from the first survey, published in April, including asking governments to reassess type and location of SARS-CoV-2 testing needed, reprioritize supply allocations based on testing needs, and increase transparency and communication between suppliers and labs. It also recommended improving coordination across labs to capitalize on moments of excess capacity, as well as standardizing agency reporting formats and processes for infectious diseases. Mary Steele Williams, AMP's executive director, said the organization stands by these seven recommendations to increase laboratory support in light of Biden's election.
Beyond COVID-19
Unrelated to the pandemic, AMP also believes the incoming administration should modernize the existing CLIA laboratory-developed test (LDT) regulatory framework to broaden patient access to high-quality testing. Doing so, Williams said, "would clarify the federal regulatory authority, bring long-needed updates to CLIA, enhance transparency, preserve innovation, and ensure widespread patient access to essential medical services." 
In August, the US Department of Health and Human Services restricted the FDA's ability to require premarket review of LDTs, stating that the agency can't require premarket review of the tests without notice-and-comment rulemaking. There has long been debate over whether the FDA can actually regulate LDTs, with many laboratory and pathologist groups saying CLIA is the appropriate framework to oversee the quality of these tests. ACLA, AACC, and AMP all released statements supporting the HHS decision. 
Another priority for AMP is the condemnation of systemic racism. Instead, diversity should be encouraged and promoted, and Williams said "science, healthcare, and the world benefit when diversity, equity, and inclusivity are prioritized and racism is eliminated in all its forms." 
Williams added that the administration must ensure access and adequate insurance coverage and reimbursement for molecular diagnostic testing services.
Revisiting overall payment for lab tests, especially in rural and underserved areas, is a point of emphasis for AACC as well, Wiley said. Labs in these areas may need to charge more for certain testing, since they do not have the volume of testing that a major reference laboratory, such as Quest Diagnostics or Laboratory Corporation of America, does. Taking into consideration the region and population of some labs and adjusting reimbursement rates depending on those factors could help ensure everyone gets the testing they need, Wiley said. 
Williams also requested protection of the Association for Molecular Pathology v. Myriad Genetics decision, which ensured naturally occurring DNA segments are products of nature and can't be patented. Last year, members of Congress proposed draft legislation that would permit patenting of human genes and naturally occurring associations between genes and diseases.
Williams also emphasized the importance of preserving access to information about pharmacogenomics in response to decisions by the FDA to limit the inclusion of clinical interpretation information in PGx test reports. Throughout 2018 and 2019, the FDA has attempted to regulate PGx testing by issuing a safety communication to providers and patients, cautioning them that most genetic tests claiming to predict responses to specific drugs haven't been reviewed by the agency and privately asking labs to stop mentioning drugs in PGx test reports unless the tests have been reviewed by the FDA. 
Earlier this year, a coalition of labs, software companies, and doctors filed a citizen petition asking the FDA to stop its attempts to limit PGx testing and calling them unlawful, and AMP later supported the petition and recommended potential fixes, including requiring PGx testing providers to comply with CLIA and ensuring PGx test reports are comprehensible to providers without medical genetics or pharmacogenomics training. 
AACC's Wiley said the administration should provide funding and support to improve harmonization of laboratory tests across different healthcare settings. The standardization of reporting ranges for both adult and pediatric diagnostic testing and alignment of reporting is a key priority for the organization.
Most important for both the pandemic and the lab and diagnostics industry beyond COVID-19, Wiley said, is funding and support to rebuild public health infrastructure in the US. Rebuilding that infrastructure would both help get a handle on the COVID pandemic and prepare the country for any future health crises.
Biden's administration has many hurdles to overcome, but each stakeholder said they are willing and ready to work with the President-elect to solve the issues facing the industry. "We are looking forward to working with whoever is in Washington," Godbey said.