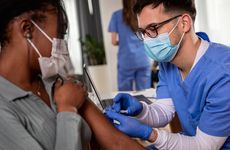 NEW YORK – A number of lab industry organizations are opposing a current Centers for Medicare and Medicaid Services policy that would allow nurses to do high-complexity testing under CLIA.
The policy, under which CMS would recognize a bachelor's degree in nursing as meeting the educational requirement for performing high-complexity testing, represents a potential patient care issue, said Matthew Schulze, director of government relations at the American Society for Clinical Pathology (ASCP), which has been at the forefront of the effort to overturn it.
While nursing bachelor's programs include some science training, it is typically far less than is required by clinical laboratory science programs, Schulze said.
"Someone who has a degree in clinical laboratory science, they probably have 30-plus [credit] hours, maybe 45 hours or more of academic science," he said, noting that, in contrast, nursing programs ASCP looked at included around 15 credits of science.
While many nursing programs require students to have completed biology and chemistry coursework before entering, "our biggest concern is that we don't feel [a nursing degree] is appropriate [training] for quality laboratory testing and for patient care," Schulze said.
The issue of allowing nurses to perform high-complexity testing first became an issue in 2016 when CMS issued a policy memorandum that, among other things, said that a bachelor's degree in nursing met "the requirements for earning a degree in a biological science for … high-complexity testing personnel."
CMS said this did not represent new CLIA policy but was simply a clarification of existing CLIA policy. The announcement took the industry by surprise, though, Schulze said.
"We couldn't find any documentation that they had ever publicized this," he said. "This really kind of caught our membership off guard."
Schulze said that in a meeting lab organizations held with CMS officials following release of the 2016 memo, the agency said that there were already "nurses out there doing high-complexity testing."
Additionally, the agency suggested that allowing nurses to perform high-complexity testing could ease the staffing shortages facing the lab industry.
In 2018, CMS put out a request for information asking for comments on a proposal to formalize its policy on nursing degrees as qualification for high-complexity testing. The agency noted in its RFI that while it currently considered a bachelor's degree in nursing to be on equal footing as a bachelor's degree in a biological science for the purposes of performing a high-complexity test under CLIA, it was considering amending the CLIA regulations to codify it into policy.
CMS received close to 9,000 comments in response to the RFI, nearly all of them opposed, with organizations including ASCP, the American Association for Clinical Chemistry, the American Society for Clinical Laboratory Science, and the American Society for Microbiology coming out against the measure.
On July 26 of this year, CMS issued a proposed rule that would update CLIA regulations and establish a bachelor's degree in nursing as a valid qualification for performing high-complexity testing. The comment deadline for the proposed rule is Aug. 25.
In addition to ASCP, lab industry organizations including the AACC and the College of American Pathologists continue to oppose the proposed rule.
"Although AACC agrees that nurses are invaluable members of the healthcare team, their education and training does not delve in depth into the scientific concepts underlying clinical laboratory testing," said AACC President Shannon Haymond. "AACC is concerned that if CMS were to add nursing as a qualifying degree, nurses would be exempt from completing needed clinical laboratory training prior to performing patient testing."
CAP likewise said in a statement provided to 360Dx that it "believes a nursing degree is not equivalent to a bachelor's degree necessary to perform high-complexity testing."
CAP suggested that, instead, CMS make a bachelor's in nursing a "separate qualifying degree" with its own training requirements and scope of practice.
"Nurses perform laboratory-related functions such as point-of-care testing, specimen collection, and test ordering, which are not their primary job functions, but rather secondary tasks performed outside of the central laboratory," CAP wrote. "Unlike laboratorians in the central laboratory, nurses often have minimal time to reflect on the total testing process."
In fact, CMS gestured in this direction in the proposed rule it issued last month, noting that it agrees "that a nursing degree is not equivalent to a biological or chemical science degree" and that nursing degrees should "be used as a separate qualifying degree."
However, the agency did not establish in the rule different training requirements or scope of practice for those with bachelor's in nursing versus those with degrees in a biological or chemical science, which, Schulze said, makes these degrees equivalent in practical terms, even if according to the letter of the law, nursing would now be "a separate qualifying degree."
Jon Harol, president of lab consulting firm Lighthouse Lab Services, said that one of the lab industry's main concerns is that by elevating a nursing bachelor's to the status of a degree in chemical, physical, biological, or clinical laboratory science, or medical technology, CMS will have eliminated the requirement that nurses, like other individuals without one of the aforementioned degrees must go through an accredited lab training program or have at least three months of documented laboratory training.
CMS, however, continues to maintain that a nursing bachelor's degree already enjoys this status. In an email to 360Dx this week, an agency spokesperson referred to the 2016 policy memorandum and said that "historically, the CLIA program has stated that a nursing degree is considered a biological degree" and that "as such, individuals with a bachelor's degree in nursing can qualify as high-complexity testing personnel."
It is not entirely clear why codifying a nursing degree as a valid qualification for performing high-complexity testing is a priority for CMS even amidst much pushback from the lab industry. One possible consideration, Schulze said, is that some of the point-of-care tests that nurses routinely perform may fall into the high-complexity category.
Harol agreed this was a possibility, noting that any test not approved by the US Food and Drug Administration falls into the high-complexity category. This means that some point-of-care tests may "qualify as high-complexity versus waived-complexity just because the manufacturer hasn't gotten FDA approval yet," he said.
He suggested, though, that if this were the problem, a better solution would be to change the classification system for point-of-care tests rather than changing personnel requirements.
A spokesperson for industry organization AdvaMed, which represents a number of point-of-care test vendors, said that while the group was aware of the proposed CLIA updates, it was not following them closely enough to comment.
CMS has also cited the lab industry's staffing shortage as a rationale for the rule. However, as nursing struggles with staffing shortages, as well, it's unlikely that many nurses are sitting on the sidelines and available to move into lab work. Additionally, Schulze observed that average wages for nurses are substantially higher than those for lab personnel, making it unlikely many nurses would opt for lab positions.
Harol said, though, that, particularly in rural settings, nurses might fill in where lab staff isn't available.
"It would certainly give flexibility and agility to the workforce where in small [doctors'] offices in rural areas, if someone is doing nursing they could also potentially do testing," he said. "If you're in a situation where you need to hire two people, you might be able to hire one."
Not that Harol thinks that is a good idea.
"These are high-stakes issues that we are dealing with, and to have someone who is untrained running lab testing seems like a bad plan," he said.
Brock Slabach, chief operating officer at the National Rural Health Association, said that his organization has not been closely following the debate around nurses and high-complexity testing but noted that staffing challenges could lead some facilities to rely on nurses to perform tests in certain circumstances.
"If it's 2 o'clock in the morning and you need cardiac enzymes, obviously you would want to have that information in hand so that a proper diagnosis and treatment could be rendered quickly," he said. "And you may not have 24-hour, seven-days-a-week lab professionals in house."
Slabach, who was previously CEO of Field Memorial Community Hospital in Centreville, Mississippi, said, however, that his hospital always had medical technologists and medical laboratory technicians handling testing.
He noted, though, that given CMS's assertions that its policy to consider nursing a biological degree is a longstanding one, a change to that policy would very likely cause disruptions for some hospitals.
"If they change the rule that has been longstanding in terms of practice, I can guarantee you that it will cause commotion, it will cause chaos," he said. "Especially in this environment of having extreme shortages of workforce."