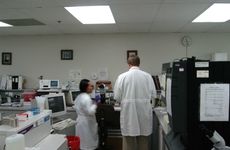 NEW YORK (360Dx) – Earlier this year, Cleveland Clinic reconfigured its committee overseeing lab test utilization to be co-chaired by a pathologist and a clinician and to include more input from the physicians who order lab tests.
More recently, Mayo Clinic announced plans to partner with a technology vendor to create a lab test ordering decision support tool that would make its lab utilization guidelines available to hospitals in an automated way.
Such efforts, doctors at these and other hospitals said, are part of a growing trend that reflects a growing interest from hospitals in improving lab test utilization efforts.
"We have been pushing this for probably five to seven years, and without a doubt, over the last three or four years there has been a genuine interest from all parties involved in healthcare asking about these kinds of issues," said Curt Hanson, chief medical officer of Mayo Medical Laboratories and vice chair of extramural laboratory affairs in the department of laboratory medicine and pathology at the Mayo Clinic.
Hanson said when Mayo Clinic first began its lab test utilization programs, there was more skepticism and less understanding about the value of the efforts for hospitals. "I think as people see the transition to value-based reimbursements, and they see what test utilization tools can do, there has been a lot more interest and enthusiasm in this whole area," he noted.
The changing role of lab tests in generating reimbursements as healthcare shifts from fee-based to value-based payment models may be contributing to growing interest in test utilization, Hanson said.
"I think historically, a lot of places where laboratories have been major financial contributors to an institution's financial health were based on a fee-for-service world where every test you do, granted there are exceptions like Medicare inpatient bundling, but for the most part every test you do got reimbursed," he said. "As we switch to a different kind of payment system, whether you call it bundled, or based on outcomes or some variation on that, I think people begin to look and say, we need to make sure we only do what we need to do."
Gary Procop, co-chair of Cleveland Clinic's Enterprise Lab Stewardship Committee and medical director of Cleveland Clinic Laboratories agrees.
"When you go to value-based care, it forces everyone to sit down and say what do we really need to provide. The plus about that is you start to eliminate things that are really wasteful," Procop said.
A paper published in JAMA Internal Medicine last month titled, "Evidence-Based Guidelines to Eliminate Repetitive Laboratory Testing," compared 17 different case studies of efforts to control repetitive inappropriate lab testing at institutions ranging from Walter Reed Army Medical Center and San Francisco General Hospital to Kaplan Medical Center in Rehovot, Israel.
"We started this because it has gotten a lot of momentum recently. So many professional societies have recommended this, and so many institutions have tried to address this issue and reduce the number of daily labs," said, Kevin Eaton, a third-year resident in internal medicine at Johns Hopkins School of Medicine and an author of the paper.
Eaton said that along with the rise in value-based care, there has been increased recognition of the trickle-down effect that inappropriately ordered lab tests can have on future healthcare costs.
"The [hospital] budget for laboratory tests is about 5 percent. It's not huge a budget, but almost 60 to 70 percent of the medical decision-making is based off laboratory test values. The point is that physicians weigh heavily on laboratory diagnostic tests to guide them in how they diagnose or treat a patient, or what other tests they end up ordering down the line," Eaton said. "These downstream effects are very important to consider."
Increasing physician input
At Cleveland Clinic, the test utilization oversight group was rebranded as the Enterprise Laboratory Stewardship Committee at the start of the year, and is co-chaired by Procop, who is a pathologist, and Anita Reddy, an intensivist, Procop said.
"We both bring different strengths to the table," said Procop. "I'm really liking the idea of a clinical champion with a pathology champion. They know what is going on at the bedside, and we know what is going on in the laboratory and know a lot of other testing. Working together has really moved it up a lot."
The new stewardship committee has extended Cleveland Clinic's previous test utilization efforts by focusing on more nuanced test ordering situations, according to Procop. The lab's first lab test utilization project in 2011 put in hard stops for tests that biologically don't change within 24 hours and should not be ordered more than once a day. There are more than 1,200 tests with same day hard stops.
The new initiative, implemented this year however, creates different rules for tests like complete blood count tests, which may need to be ordered more often in some cases than others.
The configuration of the electronic medical record system had a 'daily' order function that made it very easy to order repeat daily tests, according to Procop. Controlling overuse of these tests is important because over-phlebotomizing patients is unpleasant for patients and can lead to hospital-acquired anemia, he said.
"What we did was we gave them choices under the order function — of once every 48 hours, or daily for three days and then the order expires. The idea was that we really wanted people to think whether they need these tests, and if so, which model fits best for their patient," he said.
Implementing the project involved meetings with executive committees of the different hospitals within the Cleveland Clinic Health System. It also involved educating physicians about how to order these types of tests under the new system. To accommodate certain situations where physicians felt daily testing was necessary, the stewardship committee created overrides that allow physicians to order repeat tests for more than three days.
"We really tried to not take anything away from the physicians, but make it so they have to think longer before they order any of these draws," Procop said.
Decision support at point of ordering
Mayo Clinic's partnership with National Decision Support Company to create CareSelect Lab, a decision support tool, came out of an effort to make its data on test ordering more useful for clinicians at the moment they are placing orders.
"We recognized that if we really wanted to add to our effectiveness and if we really wanted to be prepared for a value-based world, we wanted a tool where we could use our knowledge at the point of order," Hanson said.
The tool aggregates Mayo Clinic's data with other industry data on lab test ordering, such as the American Board of Internal Medicine's Choosing Wisely recommendations and guidelines from other professional associations, according to Hanson.
Mayo Clinic grouped test ordering information into multiple categories or modules, including a frequency module, which includes rules that address the problem of repetitive test ordering; a category for tests that should only be ordered by specialty trained physicians; a module for tests that should be performed in an outpatient setting; a category about tests that are often confused with other test; and more, Hanson said.
NDSC, which has a similar decision support product for radiology, already had a middleware platform designed to integrate with electronic medical records. The lab test decision support product combines the test ordering guideline data assembled by Mayo Clinic with information from electronic medical records to issue alerts, such as informational pop-ups, or in some cases hard stops to guide test ordering decisions.
Mayo Clinic is currently in the process of implementing the Epic EMR system and plans to launch the CareSelect Lab tool within its own health system once the Epic implementation is completed.
Hanson, a hematopathologist, said he has seen guidelines-based approaches to test ordering deliver strong results in practice. Based on its own review, Mayo Clinic Rochester estimates it saves $1 million a year in costs just by using an algorithmic approach to determine testing that needs to be done on bone marrow specimen.
Meanwhile, Eaton, and his coauthors of the JAMA Internal Medicine study published last month, found that not only are there many hospitals experimenting with programs for better managing test utilization, but the success rates of their programs vary widely.
"We started with different studies that have been published at different institutions and looked at what their strategy was, whether it worked or didn't work, and whether it was sustainable or not. In looking there, there was a theme that emerged that there were several different categories you could put these initiatives into," Eaton said.
Eaton and colleagues found that the three main categories of test utilization programs included education, such as programs to educate physicians about the costs of labs or the dangers of inappropriate test ordering; an audit and feedback category that tracked the numbers of orders that physicians were placing and provided feedback to physicians of how their ordering patterns compared to their peers; and an electronic medical record category that involved recommendations, alerts, or hard stops to provide test ordering guidance to physicians through the electronic medical record system.
"There was a nuanced group of institutions that were putting together a couple of these. They were doing some education and they were doing some audit and feedback, or when they got feedback they were making changes to their electronic record system," Eaton said. "It seems the most effective programs, the ones that had the best and most sustainable outcomes, were the ones that used a combination of these strategies, whether a couple of them or all three of them together."