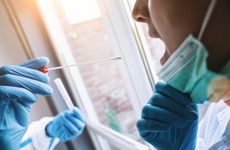 NEW YORK – Last week, the US Department of Health and Human Services (HHS), Department of the Treasury, and the Department of Labor issued a guidance on implementation on the Families First Coronavirus Response Act (FFCRA) that appears to limit insurance coverage of SARS-CoV-2 testing done for surveillance, as opposed to diagnostic, purposes.
The guidance could impact coverage of SARS-CoV-2 testing in settings like workplaces and schools and has implications for the sort of population-scale testing programs many have advocated to enable a safe reopening of the economy.
In their guidance, the departments said that Section 6001 of the FFCRA, which addresses the benefits related to SARS-CoV-2 testing and services that insurers must cover, "requires coverage of items and services only for diagnostic purposes" and that "testing conducted to screen for general workplace health and safety (such as employee "return to work" programs), for public health surveillance for SARS-CoV-2, or for any other purpose not primarily intended for individualized diagnosis or treatment of COVID-19 or another health condition is beyond the scope of section 6001 of the FFCRA."
By allowing payors to deny coverage for surveillance-focused SARS-CoV-2 testing, the guidance runs counter to calls by many public health scientists and policymakers to make wide and frequent testing a key component of the return to more normal levels of economic and social activity.
More narrowly, it undermines workplace and school testing programs currently offered by various labs and being put into place by employers and institutions around the country. Depending on how it is interpreted, the guidance could also limit surveillance testing of vulnerable populations like nursing home residents.
"As a public health professional, it's potentially devastating to our ability to test people before they return to work or monitor the infection in close populations like students," said Jeffrey Klausner, an epidemiologist at the University of California, Los Angeles, and acting medical director at Los Angeles-based infectious disease testing firm Curative. "It's completely at odds with the public health plans."
David Gee, a healthcare attorney and partner at law firm Davis Wright Tremaine, said that he began receiving questions from lab clients immediately following the issuance of the guidance asking what it would likely mean for coverage of their workplace and school SARS-CoV-2 testing programs.
"My gut is that the insurers are going to read the guidance very broadly" to limit their coverage of testing, he said.
Gee said that prior to the guidance, insurers had been generally amenable to covering SARS-CoV-2 testing, influenced, he suggested, by legislation like the FFCRA and the Coronavirus Aid, Relief, and Economic Security (CARES) Act.
"It would have been foolish not to pay," he said. "That seemed fairly straightforward – that everyone who was tested would have coverage in that regard."
"Lingering in the background," however, "was the question that is always there of when is it medically appropriate to order testing," Gee said.
This was perhaps not much of an issue until recently as testing capacity, especially on the molecular side, was too limited to expand testing beyond symptomatic patients or patients suspected of being infected due to exposure to people positive for the virus or other reasons. Guidelines from the US Centers for Disease Control and Prevention also until recently limited testing to a fairly small circle of patients seen as being at high risk of infection. In fact, with regard to school testing the CDC continues to advise against testing of all students and faculty prior to the start of school, asserting that "it is unknown if entry testing in [institutions of higher education] provides any additional reduction in person-to-person transmission of the virus beyond what would be expected with implementation of other infection preventive measures."
Lale White, CEO of revenue cycle management and lab informatics firm Xifin, said that insurers have steadily reduced SARS-CoV-2 test denials over the course of the pandemic. According to Xifin's data, in March around 22 percent of SARS-Cov-2 molecular testing claims were either improperly denied or paid at too low a rate or incorrectly had a co-insurance or deductible charge applied. By the time the guidance was issued, that number had fallen to around 8 percent.
"And 8 percent really isn't a bad number when you think of the hundreds of small regional payors that are involved," White said, adding that Xifin has been able to get about half of that 8 percent remedied without having to resort to appeals.
Reimbursement for serology testing has been more of a challenge, she said, noting that according to Xifin's data initially around 43 percent of serology tests were being improperly denied, a figure that has since declined to 25 percent. White said that the median reimbursement for antibody testing was $20, well below the reimbursement set by Centers for Medicare and Medicaid Services of around $42.
White noted that even before the recent guidance, some payors had indicated that they would not pay for workplace surveillance testing, which she said ran counter to the Coronavirus Aid, Relief, and Economic Security, or CARES, Act.
"[Under] the CARES Act, they aren't supposed to edit for medical necessity or anything like that," she said. "Before the guidance came out from the administration, they were just supposed to cover both the [molecular] diagnostic and the antibody, even without a physician order. When a patient wanted to get the testing, they were supposed to go ahead and cover it."
The shift away from this interpretation of the law could upend various screening and surveillance-style testing programs that lab companies have been putting in place.
San Francisco-based genomic testing company Color, for instance, has been ramping up SARS-CoV-2 testing for employers and colleges and universities. Asked about the guidance, Caroline Savello, the company's chief commercial officer, suggested it could undermine efforts by her firm and others to use testing to help control the pandemic.
"By now, we know that the majority of transmission and cases come from asymptomatic or pre-symptomatic carriers," she said in an email. "So, the question is whether payers are going to sit on the sidelines of the biggest health crisis of our generation. Refusing to cover broad testing would put payers in direct conflict with public health directives."
Quest Diagnostics and Laboratory Corporation of America both directed questions about the guidance to the American Clinical Laboratory Association (ACLA), which represents the industry.
"We feel strongly that Congress needs to step up and designate federal funding to fill these coverage gaps, specifically surveillance testing, occupational testing, employers and schools," said ACLA spokesperson Louise Serio. "I think we've seen pretty widespread agreement that testing is a really crucial component of our coordinated response to COVID-19 as a nation, and it's really important that Congress step up and fill those gaps so that patients aren't having barriers to access because of the coverage issue."
In the case of nursing homes specifically, Chris Morgan, chief medical officer of AMS Onsite, which specializing in infection prevention in long-term care facilities, said he believed that "due to the much higher morbidity and mortality rates of long-term care residents infected with COVID-19, frequent testing should continue to be reimbursed."
"The ultimate decision in ordering any test is at the discretion of the medical director who deems an order as necessary for diagnosis and treatment," he said.
HHS did not respond to questions about the guidance by press time, but during a Tuesday hearing, Brett Giroir, assistant secretary for health at HHS and until recently head of the federal government's SARS-CoV-2 testing effort, appeared to indicate that he believed surveillance and other testing of asymptomatic individuals should be covered.
In response to questioning from Senator Bob Casey about the HHS guidance, which Casey said appeared to run counter to congressional intent, Giroir said that while he could not speak for HHS, he could say "as the assistant secretary and as the testing person that we firmly believe and support the concept of no-cost testing. There should not be a disincentive in any single way to get the diagnostic test that you need, to get tested during screening or the serology test as Congress intended."
The gaps in testing coverage created by the guidance might be resolved in a number of ways. According to Serio, ACLA is in discussions with members of Congress "as to the roles of different payors, including private insurance and the federal government, in guaranteeing access to COVID testing."
UCLA's Klausner, meanwhile, suggested that states take the lead and require that insurers cover asymptomatic testing in the absence of a federal mandate.
"I think that is where it needs to happen. Major states like New York, Texas, California, and Florida, which have a large burden of infection and are really going to depend on monitoring and surveillance and case finding to control the infection. These governors need to address it at the state level," he said.
In the absence of new funding or requirements that surveillance-style SARS-CoV-2 be covered, employers and other organizations looking to do broad testing of asymptomatic people might be able to tweak their testing programs to pass muster with insurers.
White cited the example of Xifin's own back-to-work testing program, which the company's insurer initially refused to cover.
Xifin changed the program so that instead of being mandatory for all employees it was voluntary and the tests for the program were ordered by a physician. Following those changes, the payor agreed to cover the tests.
White also said that it wouldn't necessarily be easy for payors to distinguish return-to-work testing from diagnostic testing, which could allow some companies to slip under the radar, though she noted that firms who did their testing en masse through a single provider would be more likely to draw their insurers' attention.
Entities who are able to afford testing may choose to pay for it themselves, White said, noting that Xifin's data indicates that a large percentage of workplace testing programs have been paid for directly by employers.
She added, though, that "smaller entities, restaurants and so forth, nursing homes, are not going to be in a position to pay for this testing on a regular basis like some of the more profitable businesses are able to."
Michael Deichen, executive director of student health services at the University of Central Florida, said that the school is looking at several options for covering the cost of testing its students in the event that insurance won't pay for the tests. Thus far the school has been testing its student-athletes as they return to campus and plans to test the 8,000 students that will be occupying student housing starting in the fall.
"With the HHS decision, it looks like there will  be no funding via insurance for that effort," he said. "Quite honestly, it may come down to the university having to find the money to do that testing."
The school athletic department is paying directly for testing of athletes, which number around 600, but Deichen said the school may require its other students to pay for testing in much the same way it requires them to have received various vaccinations in order to attend school. He said UCF has worked out a price with a vendor of $50 per test for SARS-CoV-2 molecular testing.
It's also possible that UCF will decide to cover the cost of testing, Deichen said, though he noted that this would be substantial, running around $400,000 to test all 8,000 students upon their return to campus.
"These are the decisions that are being made," he said, adding that he and his counterparts at colleges and universities around the country are following the HHS moves closely.
"There's some hope that because of the surge [in cases] that is occurring, [HHS] may take a step back with the decision as it might apply to students or even employees," he said. "But if not, then we have those two other paths that we are going to take."