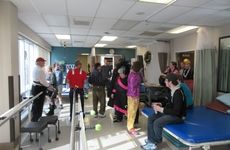 NEW YORK (360Dx) – A group of medical researchers concluded that implementing some point-of-care testing in the emergency room reduced the overall time to receive a test result by 20 minutes and contributed to improving the overall quality of care.
Further, the researchers concluded that adopting point-of-care testing also reduced the overall length of stay, in turn trimming healthcare costs and freeing valuable resources for critical activities.
However, some of the emergency department staff expressed concerns about the overall accuracy of point-of-care versus laboratory testing for the same conditions, and the researchers conducting the analysis agreed that other studies could provide different results.
Their study, nonetheless, provides a window into the impact and utility of point-of-care testing for troponin and chemistry testing in emergency departments. The researchers, who published the results of their analysis recently in the journal Academic Emergency Medicine, said that they studied activities from 2012 to 2016 related to the adoption and use of Abbott's point-of-care troponin and chemistry tests at Touro Infirmary, a 165-year-old hospital in New Orleans, Louisiana, that has about 34,000 emergency department visits annually.
In the study, the researchers found that central laboratory testing dropped 50 percent when it was replaced by the POC cardiac troponin and clinical chemistry tests.
The overall objective was to examine how implementing emergency department point-of-care testing impacted the amount of time it took to obtain a test result; how implementation impacted the length of stay for patients in the emergency department; whether point-of-care or central laboratory tests were being used; how emergency department staff reported using POC testing; and what they perceived as benefits and challenges of using POC tests.
Point-of-care tests administered outside of a central laboratory are portable and let healthcare providers quickly obtain and act upon test results. By using them, clinicians hope to reduce time to diagnosis and initiation of treatment. Several studies have demonstrated that POC testing "is considerably faster than the central laboratory," but how it impacts specific care varies based on clinical context, the researchers said.
One of the primary contributors to improving quality of care at Touro Infirmary was the capability to quickly perform testing on patients who were critically ill, experiencing life-threatening events such as heart attacks or septic shock, Jesse Pines, a study coauthor and director of the center for healthcare innovation and policy research at George Washington University, said in an interview, adding, that POC testing enabled "quickly looking at lab abnormalities and risk, [and] stratifying patients for early decision-making" about further treatment.
"When you run a point-of-care test and the result is normal, you may be able to quickly release the patient, and that translates into better quality care," he added.
The study looked at 47,399 emergency department visits, and the researchers analyzed 24,705 visits prior to the adoption of Abbott's i-Stat cardiac troponin and i-Stat Chem8+ test, which measures sodium, potassium, glucose, creatinine, hematocrit, and hemoglobin among other clinical chemistry parameters. They also studied 22,694 visits after the POC tests had been implemented.
Overall, they found that testing inched up from 61 percent to 62 percent after the clinicians implemented point-of-care testing, a clinically insignificant increase, Pines said. More importantly, within this time and within this overall volume of testing, use of central lab troponin and chemistry testing declined by more than 50 percent in favor of POC testing.
Matthew Bernard, medical director of Touro Infirmary Emergency Department and a study coauthor, said in an interview that the level of adoption of point-of-care testing at the facility is probably high relative to other emergency departments because of the critical nature of the medical conditions encountered by staff and the type of testing ordered. "We tend to see an older population because of surrounding nursing homes," he said. "Therefore, we order a lot of CT scans versus ERs where I've worked previously. We do CT scans on one of every five patients."
The need to order CT scans often triggers a need to order point-of-care tests that supply renal information, he said. Further, a relatively large number of patients come to the emergency room at Touro with chest pain and suspected cardiac disease, a condition for which point-of-care testing is particularly helpful, as it allows clinicians to speed decision-making at a critical time for the patient, Bernard said. Dialysis patients also come to the emergency department and need to have testing for levels of potassium, or patients suspected of anemia need to have hematocrit and hemoglobin tests, all of which are particularly suitable for point-of-care testing, he said.
Among the most important benefits of POC testing that he has seen is that it reduces the hospital length of stay, "which translates into more bed space, nursing and doctor's time," he said, "and the whole ER starts to function more efficiently."
Even prior to the implementation of the POC troponin and chemistry tests, though, the time-to-results from central laboratory versions of those tests had begun to steadily decline due to lab efficiencies, Pines acknowledged, and the length of time that patients were staying in the emergency department had also begun to decline.
To analyze results, the researchers used a propensity-weighted interrupted time-series analysis (ITSA), which is especially useful when it's implemented to reveal changes that occur over time prior to an event — in this case the implementation of point-of-care testing — and after that event.
As part of the study, the researchers conducted interviews with emergency room staff for their overall impressions of POC test adoption. In all, 64 percent of the people interviewed cited improvement in quality of care and 44 percent cited reductions in time to result as the most important benefits. However, 32 percent of the participants said that they were also concerned about point-of-care testing accuracy, and 29 percent were concerned about technical barriers to their use.
Bernard acknowledged that in some circumstances the accuracy levels of the point-of-care tests were not as high as for laboratory tests, but emergency department clinicians built that expectation into their clinical analyses. Further, he said, because point-of-care testing was relatively new to the doctors on staff they were "appropriately suspicious" of new technology until they achieved a proper level of comfort with it.
For some patients, particularly when a precise result is important, there are limitations to POC testing, he said. As an example, he cited the occasional inability of POC testing to help clinicians distinguish hemolysis and know whether elevated potassium results represent a true or false positive test. This is an important limitation of POCT that should be considered when interpreting results and selecting patients for testing, the researchers said.
They also cautioned that there are some limitations to their study. It is based on a single experience at a community emergency department and therefore doesn't apply universally to all emergency rooms. Further, their study analyzed a limited range of point-of-care tests, the researchers said.