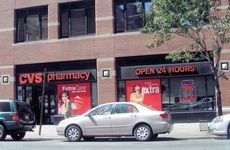 NEW YORK (360Dx) – CVS Health's plans to create "community-based health hubs" following its acquisition of Aetna has the potential to push more basic lab services away from traditional lab providers, industry observers say.
The CVS store of the future will offer a combination of products and healthcare services, CVS Health President and CEO Larry Merlo said during a conference call following the merger announcement earlier this month, and the company plans to experiment with multiple new healthcare service offerings, including increased lab services.
"Whether it's the role of the pharmacist, the role of the nurse practitioner at a MinuteClinic, the expansion of services at MinuteClinics that could include blood draws, the role that a nutritionist could play at CVS, or perhaps the role of durable medical equipment, those are all things that in addition to what exists today we will be piloting," Merlo said, during the question and answer portion of a conference call about the acquisition on Dec. 4.
CVS, which has 9,700 retail locations and more than 1,100 walk-in MinuteClinics, offers some basic lab services already, such as cholesterol screening and hepatitis C screening available at certain locations. Patrick Allen, a managing director at consultancy Kaufman Hall specializing in healthcare mergers and acquisitions, expects those offerings will probably expand.
"I think they are going to keep pushing the envelope a little bit to see what they can do and where they can play, to take people not necessarily away from their doctors, but you know how the new generation of healthcare consumers is – they want things close and they want them convenient," Allen said.
Allen expects a consolidated CVS and Aetna would be able to share health trend data that could identify ways CVS's extensive presence could be used to support Aetna's member base.
"It's pretty compelling to think they have the footprint and they have the infrastructure. I think they are going to look and say we have all these locations, Aetna, where are your pain points with your members? Can we offer some of those services?" Allen said.
The move of some basic lab services to retail locations would be a natural progression for the company, according to Lale White, executive chairman and CEO of health information technology firm Xifin, who noted that the two largest lab companies are already offering some lab services in partnership with retail chains. Quest Diagnostics offers diagnostic testing in some Safeway and Walmart stores, and LabCorp offers lab testing in about a half-dozen Walgreens stores in Colorado and North Carolina.
"I think there will be some shift of lab testing for the less esoteric and less complex tests to these types of locations, but I think that's an anticipated trend, to a large extent, by the industry," White said. "I think the lab industry will continue its growth by doing some of the more complex testing."
White noted that less complex lab tests received the deepest cuts to their 2018 Medicare prices under the Protecting Access to Medicare Act, and using retail locations can be a lower-cost way to deliver those tests.
"If you think about this trend for a little bit, the lower complexity tests are more of a commodity market, and they are more of the tests that are under price compression, especially with PAMA coming down the pike," White said. "These are tests that have been cut the most, so actually shifting them closer to the consumer, because they are less complex and can be done at a lower cost, actually makes sense for labs. Because of some of the price compression, labs will now be more interested in expanding their menu of complex tests."
Challenges ahead
For the lab industry, transitioning to more complex tests, even if they are more profitable, might not be simple, Allen said.
"Those bread and butter tests, while they may not be high margin, they kind of feed the beast a little bit," he said. "If those go by the wayside, what are you going to look like and feel like and where is your value proposition? I think it's going to force labs to think where they are going to play, and maybe where they might not want to play."
David Nichols, president and founder of the Nichols Management Group, noted that efforts to expand lab services through retail channels may pose challenges for CVS and Aetna as well.
"For 25 years the large reference laboratories have worked with pharmacies and drug stores because it always seemed natural that they could be good data and patient access points. That never really came to fruition," Nichols said. "The industry is littered with failures in direct-to-consumer lab testing."
Some examples of DTC lab testing efforts that haven't survived include a partnership between LabCorp and Duane Reade in New York that began in 2009 and ended quietly, Nichols said, and the Theranos partnership with Walgreens that unraveled after the US Centers for Medicare & Medicaid Services uncovered numerous deficiencies and misrepresentations in Theranos's tests and practices.
Nichols characterizes the prospect of a company that combines CVS and Aetna as a "rudimentary building block" to an integrated health system. He suggested the company would need to include a hospital system, whether through an acquisition or an exclusive relationship, to really execute the promise of driving down healthcare costs with retail locations. Without tight integration with hospitals, information gathered from patients at retail labs may not get back to the doctors who serve them.
"The connectivity is a real challenge here, if you ask me. The hospitals have to be integrated into this somehow to really get the value out of a CVS-Aetna consolidation. That's the missing piece of the puzzle," Nichols said.
Finding efficiencies
CVS's Merlo has described a model where the company's retail locations might help reduce healthcare costs by providing an easy way for patients to access services that they need, but sometimes avoid. Noting that patients who suffer from chronic disease account for 80 percent of healthcare costs, Merlo suggested that CVS could help patients better monitor and treat chronic disease between doctor visits.
"Because we are in the community, we are seeing those patients, [and] we are becoming part of their daily lives and routine, we can get them on that care plan to help them achieve their best health and at the same time reduce the cost of care that we are incurring today," he said during the conference call.
While historically there have been connectivity issues between clinics and doctor's offices, technological advances may now be able to correct those issues, according to Allen.
"That has always been one of the knocks on some of the convenience care clinics -- that you are going to have to go to your doctor and redo it all anyway if you really want it on your record. I think that argument maybe was a little more valid five, seven, ten years ago. Nowadays, the interfaces even between disparate EMRs are reasonable," Allen said.
A combined CVS and Aetna could encourage doctors in network with Aetna to use an electronic medical record system that is compatible with the CVS clinics, he added.
Meanwhile, Xifin's White noted that there are some inefficiencies in lab pricing that CVS and Aetna might jointly be well-positioned to address.
"For lab testing, the insurance industry doesn't have a way of providing in real time what the out-of-pocket is going to be. For example, in pharma, when you fill a prescription, that claim is immediately adjudicated right then and there, and the patient knows exactly what they have to pay immediately. We don't have that in the lab industry," White said.
This issue is that there are different contracts for every single payer, and although there are fee schedules, labs have to delve down into payor contracts and then see what kind of coverage patients have, and what their copays and out-of-pocket costs are, she explained. She expects Aetna, working with CVS, would be capable of increasing price transparency for tests to make them easier to offer in retail locations.
Although Theranos was the most notable failure of attempts to conduct DTC lab testing, Allen believes it was also a wake-up call, forcing labs to consider how the industry would look if Theranos hadn't had internal problems.
"The company certainly had its issues, but they also had upwards of 150, 160 patents around lab services and micro-draws and things like that. I think it woke up the LabCorps and Quests, and I think it woke up the hospitals, too," Allen said. "Part of the resurgence and interest in lab partnerships was driven by that thought about disruption."
Nichols also acknowledges that while DTC lab testing does not have a very successful track record, it's a model that lab companies keep returning to.
"They don't give up, because someone will crack the code at some point. I believe it's too compelling," he said.
While a consolidated CVS and Aetna may have the power and scale to disrupt how lab services are offered, White suggests there may be even more potential disruption on the horizon.
"It doesn't end with companies like CVS or the payors for that matter. We are seeing big health divisions being formed at Apple, Google," she said. "The primary thought processes for any of these large technology firms is consumer convenience and technology. I think this is just the beginning of what is going to be a fairly significant transformation of the way we deliver healthcare."