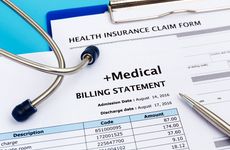 NEW YORK – In the first year following implementation of federal surprise billing legislation, the Centers for Medicare and Medicaid Services (CMS) has been overwhelmed by arbitration requests, making it difficult for providers, including clinical laboratories, to quickly challenge and resolve payment disputes.
According to some lab companies and organizations, these issues have exacerbated what they said are downward pressures on test reimbursement produced by the legislation.
The No Surprises Act was written to address surprise billing practices in which patients receive out-of-network treatment without their knowledge and are then required to pay the oftentimes large portions of the bill not covered by their insurance.
Passed in 2020 and put into effect at the beginning of 2022, the law prevents out-of-network providers from balance billing patients for emergency and non-emergency services provided at an in-network provider unless the patient voluntarily chooses to use an out-of-network provider. (With balance billing, a provider sends any portion of the bill unpaid by the payor directly to the patient.) Instead, the patient's insurer and the out-of-network provider must negotiate between themselves a fee for the service. If they are unable to come to an agreement, they can take the contested bill to an independent dispute resolution (IDR) process.
Over the last year, however, that IDR process has seen vastly more demand than CMS initially anticipated with demand accelerating as the year went on. According to a report on the IDR process issued by CMS last fall, in the second calendar quarter of 2022 (April 15 to June 30), parties initiated 18,163 disputes. In the third calendar quarter (July 1 to Sept. 30) parties initiated 71,915 disputes. The total 90,078 disputes initiated during the two quarters was, CMS noted, "significantly more than the number of disputes [CMS] initially estimated would be submitted for a full year."
In response to this unanticipated level of demand, CMS announced at the end of 2022 that it had raised the non-refundable administrative fee for filing a dispute from $50 per case to $350. In an email to 360Dx, a CMS spokesperson said the fee hike was deemed necessary to cover the costs of the program, noting that the law requires it be set at a level to fund the cost of administering the process for disputing parties.
For labs, though, the fee hike could impact their willingness to use the IDR process, particularly given that many lab claims are for relatively small amounts of money compared to other provider areas, said Dyana Williams, a client manager at lab consulting firm Lighthouse Lab Services.
"For a pathologist or a laboratory looking at that increased cost, $350, some services in a laboratory don't reach that level," she said.
"There's no question that raising the fee from $50 to $350 will have a huge impact on laboratories, and in particular the smaller laboratories," said Jonathan Myles, chair of the College of American Pathologists' council on government and professional affairs. "The claims in pathology are often quite small. So when you increase the fee by sixfold, it certainly makes it harder for a laboratory to bring forth claims. There's no question … you will decrease the chance of a laboratory bringing forth a case for arbitration."
The CMS report indicates that many of the lab tests that have been disputed under the law are relatively inexpensive. Of the top 50 CPT codes most frequently submitted for dispute, 11 are lab tests, and only one — a multiplexed molecular respiratory panel — has a payment rate under the 2023 Medicare Clinical Laboratory Fee Schedule ($416.78) that exceeds the new $350 dispute filing fee. In fact, none of the remaining 10 codes have CLFS reimbursement levels exceeding $50, with the majority of those codes reimbursed at under $10.
Providers can batch multiple claims in a single IDR filing; however there are restrictions governing what claims can be batched. For instance, batched claims must be filed within the same 30-business-day period and be for the same service billed to the same payor.
That lab tests comprise 11 of the 50 most disputed CPT codes points to the law's impact on the lab industry. The No Surprises Act was in large part inspired by surprise bills that patients had received for emergency services and was drafted with this setting foremost in mind. Emergency services have accounted for the majority of disputes — 66 percent, according to the CMS report — but lab testing, which by and large received little attention in discussions of the bill, has accounted for 5 percent of all disputes, more than any provider areas other than emergency services, radiology (9 percent), anesthesia (7 percent), and surgery (also 5 percent).
In the run-up to the bill's passage, labs and other providers expressed concerns that it would give too much power to payors in negotiations over reimbursement given that one of the major sources of leverage a provider has with insurers is the ability to remain out of network and balance bill the insurer's members at higher, out-of-network prices. Since the law went into effect, laboratory groups and revenue cycle management firms have reported that insurers are, in fact, using it to lower reimbursement to out-of-network labs.
The raised filing fee and, perhaps as important, delays in processing disputes will likely make many labs reluctant to challenge these lower payments, said Ann Lambrix, VP of revenue cycle management solutions at Lighthouse.
"We are seeing where clients are saying, forget it, it's not even worth it," she said. "We haven't had a ton of clients go through this process, but [for] the ones [that have], it wasn't like an overnight process where, yay, it worked, we're going to continue doing it. It was the opposite. It's not working. It's frustrating. It's time-consuming."
Lambrix said that for many of its clients, Lighthouse was recommending they not rely on the IDR process but instead work to negotiate an in-network contract with the insurers who are using the bill to push down reimbursement. She noted, though, that labs' weakened negotiating position means they are unlikely to do as well as they would have before the No Surprises Act.
"I'm guaranteeing you're not getting what you used to be able to get," she said. "It doesn't mean you can't get a contract. It doesn't mean you can't get a reasonable rate. It is just different than it was before. Now you may have to accept 100 percent of Medicare when before you may have been able to get 400 percent."
Loren Adler, associate director of the USC-Brookings Schaeffer Initiative for Health Policy, said that the bill was in part intended to drive down rates from high-cost providers.
"The law was expected to save money because it would allow insurance companies to pay somewhat less to high-cost, high-priced providers," he said. "So it's unsurprising that some of that would be happening."
Adler said he expects the efficiency of the IDR process to improve over time. He noted, for instance, that the high percentage of claims that have been deemed ineligible suggests that providers are still learning how to navigate the system. Of the 22,194 disputes that had closed as of the release of the CMS report, 15,485, or 70 percent, were found ineligible.
According to the report, the primary cause of processing delays "has been the complexity of determining whether disputes are eligible for the federal IDR process," a decision that hinges on factors including "determining state versus federal jurisdiction, correct batching and bundling, compliance with applicable time periods, and completion of open negotiations."
The CMS spokesperson said that the time and expense involved in conducting these eligibility reviews had necessitated the administrative fee hike. The spokesperson indicated that the fee could be lowered once again if fewer eligibility reviews were required in the future, noting that as the volume of disputes and the effort required to make eligibility determinations changes, CMS will consider adjustments to the amount of the administrative fee in future years.
Adler said that in the case of determining state versus federal jurisdiction, payors typically have the information needed to make that determination but may not be communicating it effectively to providers, who may then file ineligible disputes.
"It's pretty wild that something like 70 percent of the claims brought so far have been ineligible," he said. "Presumably that will get better over time. There's always going to be some learning curve here."
Matthew Roberts, VP of state healthcare assessment at IPRO, one of the entities contracted by CMS to handle IDR claims, said that while CMS should in theory be weeding out ineligible cases before sending them on to his company for evaluation, IPRO is rejecting more than half the cases it receives as ineligible.
He said, though, that CMS processes for rejecting ineligible cases have improved since the IDR program launched last spring.
Roberts said that both CMS and IDR claims handlers like IPRO had been unprepared for the influx of disputes and that IPRO actually stopped accepting IDR disputes for a period of time last year in order to expand its operations to handle the greater than expected volumes.
"Based on the early projections we thought maybe we could absorb [the IDR work] with our existing team, but we quickly found out that we were going to have to build out nurses and coding specialists and a legal team to review all the cases," he said, noting that the system has seen roughly fivefold the cases originally projected.
In addition to the volume of disputes, Roberts said improperly submitted paperwork from payors and providers has also slowed the process.
"The actual level of effort and time for each case isn't too terrible," he said. "Where a lot of time gets wasted is in follow-up with party A or party B because there is a key piece of documentation missing. If both parties had their paperwork squared away at the outset, it would really help speed up the process. And to that end, I think over time, as people get more familiar with what's expected, that will start to smooth out."