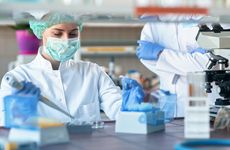 NEW YORK – Over the last year, SARS-CoV-2 molecular testing has proved a boon for clinical labs, boosting their bottom lines even as routine testing volumes dropped during the pandemic.
Recent financial reports from large national labs, however, show sharp declines in SARS-CoV-2 testing since the start of the year, indicating that this business is on the wane.
During Labcorp's Q1 2021 earnings call this week, the company said that while it had averaged 112,000 molecular COVID-19 tests per day throughout the quarter, by the end of the quarter it was averaging around 80,000 tests per day. Adam Schechter, Labcorp's president and CEO, said the company expected to see continued declines in SARS-CoV-2 molecular testing throughout the rest of the year, and the company projected in its updated full year 2021 guidance a decline in molecular testing revenues of between 35 percent and 50 percent.
Reporting its Q1 2021 earnings last week, Quest Diagnostics noted a similar decline. Quest CFO Mark Guinan said on a call following the release of the results that its SARS-CoV-2 testing volumes declined during the quarter more quickly than the company had anticipated, though he added that volumes stabilized toward the end of the quarter. Quest was averaging around 73,000 molecular SARS-CoV-2 tests per day at the end of Q1 and projected that it would average around 50,000 per day throughout Q2.
Guinan said the company expected to see continued decline in SARS-CoV-2 testing demand in the second half of the year, though Quest did not provide guidance on what kind of SARS-CoV-2 molecular volumes it anticipated in Q2.
Opko Health subsidiary BioReference Laboratories also reported a decline in SARS-CoV-2 molecular volumes, with the lab running roughly 4.3 million tests in Q1 2021 compared to 4.7 million in Q4 2020. The company is averaging between 40,000 and 50,000 molecular tests per day, down from between 50,000 and 60,000 molecular tests per day in Q4 2020.
The decline in SARS-CoV-2 molecular testing has been driven by the rollout of vaccines and the decline in cases from the winter peak. Lab-based molecular testing is also facing more competition from rapid point-of-care testing and home testing, which appears to be seeing an increase in demand even as demand for molecular testing declines.
For instance, on its recent Q1 earnings call, Danaher reported that its subsidiary Cepheid's core revenues were up more than 90 percent due to what CEO Rainer Blair called "unprecedented demand" for rapid POC testing for COVID-19.
Steve Rusckowski, Quest's chairman and CEO, noted during the company's Q1 earnings call that it had seen a pickup in the use of antigen and POC testing for COVID-19 across the industry in the second half of 2020 and said that the company expected that trend to continue in 2021.
"If you look at PCR testing throughout the United States and you look at the estimates that are coming from the antigen and point-of-care providers, you see that the actual level of testing is almost at the same level as we were [last] summer, but in different forms," he said. "There is a transition from PCR exclusively … to more capabilities around point-of-care and antigen testing."
Rusckowski said Quest was working with clients who were using antigen testing to inform them about where molecular testing could be useful — for instance in cases where reflex testing is needed.
Antigen and POC testing could be hampered somewhat by the higher cost to consumers that is typical of these tests, however, compared to lab-based molecular testing.
BioReference, meanwhile, is working to make POC rapid testing a larger part of its COVID-19 strategy. On the company's Q1 call, the executive chairman, Jon Cohen, said it has performed 270,000 COVID POC tests to date and is working to rapidly expand its POC testing capacity.
"Point-of-care devices are expected to play a larger role in COVID testing," he said. "We have validated multiple point-of-care platforms and have developed proprietary software to deliver the report result in a timely fashion in order to provide customized solutions for many different industries."
POC assays will likely play a key role in the shift toward more screening applications for SARS-CoV-2 testing. This is an area where BioReference has been particularly active, having established relationships to do surveillance testing for sports leagues including the National Football League, the National Basketball Association, the WNBA, Major League Soccer, the National Hockey League, and Major League Baseball.
Rusckowski similarly noted on Quest's Q1 call that the company expected testing patterns would shift with an increasing portion of demand coming from what he called "return-to-life activities," referring to testing done by schools, businesses, and other organizations to enable a safe return to operations.
School testing in particular is an area where the ultimate level of demand could play a role in determining the trajectory of SARS-CoV-2 molecular testing, Labcorp's Schechter said, though he added that this was difficult to predict.
"It's really going to come down to how many schools want to implement screening," he said. "As more and more people are vaccinated and more and more parts of the country are opening up, it's hard to tell, to be honest, how many schools are going to say we are going to want to screen on a fairly often basis all of our students."
That, Schechter said, explained the wide range of Labcorp's guidance for full-year 2021 COVID-19 testing revenues, which the company projected to decline between 35 percent and 50 percent.
"If the schools go bigger and actually do a lot of testing, then we could go the other way in that range," he said. "But right now we're not expecting that to be a very significant amount."