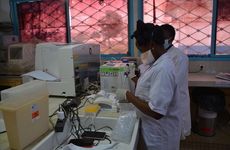 NEW YORK – Discussions of the challenges facing clinical laboratories in resource-constrained countries often revolve around questions of equipment or instrumentation, but dissemination and implementation of quality guidelines and best practices are also a pressing matter in many settings.
Aiming to address this issue, the American Association for Clinical Chemistry launched in 2010 its Global Lab Quality Initiative, and has since provided through the GLQI workshops around the world, instructions to local labs various approaches to quality control and method verification. More recently, the organization has expanded beyond its initial concentration on the Caribbean and South America to various Asian countries and is in the process of planning its first workshops in Africa.
The GLQI focuses on the regulatory requirements and quality processes ensuring effective use of tests and test result reporting accuracy, said Octavia Peck Palmer, director of the division of clinical chemistry in the section of laboratory medicine at the University of Pittsburgh Medical Center.
"It's a sustainable partnership between GLQI and the clinical laboratories, by training laboratory staff, reviewing quality control processes, instrument performance, and downstream interpretation of results." she said. Assessments include examining workflows to guarantee that if patients are tested in different labs, the test results are comparable, and evaluating gaps that may exist in the diseases of the populations served by a clinical lab, as well as gaps in the quality assurance provided by the lab.
"How does the clinical laboratory communicate with healthcare providers? How does the clinical laboratory report test results and if it provides interpretation for the test results?" Peck Palmer said.
The Africa Working Group (AWG) of AACC's Global Lab Quality Initiative is meeting next month to plan laboratory quality workshops in Africa, said Olajumoke Oladipo, a pathologist at Penn State Health and chair of the AWG. The workshop will likely be in Addis Ababa, Ethiopia, which will be the organization's first in sub-Saharan Africa, Oladipo said, noting that efforts to host workshops there several years ago were delayed due to the COVID-19 pandemic and the ongoing conflict in Ethiopia's Tigray region.
The organization is also looking to hold workshops in other sub-Saharan African countries, Oladipo said, adding that these would be planned and hosted in collaboration with the African Federation of Clinical Chemistry and national clinical chemistry associations and universities. Events are typically held with a local partner, she said, noting that this helps the GLQI better understand the needs and interests of the participants.
Developing this kind of understanding is key to the GLQI's efforts, Peck Palmer said.
"Reciprocal learning occurs with each GLQI collaboration," she said. "GLQI has built partnerships by engaging leaders, government, and national societies who make decisions in areas focused on healthcare, clinical test requirements, and supply chain processes to understand the resources the clinical laboratories need to meet their quality goals."
Oladipo said that in the countries she works with, quality issues in the labs, method validations, and point-of-care testing are areas of expanding interest.
"Point-of-care testing is one that is gaining ground in many countries, because you don't need the big fancy equipment in order to get what you want," she said. Point-of-care testing is attractive not only because it lets labs access testing without acquiring expensive equipment, but also because it avoids the difficulties involved with maintenance.
Oladipo, who was raised and trained in Nigeria, noted that while the labs she worked in there had sophisticated equipment from vendors like Roche and Danaher's Beckman Coulter, maintenance and repairs could be challenging.
For example, there were only limited numbers of instrument engineers serving the whole of Nigeria. "So, when you have equipment breakdowns, it is hard to get it fixed on time," she noted.
Depending on the country, getting reagents can also be a challenge, Oladipo said. This extends to materials used for instrument calibration and assay quality control, which she said were made a key subject for the GLQI's workshops methods.
"We concentrate a lot on method validations, how to bring new methods into the lab — meaning validation and verification and also on quality control and quality improvement practices," she said. "Those are areas that we see not just a knowledge gap but also challenges in [getting] the resources for doing it properly." 
"We hope to be able to encourage labs to use what they have in hand to get [the results] you want to get," she added. "If four or five labs in an area come together, they can decide, OK, we're going to check each other when it comes to quality and things like that. That is the kind of practical way we hope to let people know they can go about maintaining quality and be accountable to each other rather than waiting on, for instance, importing QC materials which may be delayed or may never be delivered." 
The move of businesses and educational institutions to remote operations over the course of the COVID-19 pandemic suggests that the GLQI might do likewise with some of its workshops. Oladipo said, though, that demand remains strong for in-person training. She said the organization offered to set up a virtual workshop for labs in Ethiopia but received feedback that was strongly in favor of an onsite program.
"When you visit a lab physically, you are able to make more of an impact because you can see what is on the ground," she said. "It's more of a two-way conversation."
Oladipo noted that the capabilities and sophistication of labs varies widely within countries. "For instance," she said, "in Nigeria you have labs in urban centers that are ISO 15189 certified, and then you have smaller labs in same areas that can only do very minimal assays that may not be standardized."
In either case, the goal is to "get the techs that are at the bench to know what they should do to provide quality results," she said.