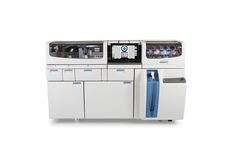 This article has been updated to clarify that while the instrument allows operators to replace consumables while the instrument is running, that does not include LC columns as originally reported.
NEW YORK (360Dx) – Presenting today at the EuroMedLab annual meeting in Athens, Greece, Thermo Fisher Scientific introduced its new mass spectrometry-based clinical analyzer, marking a potentially significant development in mass spec's evolution as a clinical technology.
The company is positioning the device, called the Thermo Scientific Cascadion SM Clinical Analyzer, as a tool that combines the automation, robustness, and ease of use of a conventional immunoassay-based clinical analyzer with the improved analytical performance of an LC-MS/MS system.
Intended for analysis of small molecules, the instrument will allow clinical labs to run mass spec-based assays without employing staff specially trained on mass spec, the company said. Robert DeWitte, vice president of research and development and vice president of clinical mass spectrometry at Thermo Fisher, said the company believes it will find a market for the device both among smaller hospital labs, which would like to use mass spec but have avoided it due to the expertise traditionally required, and among larger clinical reference labs that have used mass spec for years but would like a more streamlined, turnkey option.
While Thermo Fisher introduced the device this week, it does not plan to launch until next year after receiving regulatory approval. DeWitte said the company anticipates receiving CE-IVD marking in 2018, which will allow it to sell the device in the EU. He said that it expects US Food and Drug Administration 510(k) clearance will come sometime after that.
The company is currently developing assays for use on the platform for testing Vitamin D, testosterone, and immunosuppressant drug monitoring. In addition to these planned initial releases, it has targeted for future assay development monitoring of therapeutics, testing for drugs of abuse, and various endocrinology assays.
Mass spec offers greater sensitivity and specificity than immunoassays, and for molecules like Vitamin D and certain hormones where antibody-based tests can have trouble distinguishing between closely related forms, it could enable more accurate testing. Given this potential advantage, researchers and clinicians have for years explored use of mass spec for these sorts of assays.
However, mass spec is significantly more complicated than conventional immunoassays, which has meant that, in practice, such assays have remained confined to large clinical reference labs and esoteric testing businesses with the resources and trained personnel required to develop and run these workflows.
A number of mass spec vendors have in recent years moved towards developing more streamlined systems and workflows aimed at the clinical market. For instance, earlier this year, Waters received the CE Mark for its MassTrak Vitamin D test, which uses the company's Acquity UPLC I-Class liquid chromatography system combined with its Xevo TQD IVD mass spec and MassTrak Vitamin D Kit and MassLynx (IVD) software to measure Vitamin D in patient plasma and serum. 
And last month, Sciex received de novo US Food and Drug Administration clearance for its mass spec-based Vitamin D assay kit, which will run on its Sciex Topaz System, an integrated LC-MS platform running the company's ClearCore MD clinical software.
Thermo Fisher's Cascadion release appears to take clinical mass spec a step further, providing a fully closed, turnkey system analogous to the conventional immunoassay-based analyzers commonly used in clinical labs.
The system allows operators to go from sample to results with essentially no manual interventions, DeWitte said, noting that users are not meant to have any direct interaction with the system's chromatography or mass spectrometry components. The instrument's touchscreen interface is modeled after that of conventional clinical analyzers, he said, providing, for instance, an inventory of reagents along with alerts and instructions for replacing them when they are running low as well as tools for analysis of results and monitoring things like controls, calibration curves, and instrument performance.
The instrument also allows operators to replace consumables while it is running, he said, noting that it uses a "quick-connect cartridge" that allows users to replace columns by snapping them in and out of place.
DeWitte added that, unlike many mass spec workflows, the system is designed not for batch assays but for running samples one at a time as is done with a conventional analyzer.
"So, automated sample prep, no manual interventions, primary samples go in in any particular sequence [the operator wants] as they arrive," he said.
DeWitte identified two main groups of customers for the new device — labs who want to implement mass spec but haven't yet, and labs that are already using mass spec but would like a more streamlined option.
"For the labs who know they should have mass spec and haven't taken the plunge yet, this will help them get there," he said. "For the labs that have already LC-MS, this is the next step for them, where they can really get a lot of operational efficiency from the platform."
Proponents of clinical mass spec have cited a number of potential advantages to the technology compared to immunoassays including the possibility of lower costs, higher throughput, and more accurate results. DeWitte said that initially, at least, Thermo Fisher believes improved results will be the main draw of the Cascadion platform.
With regard to the potential cost of the assays compared to existing immunoassays, he said it was "a little premature" to offer estimates. He said the same for questions of throughput, noting that this "gets into the area of performance claims that we really can't make at this time."
Last week, prior to Thermo Fisher's introduction of the system, Alan Rockwood, scientific director, mass spectrometry at ARUP Laboratories, speculated on how factors of cost and convenience might figure for different potential customer bases.
"Suppose some company like Thermo or whoever were to come out with a method that was FDA approved and it was really easy to use and is just an instrument where you can bring your sample up, stick it on, and a half hour later it generates the report," he said. "And it would be especially good if you could put, say, your methylmalonic acid on and then testosterone and then two more methylmalonic acids and then 10 more testosterones -- in other words, random access. Then it would start to look a lot like the automated clinical analyzers that are so common in clinical labs and hospitals."
"For a company like [ARUP] it could lead to greater efficiency depending on how much it costs," he said. "If it costs us $100 to run the sample, we're not interested. If it costs 50 cents, it's a no-brainer. Somewhere in between there will be the decision point."
"On the other hand, suppose you are at a hospital lab and you really hate sending the samples to ARUP because you think it costs too much, and besides maybe it takes two days to get the answer," he said. "Then maybe you would like to buy that instrument, and even if it costs you more to run the sample [than it costs ARUP to run the sample] it might still be cheaper than sending it out, and it will very likely be faster, and both of those things can be a factor in medical care. Plus, it is FDA-approved, so that is an advantage in the whole scheme of things. Labs like things to be FDA-approved when they can."
Given that the platform is a closed system intended to use only assay kits and reagents provided by Thermo Fisher, the Cascadion business stands to generate substantial revenues from consumables in addition to sales of the instrumentation itself, though DeWitte said that it remained to be seen what sort of breakdown between instrument and consumable sales emerged.
"I think we have a lot to learn about exactly how customers want to do business around the [system]," he said.
One factor that could bear on this question is the extent to which labs use mass spec as the primary format for a test versus as a reflex test for when the results from an initial immunoassay are inconclusive.
"We've talked to a lot of different customers who have really different needs and see different opportunities [for the platform]," DeWitte said. "Some want to make sure every result is always the same and always on the same platform with that uniformity of care for [their] patients. By and large, I think customers want that standardization. However, there are customers who see it differently and will look at LC-MS as a reflex test — and this business is perfectly capable of playing that role, as well."
With the Cascadion introduction, Thermo Fisher would appear to have taken the lead in the clinical mass spec market, even though the device is not planned for launch until 2018 in the EU and perhaps later in the US depending on the timing of the FDA process.
In the meantime, Sciex plans this summer to launch its Topaz LC-MS system, which, with its Vitamin D 200M assay, has already received FDA clearance. Sciex has provided little in the way of details about the Topaz system, which it is expected to introduce at the American Association for Clinical Chemistry annual meeting in July, but it has not indicated that it is a walkaway platform that would compete with the Cascadion system.
Nonetheless, the company hopes it can entice smaller hospital labs — a major potential market for the Cascadion system — to move into mass spec-based testing by providing an FDA-cleared platform along with a test, Vitamin D, that is widely ordered and will be immediately reimbursable.
As Mark Cafazzo, director of global academic and applied markets at Sciex, said last week at the American Society for Mass Spectrometry annual meeting, "one of the obstacles to adoption of mass spec in a traditional [clinical chemistry] lab in a hospital is the fact that they need to be productive right away with reimbursable tests, and they don't really have time to start from scratch and build a laboratory-developed test and then get going."
"The work that we've done to get FDA-cleared on the vitamin D test is a strategy to enable labs to immediately get up and running doing the vitamin D test," he said. "They'll be able to run that fully locked down in compliant mode and get reimbursed for their test."
Sciex said it expects the Topaz-based vitamin D assay to cost roughly the same as existing immunoassay versions.
Additionally, Cafazzo said, labs will be able to open up the Topaz platform for developing and running their own LDTs. The Cascadion system is not intended for this sort of use, DeWitte said.
In previous interviews, SISCAPA Assay Technologies CEO Leigh Anderson, a clinical mass spec expert and close observer of the industry, has suggested that competition to a system like the Cascadion platform might also come from established in vitro diagnostic companies like Roche and Abbott. He said that "evidence continues to grow that at least one major IVD company is building a [mass spec]" that could compete with a walkaway analyzer like Thermo Fisher's, though he did not specify what that evidence was, and no IVD firms have announced any such plans to date.
The Cascadion system is intended only for small molecule testing, which excludes protein targets, the mass spec workflows for which are typically even more complicated and challenging. DeWitte said that the prospect of developing a similar turkey system capable of measuring protein biomarkers was a hot topic in research and development circles and that "the possibilities are tantalizing."
"But, really, right now we're focused on this system," he said.