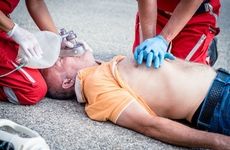 NEW YORK (360Dx) – A new cardiac troponin test may be able to more quickly determine whether emergency room patients are having a heart attack, according to a new study.
The US Food and Drug Administration recently cleared Roche's Elecsys Troponin T Gen 5 Stat blood test, a high-sensitivity blood test that measures cardiac troponin, which is released into the bloodstream following damage to the heart. While this test had been in use in Europe, the study authors noted it had not been compared to a conventional three-hour cardiac troponin test in the US.
A University of Texas Southwestern Medical Center-led team of researchers evaluated the two tests in 536 patients who presented to the emergency room with chest pain, shortness of breath, or other signs of a myocardial infarction, but did not have an ST elevation on an electrocardiogram. As they reported today in the journal Circulation, the researchers found that this new high-sensitivity troponin T (hs-cTnT) assay could rule out MIs in more patients, with half being ruled out within an hour.
"We anticipate that this procedure will allow many patients with chest pain to be given a 'yes' or 'no' diagnosis of whether they are having a heart attack faster," first author Rebecca Vigen from UT Southwestern said in a statement.
In the conventional cardiac troponin test, protein levels are measured at baseline and after three hours. For this study, the researchers used both that fourth-generation cTnT assay and the newer hs-cTnT assay to measure troponin levels in patients at presentation, one hour later, and at three hours after presentation.
At the one-hour evaluation, the researchers used those troponin levels to either rule out MI in patients, determine their troponin levels to be abnormal, or classify the results as indeterminate. Patients with indeterminate results underwent re-evaluation at three hours.
That, the researchers noted, is a change from other hs-cTnT protocols, as those do not include the three-hour re-evaluation. Including it here, though, enabled them to better compare the two assays, they said.
Three cardiologists using all clinical data available determined a final diagnosis for the patients.
Overall, MI was diagnosed in 2.1 percent of patients, unstable angina in 0.4 percent of patients, and non-ischemic myocardial injury in 17 percent.
After three hours, the conventional troponin assay ruled out MI in 80.4 percent of patients. The new assay, meanwhile, ruled out MI in 83.8 percent of patients by three hours. In particular, it ruled out MI in 30 percent of patients at baseline, 24.8 percent at one hour, and 28.9 percent by three hours.
The hs-cTnT assay, the researchers reported, has a sensitivity and a negative predictive value of 100 percent. At the same time, it has a specificity of 86 percent and a positive predictive value of 13 percent as compared to the cardiologist-derived diagnosis.
When the researchers also compared the algorithm they used for the hs-cTnT assay to one developed by the European Society of Cardiology that is based on a 0/1 hour algorithm, they found their protocol ruled out MI in a greater portion of patients, 449 compared to 297.
The hs-cTnT assay and the new protocol were able to rule out MI in more patients than the conventional test and more quickly — MI was ruled out in more than half the patients by the one-hour mark, the researchers noted.
"We did not miss any heart attacks using this test in this population," Vigen said. "The test also allowed us to determine faster that many patients who had symptoms of a heart attack were not having a heart attack than if we had relied on the traditional test."
She and her colleagues cautioned, however, that their sample was small and that the study needs external validation.