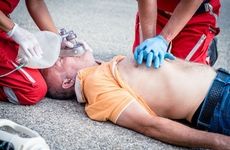 NEW YORK – A biomarker discovered by researchers at Washington University in St. Louis and an associated diagnostic test could help clinicians detect patients at higher risk for certain cardiovascular conditions, according to researchers from the university.
The biomarker, an enzyme called serum circulating fatty acid synthase, or cFAS, was discovered by Mohamed Zayed, a vascular surgeon at the Washington University School of Medicine in St. Louis, and his team "serendipitously," he said.
In his research, Zayed was originally evaluating enzymatic activities in the arteries of diabetic patients to test the hypothesis that those patients were at higher risk than the average population for developing peripheral artery disease when he stumbled across cFAS, Zayed said. He was analyzing different types of arterial tissues but had access to serum samples and decided to look into them as well.
"I thought, well wouldn't it be interesting to see if these enzymes also exist in the serums of these patients," he said.
He found that "the very enzymes we were studying in the tissue, the arterial tissue, and the plaque of these patients were also elevated in the serum." That was "an odd finding," because he expected these types of enzymes would reside in cells and be contained in the tissue rather than circulating in the blood, he said.
The original discovery that cFAS activity is elevated in patients with diabetes and those with carotid artery stenosis, a cardiovascular disease, was published in the journal Atherosclerosis in 2019.
In that paper, the researchers also found that low-density lipoproteins, or LDLs, are linked to cFAS, with cFAS binding to a major lipoprotein in LDL, and that high levels of cFAS in serum correlate to higher fatty acid synthase in plaque tissue, which can increase risk of cardiovascular disease.
Building on that previous research, Zayed retrospectively studied a larger cohort consisting of patients with diabetes and vascular disease, non-diabetic patients with the same disease, and healthy patients to determine whether the enzyme was elevated in all patients. He found that the enzyme was elevated in patients with vascular disease, regardless of whether they had diabetes.
He then expanded the investigation, with results from the study published at the end of September in Scientific Reports, and evaluated whether the enzyme correlated with the incidence of arterial disease and whether diabetes had an impact.
His research team found that elevated cFAS levels could identify patients at higher risk of chronic limb-threatening ischemia, a critical peripheral artery disease that can lead to loss of limbs, with 84 percent accuracy.
One of the major hurdles Zayed said he sees in his practice is a missed opportunity to anticipate a patient's disease process earlier so critical events, such as surgery, can be prevented. He added that current guidelines to stratify risk from professional groups are very broad and not as individualized as they need to be.
Thus, the cFAS marker could potentially be used as a tool to help clinicians capture risk and reduce surgical interventions for patients with CLTI and other serious cardiovascular diseases, he said.
The Wash U team has a patented high-throughput diagnostic test for cFAS and is building a clinical trial to collect validation data for the kit to submit to the US Food and Drug Administration for regulatory clearance, either 510(k) clearance or as an exempt Class I medical device, Zayed said. He added that the team is actively working with FDA consultants to determine which pathway would be best and to prepare its submission documents.
They also are currently implementing quality control measures and assessing the sensitivity and specificity of the test, which right now are at 84 percent and 83 percent, respectively. The ELISA test requires a spectrophotometer to evaluate changes in color of a sample at different wavelengths, he said.
However, Zayed noted that cFAS isn't only a diagnostic biomarker to detect the incidence of disease but could also be used to predict vascular disease. By developing a prognostic test for fatty acid synthase, diseases could be detected earlier, and FAS could be inhibited with treatment, he said. Once cFAS is established as a diagnostic marker, it could be used for therapeutics as well.
"If we could predict the risks of peripheral artery disease in the future, perhaps we can initiate precision vascular healthcare for these high-risk individuals," Zayed said.
He said that the larger clinical trial will further validate the biomarker and the associated diagnostic test but will also help gather data for the biomarker's potential therapeutic indications.
Zayed added that the team is hoping to use the diagnostic test in "thousands" of patients, as Wash U has a biobank of serum samples from patients undergoing vascular surgeries that could be used to retrospectively validate the test.
The retrospective aspect of the trial is ongoing, and Zayed is looking for $2 million to $3 million in funding over the next two years for the prognostic portion of the trial, he said.
The team has some funding from the National Institutes of Health, and Zayed has used personal research funding as well for the retrospective aspects, but they are looking for philanthropic funding for the prospective component of the trial, he said, and looking for investors to help accelerate further development and commercialization of the technology.
Zayed has a startup company for licensing Wash U technology, but he also is looking for partners to help make the test commercially available.
The benefit of the test is that it would have utility across healthcare systems, Zayed said. "Whenever you are tempted to study LDL in a patient, they should be tested [for] cFAS," whether at the point of care, in outpatient settings where clinicians are monitoring chronic disease, or post-intervention, he said. It can be used "all throughout the life cycle of [a patient's] management," he added.
Stephen Wu, a research scientist at Express Scripts who has looked at the test outside of his position with the pharmacy benefits manager, said that if cFAS was validated as a biomarker in a larger population, it could "be a change for many people" with cardiovascular disease.
Wu emphasized the need for more patients to be tested to determine if there are other factors impacting the correlation between cFAS and vascular disease, but that cFAS was "something that can better explain whether there's risk" than LDL for these patients.
There could be a significant impact on public health as well, he added. If the biomarker is validated, it could be included on regular biometric tests used in primary care practices to assess a patient's risk factors, he said. It could also help cut healthcare costs and save lives if high-risk patients are detected and treated early, he added.